Interview: Lilla Crawford is Annie on Broadway
The newest star to portray little orphan Annie on Broadway talks about her favorite part of the show, opening night and magic.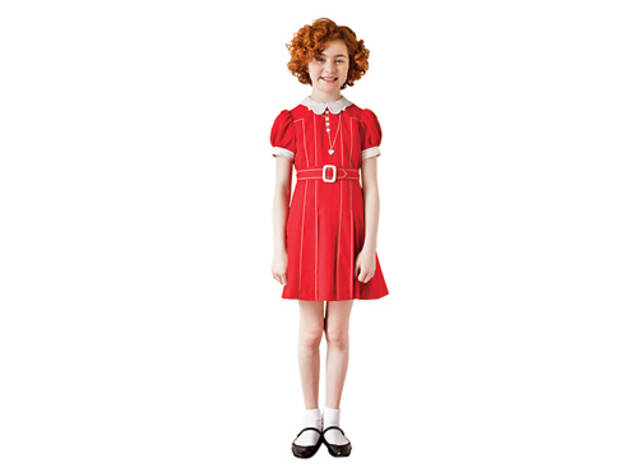 Last seen on Broadway in 1997 for its 20th anniversary, the musical Annie returns to the Great White Way this fall—and to a whole new generation of kids. This time around, 11-year-old Lilla Crawford steps into the role of the spunky redhead. The Los Angeles native took time out of her busy schedule to chat with us about signing autographs, favorite Broadway shows and Sunny the dog.

Lilla, when did you start acting?
I've been performing my whole life. My mom signed me up for a theater program when I was five—I was the evil queen in Once Upon a Mattress. I did my first commercial for Cool Whip when I was seven, and then I was in Billy Elliot for ten months until it closed earlier this year. I was just born to do this.
It's pretty amazing you're in your second Broadway show at such a young age.
It's a dream come true. When I was in Billy Elliot, I found out about the auditions for Annie. I had seen the national tour in California when I was four, and then again when it came back two years later. Annie is such a great show, and I knew I wanted to be a part of it—I didn't even care what part I got.
What's it like working with Katie Finneran [Miss Hannigan] and Anthony Warlow [Daddy Warbucks]?
I actually went to see Promises, Promises a few years ago and asked for Katie's autograph at the backstage door. It's so cool that I get to work with her now! Everyone knows Miss Hannigan as a mean person, but Katie plays the part as a fun character—which kind of makes her mean! She's hilarious. Anthony is amazing too. We do a lot scenes together—he's almost like my second dad. We're also both obsessed with magic. He bought a magic trick that we're working on together.
And how's Sunny, who plays Sandy the dog?
I've never really worked with an animal before. Sunny's trainer said to me, "You have to become the trainer." I had to learn all of these things so she would do what I need her to do in certain scenes. It's like she's an actress. When we're in Hooverville, they give me soup and I act like it's disgusting. And when I give it to Sunny to try, she acts like it's disgusting too.
Do you have a favorite part of the production?
I love when I first get to Mr. Warbucks's mansion. There are so many cool set pieces, and all of the costumes are wonderful. And so is "NYC"—it's the song we sing as we're traveling through New York from Mr. Warbucks's house to the Roxy. The choreography and direction make it look like we're literally walking on the street.
What will you be thinking on opening night, Thursday, November 8?
I cannot wait for the overture to begin. I'm so excited for that! Plus, all of these famous actors, singers and dancers will be in the audience. I briefly met Andrea McArdle [the original Annie on Broadway], but I really want her to come see the show. I'd love for Sarah Jessica Parker and anyone who's played Annie to come.
I bet there will be a lot of kids asking for your autograph at the stage door after each show.
I'm so excited to meet all the little girls and boys and for them to say "You did so good" or "I love Annie." My favorite thing that anyone can say to me is, "This is going to be my daughter's first Broadway show."
What are your plans for the future?
I want to be like Sutton Foster, Kristin Chenoweth or Anne Hathaway and do everything that has to do with performing.
Annieopens on Nov 8 at the Palace Theatre.
Lilla's favorite...
Store: "I really love LittleMissMatched on Fifth Avenue. They sell colorful socks and pants."
Tea spot: "I've been to Alice's Tea Cup a million times. You can have tea and scones and there's a ton of Alice in Wonderland–themed stuff. I went there a few weeks ago with my mom, my sister and lead producer Arielle [Teper Madover] and her kids."
Broadway show: "Bring It On is amazing! Andy Blankenbuehler, our choreographer, was the director and choreographer for that show. And of course, The Lion King, Mary Poppins, Wicked and Newsies. And, obviously, Annie!"
Restaurant: "Eataly is the greatest—it's like food galore there. They have all of these little stations, like a pasta area and a pizza area. And they have the best gelato."