Best Thanksgiving books for kids and families
After the family has finished off the feast, tuck the little ones in with these wonderful Thanksgiving books for kids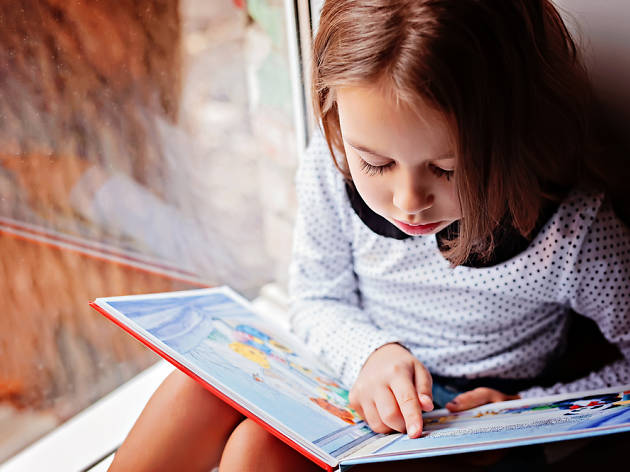 When the turkey has been savored and the pumpkin pie devoured, gather the family around to read these Thanksgiving books for kids. These wonderful stories get all ages into the holiday spirit, learn about its history and even count silly turkeys along the way. And if your kiddos are aching for a nap after a huge meal, these books make for the perfect bedtime story as you tuck them in.
RECOMMENDED: Thanksgiving for kids in New York City
Once you're done selecting new additions for your family's library, keep the Thanksgiving fun going with awesome things to do on Thanksgiving, holiday desserts from NYC bakeries and the best Thanksgiving movies for kids.
Best Thanksgiving books for kids
1
Squanto and the Miracle of Thanksgiving by Eric Metaxas
This story follows the life of Squanto, who was kidnapped from his Patuxet village at the age of 12 by the Spanish and sold to slavery. He grows up among the monks and returns to America years later to find that his village has been wiped out by an epidemic. He relies on his faith in God and later finds himself coming to the aid of the newly settled Pilgrims who are suffering from starvation. Ages 5 to 10.
2
The Night Before Thanksgiving by Natasha Wing
Build up the Thanksgiving anticipation with this fun book based on all the to do's that come with the holiday: preparing the food, saying hello to visiting family members and gathering around the table for thanks and good eats. Ages 4 to 8.
3
Turkey Trouble by Wendi Silvano
Thanksgiving is the worst time to be a turkey and unfortunately for Turkey, he could end up being the main dish. Kids will giggle as they watch Turkey find ways to disguise himself and protect his heinie from getting roasted this year. Ages 3 to 7.
4
Junie B. Jones #28: Turkeys We Have Loved and Eaten (and Other Thankful Stuff) by Barbara Park
We find the lovable first grader preparing for a Thanksgiving feast with her class. A school challenge is encouraging all the students to come up with the best thankful list, but Junie is having a hard time thinking of good things instead of things she doesn't like. She'll have to dig deep if she wants Room One to win the pumpkin pie. Ages 6 to 9.
5
10 Fat Turkeys by Tony Johnston
Little ones will learn to count as they follow the silly antics of 10 plump turkeys. Fun rhymes and hilarious illustrations will make this a hit with the kids before they knock out from their Thanksgiving feast. Ages 3 to 5.
6
Five Silly Turkeys by Salina Yoon
Another toddler book featuring five funny turkeys doing silly things like dancing, getting chased by bees and sunbathing. Ages 2 to 5.
7
Balloons over Broadway: The True Story of the Puppeteer of Macy's Parade by Melissa Sweet
Any kid who loves watching the big balloons float by at the Macy's Thanksgiving Day Parade will enjoy this illustrated behind-the-scenes book about the life of Tony Sarg, the man who created the first giant helium balloons for Macy's. Ages 4 to 7.
8
'Twas the Night Before Thanksgiving by Dav Pilkey
This one's for the animal lovers. The classic Christmas poem is reworded to tell the tale of eight kids who visit a turkey farm and are horrified to learn that the turkeys will be killed for Thanksgiving feasts. The group helps the birds escape their fate and force their families to go vegetarian for Thanksgiving. Ages 3 to 5.
9
Thanksgiving Is for Giving Thanks! by Margaret Sutherland
Remember the true spirit of Thanksgiving by expressing gratitude and teaching the little ones that there's much to be thankful for—and it's not just about the delicious food and pies. Ages 3 to 5.
10
Pete the Cat: The First Thanksgiving by James Dean
When the school Thanksgiving play arrives, it's up to Pete to tell all about the history of Thanksgiving, which he does beautifully with fun flaps to lift and secrets to uncover. Ages 4 to 8.