The best hot chocolate in New York City
Snagging the title of best hot chocolate is hard when the competition is this delicious! Try these stellar spots ASAP.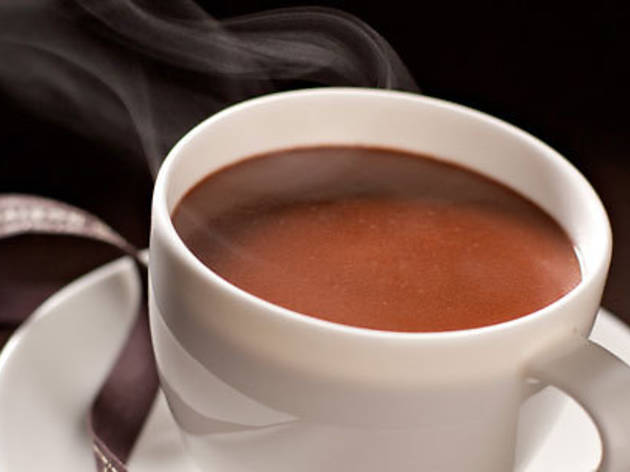 A great cup of the city's best hot chocolate is enough to warm any heart—even one that's three sizes too small! Whether you're celebrating Christmas for kids, Hanukkah for kids or just hunting for something to warm you up (after some kids' ice skating, perhaps?), these picks from hotspots like City Bakery, Jaques Torres and Max Brenner, to name a few.
The best hot chocolate in NYC
Hungry (for sugar)? Here, families can indulge in sublime treats like a decadent brownie sundae or a simple choco-covered pretzel. While you're at it, try The Chocolate Room's Classic Hot Chocolate ($5.25) infused with Madagascar vanilla, or the Frozen Hot Chocolate ($7), topped with whipped cream. Parents (and braver kiddos) can also venture into uncharted territory with the Spiced Dark Hot Chocolate ($5.25) complete with ancho, chipotle and cinnamon. Moms and dads who are feeling less than energetic might also try the Cafe Torino ($7), which includes dark hot chocolate and espresso. (269 Court St and 51 Fifth Ave)
Read more
Besides offering the usual assortments, truffles and bars (plus more-inventive delicacies such as chocolate-covered cornflakes). At the Hudson St. location, there's a full-on ice cream parlor, with such treats as homemade waffle cones and cookie sandwiches. Taste the hot chocolate with Chipotle and ancho chiles and the traditional hot chocolate and enjoy add-ons like peanut butter or candied orange. (Various locations)
Read more
Justly famous for its rich hot chocolate, the bustling joint—conveniently located down the block from Books of Wonder—also offers tot-pleasing savories like chicken wings and mac and cheese, both sold by the pound. Be sure to catch Hot Chocolate Month this February, where kids can try flavors like Sunken Treasure, On a Peanut Butter Barge and Banana Peel, to name a few.
Read more
The ultimate spot for chocolate-loving kiddos, Max Brenner offers a kid-specific menu with offerings like Clown Hot Milk Chocolate (it leaves you with a guaranteed effort, $5.25), Classic Hot Milk Chocolate ($5.25) and "Cold Chocolate Potions" like the Milky Way Shake and Kids Shaken Chocolate Milk ($6.25). There are also seven other hot chocolate offerings for all ages, including picks like Marshmallow (with melting marshmallows), Mexican Spicy Hot Chocolate (red chili, cinnamon and nutmeg) or the Italian Thick (thick hot chocolate with vanilla cream), all $5.95.
Read more
Dominique Ansel honed his skills as executive pastry chef at Daniel for six years before opening this American and French patisserie. Caramelized croissants, miniature pastel meringues and the popular cronut make up the sweet selections at the counter—be sure to wash it down with a tasty cup of hot chocolate (pre-mixed in house) with whipped cream on top.
Read more
Francois Payard Bakery
In addition to Francois Payard Bakry's wide variety of sweet treats (melt-in-your-mouth croissants of every variety, cinnamon rolls, scones and other pastries), you'll also find a loyal following of hot chocolate-seekers. The cup itself might seem a little on the small side, but don't judge a book by its cover: it tastes like a melted-down chocolate bar. (116 W Houston St and 1775 Broadway)
Cocoa Bar
Feast on gelato, cakes and chocolate a la carte! You'll find great stuff like the coconut patty, Elvis Moo (banana and marshmallow with peanut butter and dark Belgian chocolate), chocolate raspberry truffle and even vegan Oreo cupcakes. Try the Funky Monkey, a banana-flavored hot chocolate ($4.82), "classic" Hot Chocolate that's anything but regular (in dark, mint, white, cinnamon or spicy) for $4.59 or Chocolatte for the parents with espresso with a variety of flavors available ($5). (228 7th Ave and 21 Clinton St)