Celebrity dads on Father's Day 2013 and why they love being a dad
We asked some of our favorite celebrity dads to tell us how they're planning to spend Father's Day and the best part of being a dad.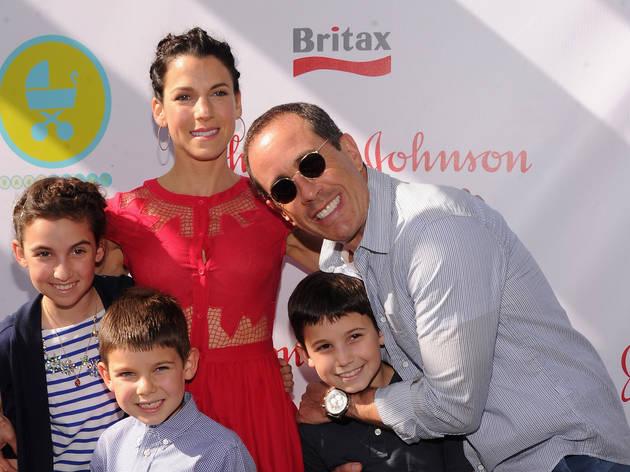 1/7
Photograph: Wireimage Gary Gershoff/Jamie McCarthy
Actor and comedian Jerry Seinfeld with wife Jessica, daughter Sascha, and sons Shepherd and Julian at the Baby Buggy Bedtime Bash sponsored by Johnson & Johnson and Britax/BobWe hear you already got your Father's Day gift. Why'd you get it early?Jerry: "I didn't even get it, I just got a picture of it, and it was just like, "Here's what you're getting." It was a coffee maker. But I'm thrilled because prior to that, every year I've gotten the balls that hang from the strings—where you pull one out and it knocks the other one. I've gotten that every year. I have a collection of those. That's the 'I don't give a rat's ass' present that fathers get!'"Any Father's Day plans?Jessica: "We will definitely have bagels and lox from Zabar's. Zabar's is like, my whole life. I know there are other great places but Zabar's is my DNA. And we'll play family basketball, which we're really into right now."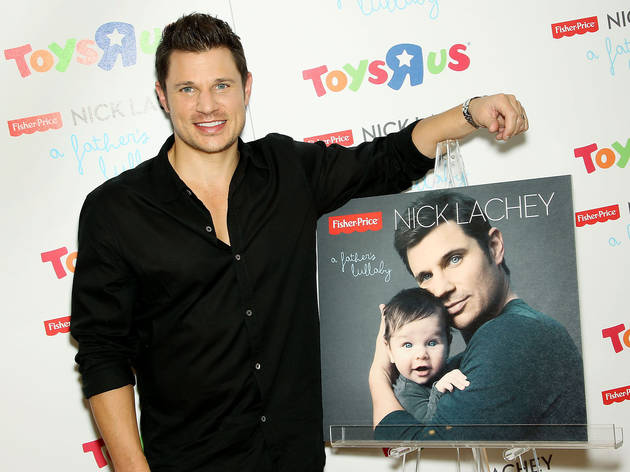 2/7
Photograph: Marion Curtis/StarPix
Nick Lachey, musician and TV personality and dad to nine-month-old CamdenIt's your first Father's Day this weekend! Any plans?"Actually, we [98 Degrees, Boyz II Men and New Kids on the Block] have a show in Brooklyn at the Barclays Center that night so I'll be here in the city. But as long as I'm spending it with him, I'm good. Maybe Vanessa's got some surprise in store or something!"Tell us about new album, A Father's Lullaby."There are all these feelings and emotions you have as a new dad, and music's always been the place where I've been able to express myself. I thought this was a pretty cool opportunity to do something for him—honor him, dedicate it to him and do something that's obviously not like anything I'd ever done before."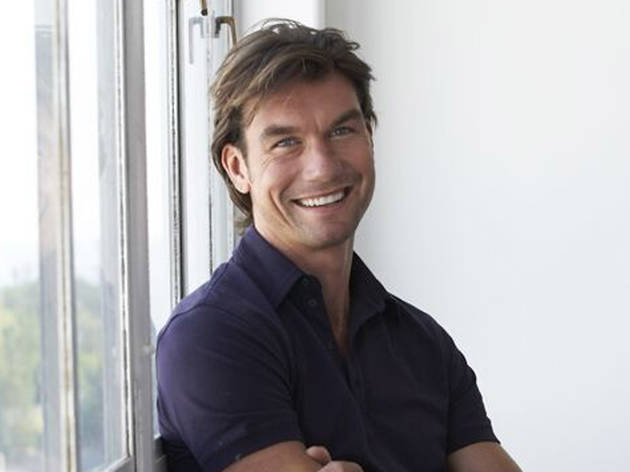 3/7
John Russo
Jerry O'Connell, actor and dad to four-year-old twins Dolly and CharlieWhat's your family doing for Father's Day?"I went to college with Mario Lavandeira—his stage name is Perez Hilton—so I'm going to his house to celebrate his first Father's Day. He invited Rebecca [Romijn] and I over so we're going to take the kids. I think he just wants to set his son up with my daughters. [Laughs] But no, he's an old friend, so that should be fun." Sounds like a great way to spend the holiday! What's the best part about being a dad?"I have two little girls, and I kind of like being a father to girls. I can't explain it, you know? They don't really do what I tell them to do and they sort of boss me around, but at the same time, I can see what an important influence a dad is in a little girl's life—especially at this age. I love just hanging out with them. They are really fun."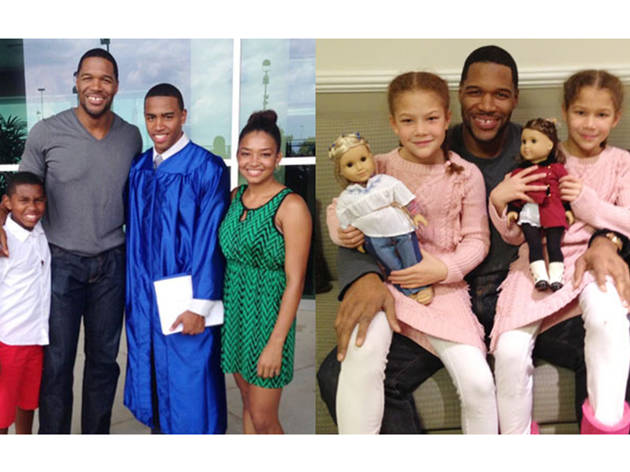 4/7
Live! with Kelly and Michael co-host and former football player Michael Strahan with, from left, Dorian (Michael Jr.'s little brother), son Michael Jr., daughter Tanita and twin daughters Isabella and SophiaWhat are your plans for Father's Day? "I will be on the beach with the kids enjoying some sun, sand and relaxation! I love being a dad because it means I get to be a kid again—I get to live through my kids."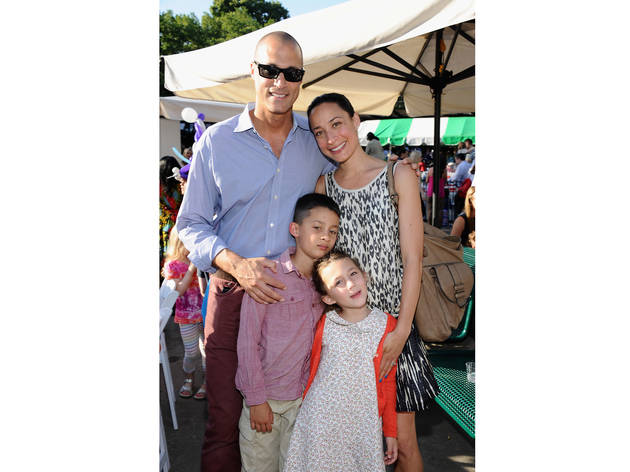 5/7
Gary Gershoff
Photographer and TV personality Nigel Barker with wife Cristen, son Jack, 7, and daughter Jasmine, 4, at the Baby Buggy Bedtime Bash sponsored by Johnson & Johnson and Britax/BobDo you have any Father's Day plans? Nigel, to his son: What are you doing for me on Father's Day, Jack?Jack: Um, we're going to get out of all these interviews and play some games!Nigel: [Laughs]  I'm not 100 percent sure, but I'm sure something rather delightful. My wife is very romantic.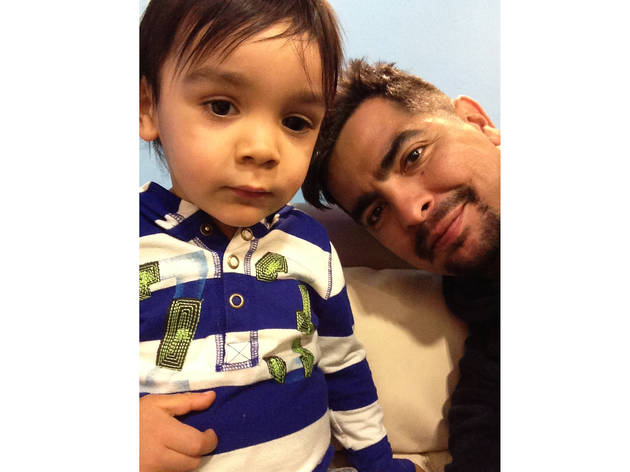 6/7
Aaron Sanchez, chef and costar of the Food Network's Chopped and Heat Seekers, with two-year-old son YumaAny plans for Father's Day? "This year I'm spending the weekend with my family and my son, Yuma. We're going to my brother's house to have a big dinner on Saturday night. It'll be a whole bunch of kids, a basset hound and six chickens, so we're sure to have a good time. On Sunday, we'll do family brunch and Yuma and I will spend the day in Central Park."What's the best part about being a dad?"The realization that you never knew you could love someone so much. The minute my son was born it stopped being about me and became all about him. It's a great lesson in selflessness."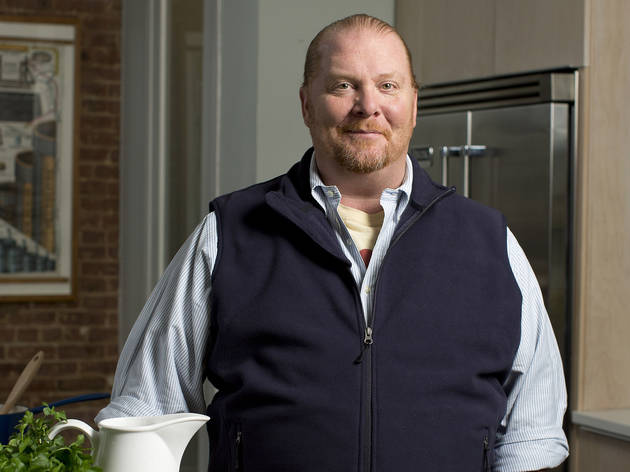 7/7
Photograph: JeffreySchifman
Mario Batali, chef and dad to sons Benno and LeoWhat are your family's plans for Father's Day?"There's the Aspen Food & Wine Classic over Father's Day weekend. It's perfect: I go, I do my little demo, I do a little dance and song, and we go up to the bluegrass brunch at the top of the mountain on Sunday."
By

Rebecca Jennings, Rory Halperin and Lauren Masur
|
Whether they're celebrating Father's Day with delicacies from Zabar's, on tour with their band or at the home of a college friend (who just happens to go by the name of Perez Hilton!), these famous dads all have one thing in common—they love their kids more than anything in the world. Scroll through our slide show to find out what some of our favorite famous dads—including comedian Jerry Seinfeld, musician Nick Lachey and chef Aaron Sanchez, have to say about being a papa, first Father's Day celebrations and interesting gifts they've received from their kids.


RECOMMENDED: See all Father's Day for kids coverage