Decorating Easter eggs
An expert from the New York City shop Surma teaches kids the Ukrainian art of pysanky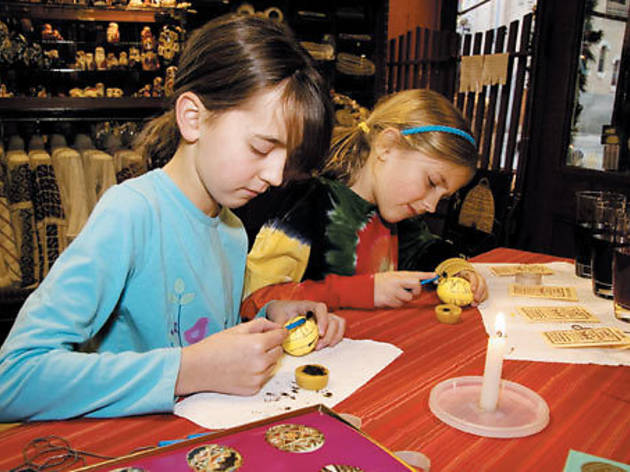 In my house, Easter tradition calls for buying Peeps and chocolate bunnies—not painstakingly drawing on eggs. But with a free afternoon on my hands and a taste for adventure, I journeyed with my girls, Fiona, 8, and Isabel, 10, for a lesson in pysanky, the thousand-year-old art of egg decoration.
Our destination was Surma: The Ukrainian Shop (11 E 7th St, 212-477-0729, surmastore.com), in the East Village, which has been in business since 1918. Markian Surmach, the third-generation owner, had specially arranged a session for us with Irene Saviano, a pysanky expert who works at a local Ukrainian school. The art form employs a method similar to batik. Pictures are drawn with hot beeswax (roosters symbolize fertility, triangles denote the Holy Trinity), and then the egg is dyed. The process is repeated, the wax layers are melted away, and a rich design is revealed.
Saviano had the materials ready for us: a piece of beeswax, a candle, two styluses, eggs and dye (a similar kit is sold at Surma for $22). Raw eggs are preferred, since boiling can let in air and cause them to decay. I was worried that the eggs would splat in my girls' hands, but we learned that an unrefrigerated egg lasts indefinitely (the shell toughens and the insides dry up).
The kids placed a thick rubber band lengthwise around each egg as a guide for the stylus, and Saviano lit the candle. The girls heated their styluses in the flame and plunged them into the beeswax to melt it. Then they sketched their designs. Applying the wax was easy; it dries instantly, so there's no way to get burned.
Isabel sighed when a blob of wax marred her pattern, but Saviano assured her that mistakes, traditionally called "teardrops of the Blessed Virgin Mary," are a sign of good luck. Yellow and orange dyes came first; then more wax lines were drawn and darker colors (red and black) were added. Their vivid hues elicited oohs, but it was the final step that caused shrieks of joy. Saviano held the eggs over the flame and wiped off the softened wax with a towel. The eggs were stunning, albeit fragile. Fiona's rolled off a pillow and cracked two days later. But the other one is safe on the living room bookshelf, ready for the holiday.
Creating pysanky at home is a snap. Here's how to make it work:
* Prep the space
Spread newspaper on your work surface and dress little ones in smocks. The wax and dye can drip or spill.
* Keep it simple
Stripes are the easiest designs to create. Have your kids hold the stylus like a pencil and trace the edge of a rubber band to make a line around the egg's circumference.
* Stop and start
If your tykes get restless, decorate in stages—just remember to blow out the candle each time you pause.