Favors
Parents frown on them, kids obsess over them. Wherever you stand on the goody-bag continuum, here are some cheap and cheerful options.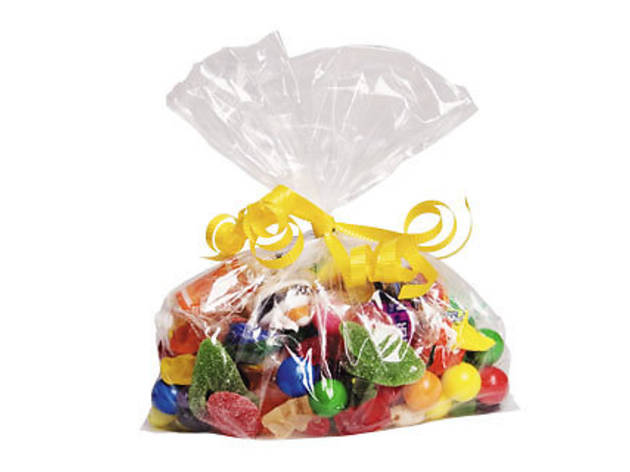 ECONOMY CANDY
Common sense dictates that a sugar rush should be avoided at all costs while the kids are on your watch—but there's no harm in supplying them with the ammo for later. As the name promises, this 72-year-old LES shop sells treats in bulk to save you money. Scoop up Gummi bears, worms or cherries ($3.79/lb), Jelly Belly beans by color ($7/lb), and name-brand chocolate bars like Snickers, Milky Way and Reese's ($3/lb). Divvy the sweets into clear cellophane bags ($10 for 100). Or pack them in small white cardboard boxes (35 per box) that your birthday gal can decorate before the party; guests get an edible surprise and an original work of art to treasure. 108 Rivington St between Essex and Ludlow Sts (800-352-4544, economycandy.com)
DINOSAUR HILL
This whimsical little downtown shop has tons of playthings that spark the imagination. (In our opinion, it's what a toy store ought to be.) While there are plenty of big-ticket items here, the shelves near the window are stocked with lots of tempting favors. Stop in for rubber monster finger-puppets ($1.75), assorted marbles (starting at 10 each), bird whistles ($1) and small activity books filled with mazes ($1.50). 306 E 9th St between First and Second Aves (212-473-5850, dinosaurhill.com)
JACK'S 99 STORE
We know what you're thinking: A 99 store—really? Yes, really. Head here for an array of under-a-buck items from Disney-themed crayons (two packs of 12) to flower barrettes (30-pack). Jack's also carries typical party favors such as kazoos and whistles (in packs of four or six pieces). While you're there, check out the paper goods selection. 110 W 32nd St between Sixth and Seventh Aves (212-268-9962); other locations throughout the city
TAH-POOZIE
With wall-to-wall trinkets, there's almost too much to look at in this West Village store. Bins are filled with foam jet flingers (98), mini Slinkies ($1.50), stick-on moustaches ($7/pack of seven), rainbow-creating monocles (48) and miniature glow-in-the-dark fairy figurines (98). Best of all, the prices are clearly marked on each bin so you know what you're getting into before you start digging. 50 Greenwich Ave between Charles and Perry St (212-647-0668)
PLUMPARTY.COM
Based in Long Island City, this all-things-birthday website sells themed party favors at budget prices. Some of our favorites include violin key chains (six for $13), football player figurines (12 for $8) and fake diamond rings (12 for $18).
1. Day at the Movies lip-balm set
Each tube is a different candy flavor: Milk Duds, Reese's Pieces, Strawberry Twizzlers and so on. $16 for eight; at Fred Flare, 131 Meserole Ave at Leonard St, Greenpoint, Brooklyn (718-349-1257, fredflare.com)
2. Customized CD-Rs
Let the birthday boy arrange his own party soundtrack (see page 52 for album suggestions). Then burn acopy for each guest to take home. $15 for 50 Memorex disks; at Kmart, 770 Broadway at 8th St (212-673-1540, kmart.com)
3. Silly Putty
No goody bag is complete without this traditional stretchy, newsprint-copying gummy goop. $2.50; at Blue Ribbon General Store, 365 State St at Bond St, Boerum Hill, Brooklyn (718-522-9848, blueribbon generalstore.com)
4. 100-piece puzzle
Give your kid's guests a geography lesson with this United States map—or opt for a less educational gift with various cartoon characters. $1.50; at JS 99, 113 Eldridge St between Broome and Grand Sts (212-966-8728)
5. Banana Scorpion Sucker
How many licks does it take to get to the scorpion at the center of this lollipop? Let the brave kids find out. $4 each; at the Evolution Store, 120 Spring St between Greene and Mercer Sts (800-952-3195, theevolutionstore.com)