Handmade Mother's Day presents
Four easy gifts for mom that kids can make at home.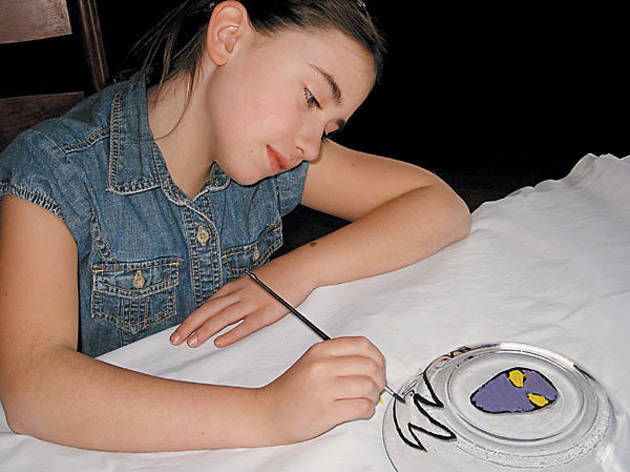 A hand-drawn picture on a sheet of construction paper is sweet, but families can easily up the excitement ante this year by helping the kids produce art with more oomph. We asked tots to test upwards of a dozen crafting kits so they could discover which ones turned out the most precious presents for mommy dearest. Below, their favorites.
Painted glass bowls
Tester Eliza, 9, Montclair, NJ.
Youngsters embellish provided clear-glass dishes with their own colorful designs. Figuring out how to paint the bowls was unexpectedly challenging and required a perfectionist's mind-set. The kit doesn't come with stencils or patterns, which meant Eliza relied on her own imagination from beginning to end.
Mess factor Medium. Thankfully, the thick paint doesn't drip like watercolors do. Tip: If you make a mistake, use a coin to scratch off the dried color.
Sound bite "Hey, this is cool! Can I do the other one?"
Two Glass Bowls 4u2 Paint, $20.99; at creativityforkids.com. Ages 8 and up.
Paper flower bouquet
Tester Sanaa, 5, Upper West Side.
After twisting pipe cleaners into stems, Sanaa topped them with decorated paper blossoms to create a colorful bouquet. The whole exercise, which included scrunching paper, mixing and matching colors, and adding stickers to petals, kept her busy for a full 90 minutes—with almost no help from dad.
Mess factor Low. Free of gluing and painting, the project required close to zero cleanup.
Sound bite "Papa, let's keep it a secret for Mother's Day."
Make Your Own Paper Flowers, $12.95; at klutz.com. Ages 4 and up.
Decorative tiles
Tester Sam, 6, Rye, NY.
The activity is simple: Paint a picture or stamp a handprint onto a ceramic tile. But Sam reveled in the more complicated step of brainstorming a subject. He loved creating his chosen figure, the most interesting Pokémon character he could find on the Internet.
Mess factor Medium. The included paint, though unlikely to spatter, isn't washable. Make sure to wear old clothes and lay out newspaper as a work surface.
Sound bite "It was good! I liked the coloring."
Memory Art—Two Tiles to Treasure, $15.49; at creativityforkids.com. Ages 3 and up.
Stuffed animals
Tester Lucas, 5, Montclair, NJ.
Kids fashion zany stuffed animals by jamming fluff into presewn fabric shells and attaching accessories. Lucas considered the instruction book's suggested critters—such as a bunny or mouse—but ultimately decided to go wild building an original "monster" decked out with wings, tails and other mixed-up body parts.
Mess factor Very low. Since there aren't any spillable liquids or small components, Lucas simply packed everything away in a ziplock bag when he was finished.
Sound bite "Look! I made an angel bunny!"
Short Stuffs: Create Your Own No-Sew Stuffed Animals, $16.95; at klutz.com. Ages 4 and up.
---
Related articles:
* Mother's Day events
* Mother's Day meal deals
* New York City Moms slide show