Here are the most-searched baby names by state, according to Google
Get inside the minds of other parents-to-be thanks to Google's data on the most-searched baby names across the country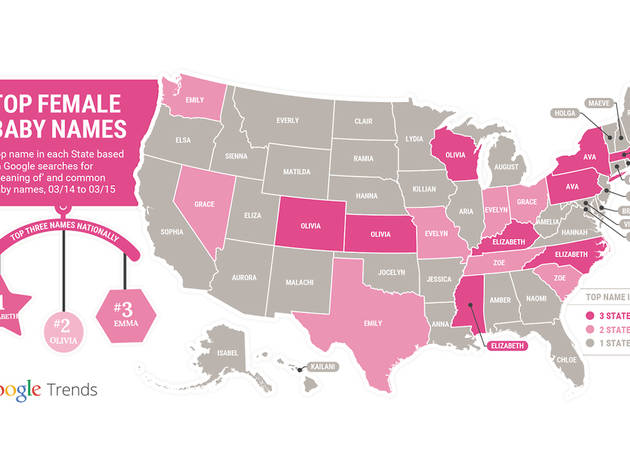 We know how much moms and dads love to read up on New York's top baby names, and now Google is giving parents a peek at the baby-name brainstorming process by revealing the most-searched names. By analyzing a year's worth of data on Google searches for "meaning of" and "common baby names" (from March 2014–2015) they've come up with the top-searched baby names across the country, as well as by state.
Nationally, Michael, James and Avery came in as the top three names for boys (in that order), while Elizabeth, Olivia and Emma pulled the top searches for girls. Where it gets really interesting is with the statewide favorites. With the boys, names like Joshua and Jonathan ranked on top for several states, but the girls garnered some pretty unique monikers, including Aria (perhaps some Game of Thrones inspiration?), Aurora and Killian. We think the shutterbug folk over in Vermont may have been inspired by our list of baby-name ideas for hipsters, with Holga coming in on top in the state.
As far as the Empire State is concerned, Ethan and Ava drew the most searches for boys' and girls' names, respectively. Whether NYC parents actually committed to those names remains to be seen, but those looking for a truly unique baby name might want to consider enlisting a specialized service to do the naming for them.