Kids' movies playing in theaters over the 2013 winter holidays
Animated tales, popular sequels and dino-themed stories make up the best movies playing for families this winter.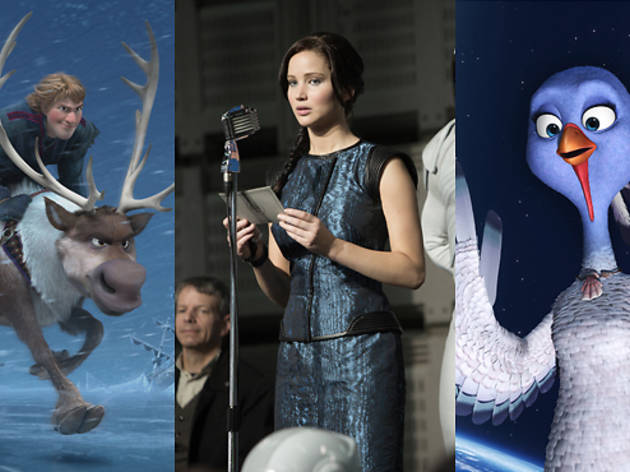 1/9
It's a foregone conclusion that you'll end up at the movies sometime between Thanksgiving vacation and New Year's Day. The only question: Which crowd-pleaser is the best for your family? This holiday season, a range of animated fare, a new musical, a gorgeous documentary and some teen-friendly adventures give you plenty of options. Take your pick from our holiday guide to movies playing in theaters, and leave the really tough choices—popcorn or Junior Mints?—for when you get to the cineplex. Click the right arrow on the image above to see our guide to kids' movies playing in theaters.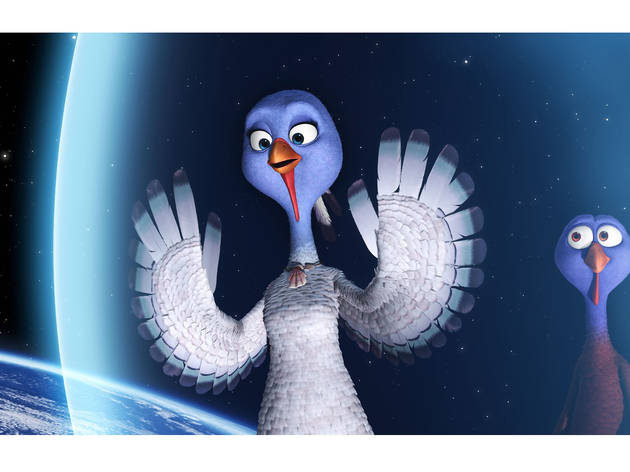 2/9
Image: Courtesy Relativity Media
Kids' movies playing in theaters over the holidays: Free Birds In this 3-D animated comedy, a pardoned White House bird is recruited by his fellow fowl to go back in time. Their goal: to disrupt the very first Thanksgiving, and get turkey off the menu—permanently. Naturally, this involves plenty of high-speed Pilgrim chases and flaming pumpkin fights. The scoop: This is the first feature film from animation studio Reel FX, so they're aiming to impress. Voice actors include Owen Wilson (better known to your children as Lightning McQueen), Woody Harrelson and one of our favorite celebrity moms, Amy Poehler. Best of all, this is the rare November film that actually celebrates Thanksgiving rather than skipping ahead to Christmas. If it's half as good as our favorite poultry-based animated film, Chicken Run, we're in. Opens Nov 1; rated PG.
3/9
Photograph: Richard Foreman
Kids' movies playing in theaters over the holidays: Ender's Game Your tweens and teens may think they're too old for fantasy, but "epic adventure"? Well, that's another story. The book-to-film Ender's Game transports moviegoers to an elite military school in space. The scoop: Ender's Game offers wall-to-wall space battles, as well as two hours in the presence of 16-year-old heartthrob Asa Butterfield. Opens Nov 1; rated PG-13.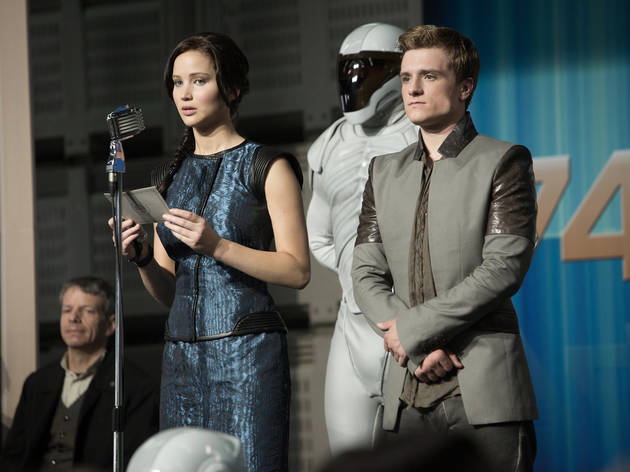 4/9
Photograph: Murray Close
Kids' movies playing in theaters over the holidays: The Hunger Games: Catching Fire Fans of the series have been waiting for this book-to-screen sequel since, well, the first part of the triology came to theaters in March 2012. This time around in the dystopian Pan-Em, Katniss (Jennifer Lawrence) and Peeta (Josh Hutcherson) must return to the arena for a special edition of the games. The scoop: If your crew decides to only see one flick in IMAX this season, make it Catching Fire—it was shot in part with special IMAX cameras. We also meet Sam Claflin as tribute Finick Odair. Opens Nov 22; rated PG-13.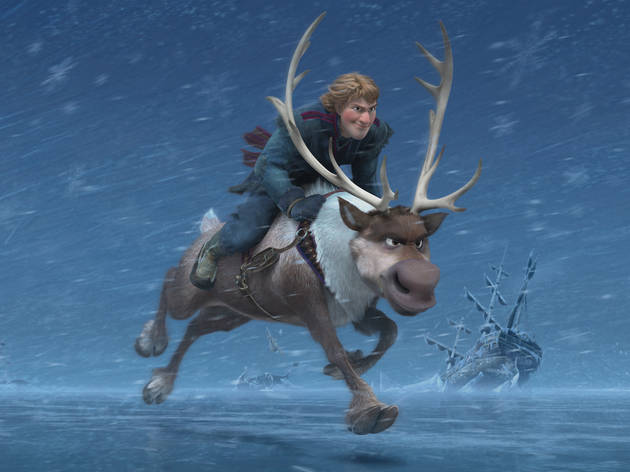 5/9
Image: © Disney
Kids' movies playing in theaters over the holidays: Frozen If you're craving a Disney princess fix, you're in luck: Frozen has two of them (and in 3-D, no less). Based loosely on Hans Christian Andersen's "The Snow Queen," this animated adventure chronicles the journey of Princess Anna (Kristen Bell) to find her enchantress sister Elsa (Idina Menzel), who has plunged the kingdom of Arendelle into eternal winter. In her quest to reverse the spell, Anna picks up the requisite square-jawed love interest (Jonathan Groff) and wacky sidekick (Josh Gad, playing a snowman). The scoop: Disney combines the fairy-tale whimsy of Tangled with the snappy humor of Wreck-It Ralph and serves it all on ice. While the trailers have downplayed the fact that this is a musical, the songs (by Book of Mormon composer Robert Lopez and Kristen Anderson-Lopez) are top-notch. Hearing Menzel sing "Let It Go" will give you goose bumps. Plus, it's always a treat to hear Kristen Bell belt it out—something that won't occur in the upcoming Veronica Mars movie. Opens Nov 27; rated PG.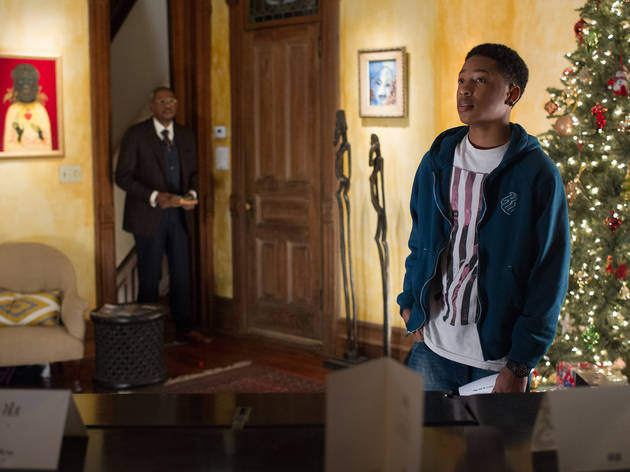 6/9
Photograph: Phil Bray
Kids' movies playing in theaters over the holidays: Black Nativity From White Christmas to The Nightmare Before Christmas, holiday musicals are a time-honored tradition. The newest addition to the canon retells the story of Jesus's birth through the eyes of a young teen (Jacob Latimore) in modern-day Harlem. The movie takes its inspiration from Langston Hughes's "gospel song play" of the same name, performed continuously in the United States since 1969. The scoop: Forget all those musicals starring people who can't actually sing. This flick features R&B megastars Mary J. Blige, Tyrese Gibson, Luke James, Nas and—most important—Jennifer Hudson. The film's breakout performance, however, is that of 17-year-old Jacob Latimore, who has rocketed from YouTube celebrity to triple-threat stardom faster than you can say "Justin Bieber." Opens Nov 27; rated PG.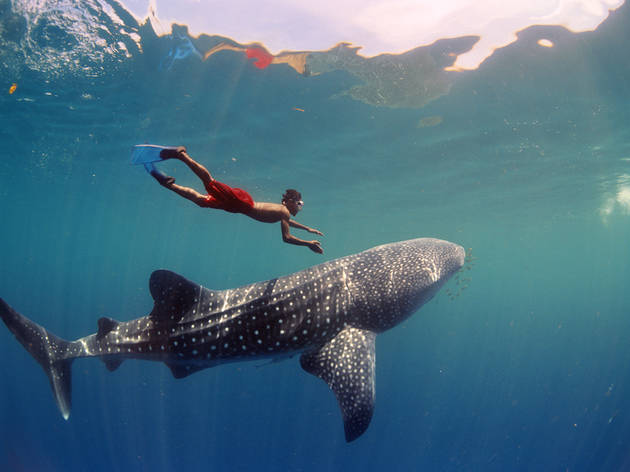 7/9
Kids' movies playing in theaters over the holidays: Journey to the South Pacific Tickets to IMAX films may be a splurge, but they're sure a lot cheaper than a tropical vacation, right? Narrated by Cate Blanchett, this 3-D IMAX documentary explores life in remote West Papua, where island children swim with sea turtles, dive with the world's largest fish and live in harmony with the coral reefs in their backyard. The scoop: Raja Ampat in Indonesia is one of the most beautiful places in the world, and this is your family's chance to see it from literally every angle—director Greg MacGillivray used his gigantic IMAX camera to get sweeping shots from the air and breathtaking views from under the sea. There's a take-home environmental message in here, too, in case your kids aren't caught up on the lectures of Al Gore. Opens Nov 27; rated G.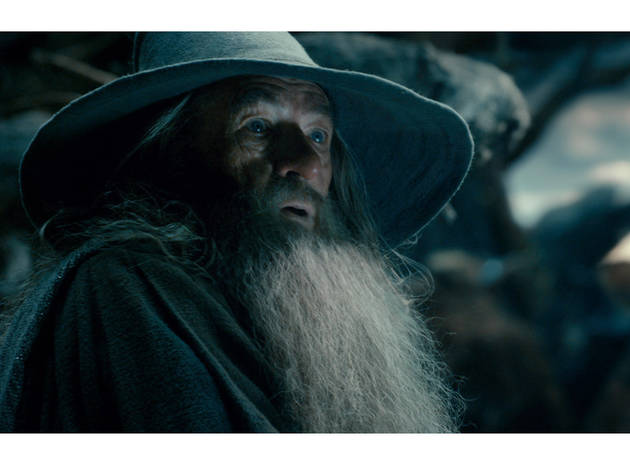 8/9
Photograph: Courtesy Warner Bros. Pictures
Kids' movies playing in theaters over the holidays: The Hobbit: The Desolation of Smaug The second part of this trilogy takes viewers—and main characters Bilbo Baggins, Wizard Gandalf and 13 Dwarves—on a journey through the mountains of Middle Earth. The scoop: Worried about starting with a sequel? The Desolation of Smaug is a fine introduction to the Lord of the Rings universe, and gives filmgoers a first look at the dragon Smaug (voiced by Benedict Cumberbatch). Opens Dec 13; not yet rated.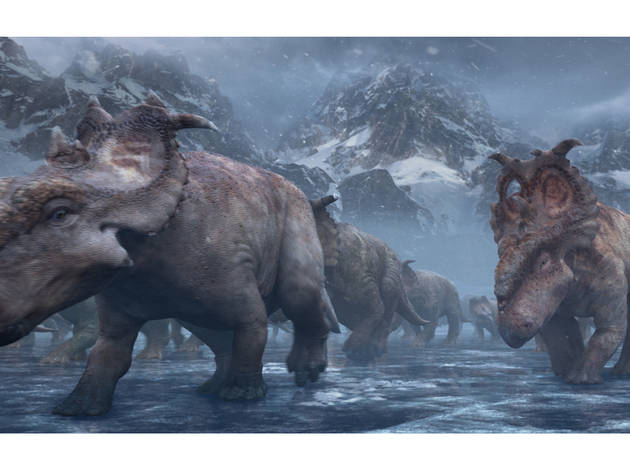 9/9
Kids' movies playing in theaters over the holidays: Walking With Dinosaurs This new dino film seeks to give to kids what Avatar offered adults: a uniquely immersive moviegoing experience. Instead of an alien planet, however, this movie is set on Earth, 65 million years ago. Made with the help of James Cameron's 3-D specialists and a team of paleontologists, the film follows a plucky little Pachyrhinosaurus named Patchi from egg to adulthood. The scoop: More than 7 million people have seen the Walking with Dinosaurs live arena show, and if you're not one of them, this may be as up-close and personal as you'll get to the Cretaceous period. But be warned: The filmmakers incorporated the latest paleontological discoveries, which means the dinosaurs don't necessarily look like the ones from Jurassic Park. Expect more feathers. Opens Dec 20; not yet rated.