Lost in translation?
That great picture book is now available in a chunky little board edition. But will baby find it a good read?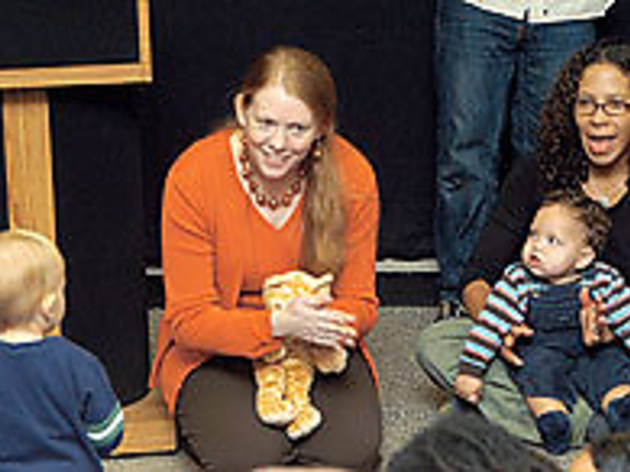 Board books may be small in size, but that doesn't mean that these indestructible volumes, which are intended primarily for kids under age three, are insignificant. In fact, they're taking up more and more shelf space at discount retailers (and proven book-movers) such as Target and Wal-Mart. And because board books are selling, says Lorraine Shanley of Market Partners International, which produces the monthly newsletter Publishing Trends, publishers are pumping them out with increasing frequency. As a result, parents are finding a number of classic picture books, along with recent best-sellers, repackaged in heavy stock.
But does every picture book make for a good board book? Not necessarily, says Rachel Payne, the coordinator of preschool services at Brooklyn Public Library and the director of BPL's recently launched Brooklyn Reads to Babies initiative, a campaign that emphasizes the importance of reading to children from birth and provides recommendations for top reads. "You should be looking for board books that have the three R's: rhythm, rhyme and repetition," continues Payne, "and high-contrast illustrations for newborns. Often people think about soft, pastel colors for babies, but it's bolder colors that they can see clearly and respond to."
With these tips in mind, we showed Payne some adaptations of classic picture books and a new board-book original, and asked her to consider whether they're worth adding to your tot's bookshelf.
For more information on the Brooklyn Reads to Babies initiative, visit www.brooklynpubliclibrary.org.
Look at the Animals
By Peter Linenthal. Penguin, $6.99. Feb 2006.
What works This board-book original's bold, high-contrast illustrations of pandas, zebras, birds and whales, and its simple and playful text about what these animals are doing, Payne says, make it one of those rare great books for the very young.
What doesn't "Some parents like a little bit more text," Payne says, although she points out that people can talk about a book's pictures with their children.
Who's it best for? Newborns to six-month-olds.
The Snowman
By Raymond Briggs. Random House, $4.99. Board-book edition Sept 2000.
What works Briggs's wordless 1976 best-seller about a snowman that comes to life might seem perfect for preverbal babies, but...
What doesn't The story, told in a sequence of picture panels, is just too difficult for babies to follow. "It's hard for young children who don't know how to read to know where [on the page] to look," says Payne. By reducing the size of the book by half, she adds, "you're really losing a lot in the illustrations. And it's very hard to see what's happening in the smaller-size pictures."
Who's it best for? No one. Skip the board book, and once your child turns four, shell out for the original.
Hop on Pop
By Dr. Seuss. Random House, $4.99. Board-book edition Jan 2004.
What works "What makes [Seuss's early-readers] so good for children learning to read also makes them good books for babies learning language," Payne says, referring to the three Rs in this classic 1963 picture book. And, she adds, the boldly colored illustrations have survived the transition intact.
What doesn't Babies won't understand Seuss's humor.
Who's it best for? Payne's initial response is children 18 months and older, but a "scary" tiger on one of the pages leads her to bump up the entry age to 24 months.
Harry the Dirty Dog
By Gene Zion. Illustrations by Margaret Bloy Graham. HarperCollins, $6.99. Board-book edition Jan 2006.
What works Unfortunately, almost nothing works well in this new edition of Zion's beloved 1956 tale about a dog that runs away to avoid a bath, Payne says.
What doesn't The detail-heavy story. "Sometimes young children can understand stories with a plot and characters—but often, that's something that they have to work up to," Payne says. "Although I love this book, and it's such a classic, wonderful story, I wouldn't recommend it for children under three."
Who's it best for? Kids three-years-old and up (therefore, you're better off waiting and buying the picture book).
This Little Chick
By John Lawrence. Candlewick, $6.99. Board-book edition Jan 2006.
What works Payne is excited to see this new board version of the New York Times Best Illustrated Book of 2002, which features a little chick mimicking the sounds of the various animal families she visits. "It's got the three R's, and of course, young children love animal sounds. The bold, woodcut-style illustrations are actually good for young children, and you can see the details in them even though they're a smaller size."
What doesn't Not much. Even though the full-size versions of the illustrations are livelier, says Payne, they still look great in the smaller size.
Who's it best for? Babies six months and older. It's a little long for younger infants, Payne advises.