Heads up! We're working hard to be accurate – but these are unusual times, so please always check before heading out.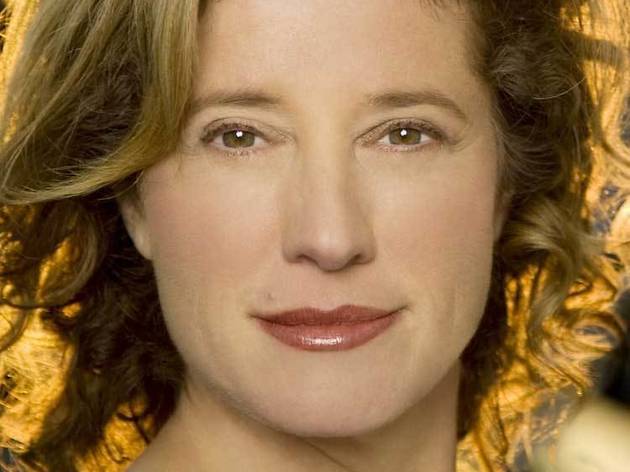 Nancy Travis
We gawk at some celebs; we want to befriend others. Meet our new pal, this down-to-earth mom and actress.
Name doesn't ring a bell? Well, perhaps her credits will. She played leading lady in Three Men and a Baby and Mike Myers's kooky love interest in the cult flick So I Married an Axe Murderer, and she starred in a quality but prematurely canceled sitcom, Almost Perfect. These days, you can catch Travis as comedian Bill Engvall's wife, Susan, on his eponymous TBS comedy, and in the new Hallmark Channel movie Safe Harbor, premiering Saturday, May 30, at 9pm, about a couple who put off retirement to mentor delinquent teens. Travis's favorite role, however, is real-life mom. Married to Hollywood movie producer Rob Fried (The Boondock Saints, Collateral) since 1994, she has devoted herself first and foremost to raising their two sons: Benjamin, 11, and Jeremy, 8. Time Out Kids chatted with Travis about her projects and why parenthood is her priority.
Why did you sign on to Safe Harbor?
I love the story. Here was this woman—the film is based on a real person and a real cause—who was planning on retiring and traveling around the world with her husband, and then this judge that she works for brings by a kid who needs a place to stay. The child is a delinquent in the process of being arraigned, and this leads to other kids staying with her. And then [she and her husband] realize their mission in life, which is to help rehabilitate these kids so they can get on a better path. I just thought that was so profound, the notion of having your life plan in place and then fate coming along and completely redirecting you.
Have you had an experience like that, where you've gone in a totally different direction?
Yeah, and I'm such a Virgo. I'm such a controlling, planning, have-to-have-it-all-down kind of person. I knew I wanted to be an actress and I was dead-set on that course in an aggressive, ambitious way. I also knew I wanted to get married and have kids, but I didn't factor in that it would affect my career. What ended up happening is that I fell in love with my family more than my career, and that took precedence. I'm grateful for everything I have.
How carefully do you factor in your day-to-day family routine when choosing projects?
Oh, very much. It's the primary thing that I think of when I take a role. As soon as I had my kids, my whole logistical direction changed. I began to choose [projects] based on where they were filmed and the time commitment involved. Since I've had kids I've rarely been away from home. I really enjoy doing The Bill Engvall Show, [in part] because the hours are really manageable. I start work at 10am and I'm done by 3 or 4pm. But even with that schedule, I'm juggling! My husband is going to be out of town next weekend and we're trying to figure out who's going to bring our son to his Little League play-off game. It's always complicated.
You were born in New York. Did you spend any of your childhood here?
My family lived in Astoria, Queens, for about five years. We lived in a three-family house that my grandparents owned. Then we moved to Baltimore, Maryland, and later to Massachusetts. But I ended up going to NYU, so I was back in New York for four years, and then I stayed another two or three.
You live in Hollywood now. Do you feel like you're a New Yorker at all?
I feel very much like an East Coaster in my sensibility about things, but I have to say I've fallen in love with the West. Once again, who knows where life will take me; I love both coasts. I guess I should familiarize myself with the rest of the country and not be so bicoastal.
Do you ever come to New York with your kids?
My husband's family lives in Ardsley, which is in Westchester, and we visit regularly. I wish my travels brought me to the city more often, but we end up spending more time on the outskirts. We have family in Irvington, in Bayside, Queens, and in Connecticut. So I'm seeing more suburban New York than I am urban New York.
Do you have any favorite places in Queens from your childhood?
Other than going downstairs for breakfast at Grandma's? No, not really. [Laughs]
You were a founding member of the lauded Off Broadway theater company Naked Angels. What was that like?
It was pretty amazing. We were all young, idealistic and excited artists with nowhere to go. Out of that frustration grew the idea of forming our own company. It started out as just getting together to read great plays at different houses, which soon evolved into "Let's put on our own show." In order to do that, we needed money, so we said, "Let's have a fund-raiser!" And we needed a space to do that, so it became a "Let's get a barn and do a show" kind of thing. It was a lot of struggle, and people came and went. But we managed to create something. I'm not that involved now, although I'm still a member.
Do you have any plans to return to theater?
I dream about it constantly! It is a fantasy of mine, and once again, it's a logistical thing. How do I go to New York? What do I do with the kids? Do I bring them? Do they stay? But I'm dying to come to New York to do a play.
In your opinion, are L.A. parents more or less neurotic about their kids than New York parents?
It's ironic that you should ask me that. I'm getting my hair colored right now and we're sitting here talking about private schools. My son has to apply to the next level, and I'm trying to avoid the stress of that. I don't know if it's a bicoastal thing or a general parental thing of the age. We're more focused on being parents [than our forebears were] and everyone is trying to do it perfectly. These days, if both parents are working, there's something that has to be balanced. It's complicated.
Do you and Rob split parenting duties?
We are both pretty involved. We both work and we're both kind of juggling the carpooling and the scheduling and all that. I will say that I'm the cook, and I end up being the one who knows where things are in the house. But definitely, compared with my own parents, he's more involved as a father.
What do you like to do together as a family?
We love to travel. I can't imagine a vacation without my kids, even though I probably should take one with just my husband. But we just love to be with them. We love outdoor activities, bicycling, seeing interesting natural places. We're going to go to Yellowstone this summer. We spend a lot of time with other families, barbecuing and just hanging out. I have the least stereotypical life of a celebrity in this town that you could imagine. You'll rarely see me out at a premiere or at an event. I really am a homebody.
Is it hard to do that in L.A.?
There's a little pressure. But basically, when you have a family, you get to use them as an excuse. So I take advantage of it—willingly and gladly. [Laughs]
Did you always imagine living in L.A.?
Having grown up on the East Coast, I was a die-hard New Yorker. I really envisioned that I would have a place in the city and a place in the country in upstate New York, and that Los Angeles would just be a place that I would visit once in a while for work. But then I met Rob out here and we fell in love, and the next thing I knew I was packing up my apartment—and I've been here for 20 years now. Will I be here forever? I don't know. For now, it's a great lifestyle. When I talk to family on the East Coast and they're snowbound and I'm walking around in 80-degree weather, I think, We're really blessed.
Do your kids see you as a star?
I'm their mom first. They're enamored of the fact that I'm an actress, but only because it sheds light on how wonderful they are. For example, if someone stops me on the street and says, "Oh hi, Nancy Travis. I like your work," my son will say, "Yes, and I'm her son! Isn't that wonderful?" But I can be on TV in the background and they'll just sort of mention it, like, "Oh look, Mom, you're on TV."
Do they have any desire to go into showbiz?
It comes and goes. My older son has more of a desire to be famous than to necessarily be an actor. That's not quite the ambition I want him to have. Who knows; it's fun to watch them and wait to see how they'll turn out.