Nat and Alex Wolff
The adorable twosome from Nickelodeon's The Naked Brothers Band chat about their current tour, growing up in Gotham and how much they hate the Knicks.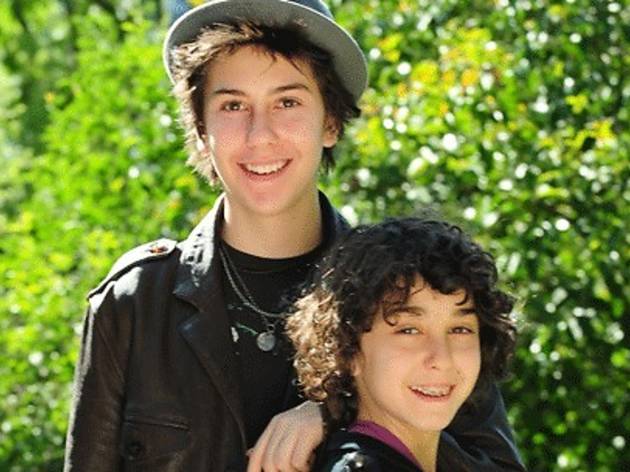 It's hard to take the Wolff boys seriously. Not only do they laugh incessantly at each other's quips, they crack up everyone else around them, too. In between giggles, however, Nat, 14, and Alex, 11, are quite mature, which isn't surprising considering all they've achieved. Nat was just in preschool when he started his first group, and soon his musical aspirations became a family affair: After the boys founded the Naked Brothers Band, their parents—actress Polly Draper and jazz musician Michael Wolff—created the indie mockumentary The Naked Brothers Band: The Movie, which became the basis for their hit Nickelodeon series of the same name. Although the show ended earlier this year, Nat and Alex continue to rock out and goof around on tour, and will be hitting the Fillmore New York at Irving Plaza for a family-friendly Saturday matinee on August 29. (For a chance to win four tickets to the show, click here!) Time Out Kids spoke (and laughed) with the New York--based duo about fame, family and their devoted fans.
Touring must be hard work. How are you doing?
Nat: We're doing well. We're on Fire Island right now vacationing because we have a week off from performing. Our family comes here every year. We're seeing our grandparents, going to the beach and just hanging out.
Are you riding beach cruisers around the island?
Nat: What's a beach cruiser?
It's a bike that's made to ride along the beach.
Alex: Never heard of it. We live in New York so we don't know those terms. We know taxi, subway and walk.
How's the tour going so far?
Nat: Really well. We tour around on a bus with our parents and the band. We get to really dissect each show and see how we can make it better. This tour doesn't feel as erratic [as our last one]. There's a rhythm.
Alex: This tour set the bar higher. Every show is a good show. We're more consistent.
Have you had to deal with any crazy fans?
Alex: Billions! There was one recently at the Santa Rosa [California] concert. It was on a football field. I went up to this gate and said "Hi" to these fans, and then I saw this little girl just fall right in front of me. She had climbed the fence while her mother distracted me! She grabbed on to me and asked for my autograph. Of course I had to give it to her—she had gone to all that trouble.
You guys work closely with your parents on all your projects. Is that stressful?
Nat: Yeah, of course, we get annoyed with them like all kids get annoyed with their parents, and we get annoyed with each other, too. But they created our show, and there wouldn't be any of this without them. It's been really helpful to have them on tour because they can watch us each night and then give us advice on what we're doing right or wrong.
What happens when you two get on each other's nerves?
Alex: We fight to the death!
You duke it out?
Alex: Yep. We just take chandeliers and break them on each other's head.
Who usually wins?
Alex: E.T. [their pet French bulldog]. He usually bites someone's foot. He's the peacemaker.
Is it true that you came up with your band name in the bathtub?
Alex: That is true. I don't know if that was our proudest moment, telling everyone about our bathtub experiences.
Nat: I don't know, Alex, I think you were pretty proud. I wanted to keep it on the down low, but you were open about it.
Do you guys have girlfriends?
Alex: So, what's your next question?
You're not going to answer that?
Alex: Kristen Stewart. She's very pretty.
Nat: I'm gonna go with the Kristen Stewart answer, too.
Alex: I don't think we can share her, Nat, so you gotta go with Jessica Biel. I got dibs on Kristen.
Nat: Okay, I'm down with that.
I know you guys are Green Day and Beatles fans. What other musicians have inspired you?
Nat: I'm a huge Nirvana fan.
Alex: Led Zeppelin! And Sting.
Nat: I love James Taylor, Jeff Buckley, Elliott Smith and Nine Inch Nails.
If you had to change careers, what would you guys do?
Nat: I'd probably be a writer.
Alex: I think I'd be a fish. That would be another life, I guess, not another job. But I want to be a fish really bad. Maybe a basketball player.
For which team?
Alex: The Lakers, obviously.
But you live in New York. You're not a Knicks fan?
Alex: Even if you're from New York, you gotta hate the Knicks. The Knicks are horrible!
Nat: We were born in L.A. so we grew to love the Lakers. When we moved to New York we just never switched.
Was it difficult saying goodbye to your Nickelodeon series?
Nat: We were sad in a way. We loved the show and will miss everyone we worked with. But we were definitely ready to move on. We got to the peak of where we could go with it. Now we're just excited to be on tour.
Do you prefer acting or music?
Nat:Until now they've kind of run together. Because of the show, we've become much better actors and musicians. Hopefully, we can continue to do both.
What are you guys going to do when the tour is over?
Nat: Not sure. Go back to school probably.
Alex: Sit in math class and be depressed.
Do you worry you'll be out of the loop when you return to school?
Nat: Yeah, I do. Workwise we're always up-to-date because we have tutors and all that. But socially it's hard. It's jarring to go from one amazing experience to another that feels ordinary. I don't quite know how to explain it. You see the uniqueness of what you've been doing, and disassociating yourself from it and going back to the "normal" life is tough.
What are your favorite New York hangouts?
Nat: I love the Grey Dog in Union Square.
Alex: I love Stand, the burger place. It's so homey. We go to the movies a lot. Regal Cinemas, the one in Union Square, is an awesome place. We also play basketball at West 4th Street.
Are you guys allowed to take the subway by yourselves?
Alex: Nat is. I take the subway with him to school. But ever since I saw The Taking of Pelham 1, 2, 3, I've been a little freaked out.
Nat: That movie is so good. John Travolta is in it. He's such a great actor.
Alex: In the movie, he's like the Joker in Batman—the same acting style. He's scary, but you kind of like him.
So it's Nat- and Alex-approved?
Alex: It's 100% stamped and approved.
Famous last words?
Nat: We're really excited about our show in New York. We're playing at Irving Plaza, where so many of our idols have played. We love going to shows there.
Alex: I actually just saw a video of Green Day playing "Basket Case" at Irving. It's insane that we'll get to play there. We can't wait.