Quvenzhané Wallis interview: A major minor
Hard-knock life? Hardly! Quvenzhané Wallis sings and dances her way through beloved kids' musical, AnnieHard-knock life?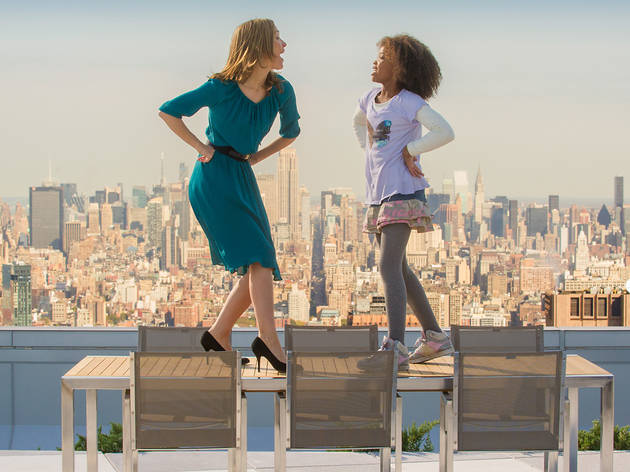 Louisiana native Quvenzhané Wallis snagged an Oscar nomination at just nine years old for Beasts of the Southern Wild, and now, two years later, she's trying New York City on for size as the new star of Annie.
Congrats on landing the lead in Annie! Do you feel like you and your character have a lot in common?
Yes, we both love to have fun. We're both really confident, and we stay strong. And we're both pretty...Kidding, kidding!
What's the difference between this Annie and the previous films?
The new version uses cell phones and updated music. There's pop music and also music with good bass. It's all just more present. It's also not about an orphan; it's a foster kid in this one.
Do you have any funny behind-the-scenes stories you can share with us?
Yes! When Jamie [Foxx] and I were shooting outside in New York, cars that passed by would either already have their windows down or would wind them down so they could say, "We love you, Jamie!" We'd always just laugh.
What was your favorite part of filming in New York City?
It was really fun and big! There were a lot of people, and there was always something going on. We kind of just went with the script while people were walking by, and when Jamie and I had ideas, our director would let us try them out.
Do you think you'd ever live here?
I'm not sure. I'm not saying that it's bad, and I'm not saying that it's good. I'm saying that it's great! It's a nice city. You can walk everywhere.
What's your favorite movie of all time?
Frozen. And I love my Princess and the Frog! Raymond is my favorite.
Tell us about the other projects you're working on.
Annie is coming out in December, Fathers and Daughters, which is about a writer and his daughter, is in post, and then Counting by 7s, about a girl named Willow Chance, is in preproduction.
If you were to give one piece of advice to someone your age who wanted to be an actress, what would it be?
Be confident. Wait, can I change that? Don't listen to what other people say about you negatively! If it's positive, we like it.
You've become a style icon for your puppy purses. What's your favorite accessory?
Headbands! They keep my edges down.
Catch Annie in theaters Dec 19.