Scott Baio
The former teen heartthrob and celebreality star is a middle-aged married dad...and loving it.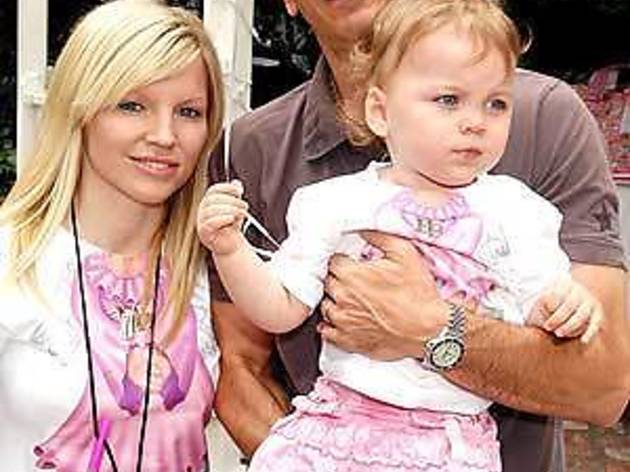 If you're a woman who came of age in the '70s and '80s, Scott Baio's name probably conjures giddy memories of the adolescent actor sporting feathered hair and tight jeans as Chachi on the nostalgic sitcoms Happy Days and its short-lived spin-off, Joanie Loves Chachi. Those reared in the '90s recall him as the macho manny on Charles in Charge. As time went on, Baio became better known for his off-screen role as Romeo: He reportedly dated a bevy of beauties, including Pamela Anderson, Nicollette Sheridan, Denise Richards and Heather Locklear. In the '00s, he revitalized his career—and his private life—with a pair of VH1 reality shows: Scott Baio Is 45...and Single and Scott Baio Is 46...and Pregnant, during which the die-hard bachelor conquered his cold feet and settled down with longtime girlfriend, now wife, Renee Sloan and their 18-month-old, Bailey. Time Out Kids talked with the Casanova turned committed family man and his spouse about his tabloid-target past, their life in the parent lane and their daughter's health scare, which prompted them to establish the Bailey Baio Angel Foundation.
How did a boy from Bay Ridge, Brooklyn, get his start in Hollywood?
Scott Baio As a kid going on auditions [in the city], my Italian looks [initially] worked against me. I became disillusioned with the auditioning process, and didn't want to travel into Manhattan—which as a kid felt like going to China—when I could be playing with my friends. But one day there was an audition for the film Bugsy Malone and since it was raining and I couldn't play outside, my mom convinced me to go. I definitely had a bad attitude, and after I read for the director, Alan Parker, I threw the script at him. [Somehow], I was offered a supporting role. My dad said unless I was offered the lead, he didn't want me to fly to England to do the movie. So although they had already cast another actor, Paul Chirelstein [as the title character], they offered me the part.
How did you end up on Happy Days?
SB [After seeing Bugsy Malone, Happy Days creator] Garry Marshall convinced my dad to have me do Happy Days as opposed to signing a seven-year contract with Paramount.
What was it like being a teen thrust into the Hollywood scene?
SB I worked on Happy Days from ages 15 to 23, and one of my parents was always with me. It was a much more innocent era—maybe because there were only three networks, it was a different ballgame. We were so squeaky clean. I would've been banished if I'd had a sex tape leaked. It's a very different business now, much more in your face. Back then it was better to be good, whereas now it's better to be bad, which seems totally ass-backward.
Although your career has had its ups and downs, you managed to weather the transition from child star to adult actor. How did you do that?
SB The thing is, I'm a Catholic boy from Brooklyn with certain beliefs and ideals that were very hard to shake. I truly believe that's what's gotten me through life. I also always knew that I was blessed to have all of this good fortune and that I'd never want to jeopardize it. What really kept me grounded were my mother and father. My parents were second-generation old-world Italian, and my dad, God rest his soul, put the fear in me about ever doing drugs. When I look at certain young celebrities in crisis today, it's a totally different situation—especially those whose parents are trying to get famous as well. If my daughter ever wants to go into show business, I'll make sure she has another job outside the industry. If anyone ever disrepected Bailey I would make her quit the business.
What prompted you to launch your reality TV series?
SB I was looking for a break from the business. I'd been working since I was nine, and I was tired and over it. Then [my friend, former child actor turned producer] Jason Hervey pitched me the idea, and I said I would do the show provided it was about a guy trying to figure out his life and would be like a sitcom. We got lucky: 90 percent of it was what he and I wanted. You need to be really careful with these reality shows or else you can become radioactive.
Renee, what's it like being married to a man as well known as Scott?
Renee Sloan Baio The first time I ever laid eyes on Scott was in 1992, when I was a stuntwoman on Baywatch and he was on the lot visiting Pamela Anderson. We saw each other at the Playboy Mansion and then finally started dating in 2003. Doing the reality shows with Scott definitely wasn't natural for me; you have to open yourself up to the public. It made me really uncomfortable and actually gave me a better understanding of what he's experienced.
I know there were some issues with your pregnancy. Tell me about that.
RSB When I was 11 weeks pregnant with our twins, we lost one of the babies. Later, I had an emergency C-section with our daughter. Thankfully, she was fine, and we took her home. A few days later we got a phone call to bring her to the pediatrician's office, and we were told that she had tested positive for a metabolic disorder. We waited ten weeks until we got the conclusive results of a tissue test. I'd never heard the term metabolic disorder, and I immersed myself in researching every best- and worst-case scenario. Scott went the total opposite way: He was afraid to bond with his daughter and was worried that she might die. We had already lost one twin, and I think he was in a rage. I remember lying down with her a few days before Christmas, and I felt as though God was letting us know that the baby I had lost had the disorder and that Bailey was just a carrier. When Bailey turned ten weeks old, we finally learned that she was okay and that it had been a false positive.
Is that what inspired you to establish the Bailey Baio Angel Foundation?
SB I can't take any credit for the organization; it was really my wife's mission. As soon as we got a clean bill of health for our daughter, I had my golf clubs ready. But Renee believed we had a responsibility to these kids and this community of parents.
RSB When you're given the gift of a healthy child after going through ten weeks of hell, you realize what these special families go through on a daily basis. You can't just go to a mommy-and-me class with your healthy child and forget about them. After we shared our story, we started getting e-mails with pictures of little babies in caskets and parents thanking us for giving this disorder a public voice. Everyone knows about kids with cancer, but who's heard of metabolic disorders?
Scott, do you think waiting so long to start a family has made you a better husband and father?
SB Yes. I've done the Hollywood scene. There's nothing to lure me. The truth is, we're just normal people. Our friends are not in the business. I finally met the right girl and I really don't want to screw this up. I've got a 19-year-old stepdaughter and a beautiful 18-month-old little girl. Every day is a new experience and I'm learning along the way. Life takes you down paths that you're not ready for; it's all about adjusting to change.