Summer camps for kids: Your questions answered by experts
Navigating the land of summer camps for kids isn't easy, so we asked the experts for some help with frequently asked questions.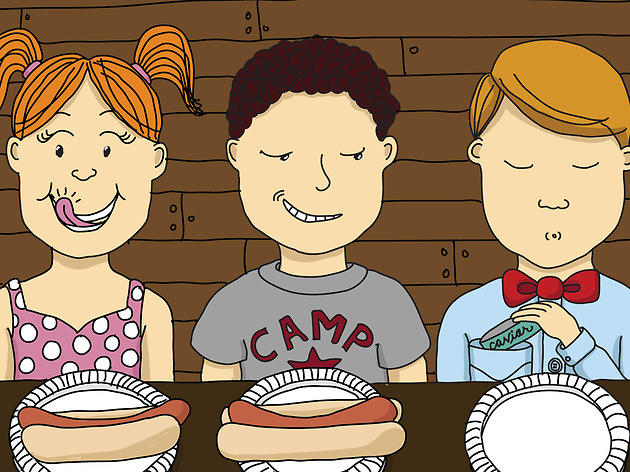 Whether parents are pros or newbies when it comes to summer camps for kids, they're bound to have questions each spring about everything from when their child is ready for overnight camp to how to wean their children from their screens. Because we had some pressing camp queries ourselves, we asked some experts—Laurel Barrie, founder of free referral service Camp Connection; Susie Lupert, executive director of the American Camp Association for New York and New Jersey; and Michael Thompson, Ph.D., author of Homesick and Happy: How Time Away From Parents Can Help a Child Grow—for their advice on the most frequently asked questions about summer camp for kids.

RECOMMENDED: Summer camps for kids
Q My kid is a picky eater, and I remember camp food being pretty awful. How can I be sure he won't starve?
A In many camps, bologna sandwiches and sloppy Joes have been replaced by vegetarian options and gourmet pizza (one child we know came home from camp insisting her mom learn how to cook shakshuka, an Israeli baked-egg dish). Still, even in the most basic camp kitchen, your kid will likely have several options to choose from, including ubiquitous hot dogs and PBJ sandwiches—unless, of course, you choose a nut-free camp. "Camp food has changed significantly since we were kids," says Susie Lupert, executive director of the American Camp Association for New York and New Jersey. "There is more variety, so there are always alternatives, like hot and cold salad bars and sandwiches." Keep in mind that your kid will not be the first, last or only picky eater the camp has ever seen, and that counselors are trained to make sure campers are eating something nutritious.
Q How do I know if my child is ready for sleepaway camp?
A Here's a pretty reliable test: When you drop her off at a friend's for a sleepover, does she race through the door, barely glancing back to say goodbye, or does she come down with a mysterious tummy ache and cancel at the last minute? When you show her an online video about camp, does she get pumped for the zipline and Fourth of July carnival or focus on why there are so many bugs in the woods? "It depends both on age and temperament—some kids are ready at eight, especially if they have older siblings who are going, and others need to be pushed out the door at 11 or 12," says Michael Thompson. Beware of allowing your child to hold on to those apron strings too long, he adds. "If you don't send your kid away until 14 or 15, then they risk going to a camp where all the other kids already know each other."
Q What happens if my kid sends me a letter from sleepaway camp saying that he's miserable and wants me to come pick him up?
A There's a reason most camps limit communication to snail mail rather than phone or e-mail for the first week, or even all summer, says Laurel Barrie, founder of the Camp Connection, a free referral service: "The U.S. Postal Service takes two or three days to get to you, and by then whatever the kid is upset about has probably been resolved!" It always takes a few days to get used to strange new things, like sharing a bunk with kids who won't stop talking about the Red Sox, or being expected to jump in a cold lake first thing in the morning. As for missing Mom, Dad and the dog, Michael Thompson, Ph.D., author of Homesick and Happy: How Time Away From Parents Can Help a Child Grow, points out that 97 percent of campers experience some homesickness, though it almost always works itself out in a couple of days. "It just means they have a home worth missing and people they love—all good things!" he says. If you do get one of those letters, the best thing to do is to write back and say, "We know it's tough, but we're so proud of you for sticking it out," says Thompson. Besides, if the situation gets so dire that your kid really needs to be rescued, the camp director will let you know. No one wants a sobbing kid to impinge on everyone else's fun.
Q Yikes—I see that a full summer of camp can cost $10,000 or more! Are there any less expensive options?
A Sticker stock is hardly unusual the first time a parent is shopping for summer camp ("What?? I paid less than that for my last year of college!"). It's certainly possible to drop ten grand or more, yet there are plenty of camps, both day and sleepaway, that give you a lot of bang for a much smaller buck. In the city, the nonprofits Oasis and Children's Aid Society run relatively affordable camps—and offer need-based scholarships. And if you jump online as soon as registration opens (hint: This year it's March 7 at 9am), you might snag a spot in the NYC Parks Experience Summer Day Camp, which offers kids ages 6 to 13 seven weeks of swimming and frolicking in city parks for about $500. If you're coming up short, though, here's a suggestion from Susie Lupert: "Some families ask relatives to put money in a camp fund instead of buying birthday and holiday presents. It can definitely add up."
Q My kids are addicted to their electronic screens—should I let them take them to summer camp?
A Do you really want that $500 iPad stuck in a backpack in a cubby (best-case scenario) or at the bottom of a chlorinated pool? Even if electronics are allowed on the way to camp, they'll likely be off-limits once the kids get there. Plus, a good chunk of summertime social life takes place on the bus ride, points out Susie Lupert, so the kid sitting in the back playing Angry Birds might be missing out on some important bonding. Ultimately the decision is yours, but keep in mind that a little screen-time detox can be as invigorating as all that fresh air they'll breathe.
Q There are so many specialized day camps in New York, focusing on robotics and skateboarding to ballet. Should I send my kid to one of those, or a general interest camp where you hike and make lanyards?
A Some kids really need to cut loose in the summer, playing kickball, getting dirty and not learning a darn thing. Others love nothing more than sitting in front of a computer designing video games or staring at a chess board perfecting their opening moves. The great thing about New York City is that both options are abundantly available. Be sure to consider not only what your kid likes, but also what will make your life easier. If you work full-time and need two months of full-day coverage, a traditional camp where your child will settle into a summer-long routine is going to work best. On the other hand, if you're looking to fill in a week here and there in between other family plans, then your kid can try her hand at anything from claymation (Children's Museum of the Arts) to beginner fencing (Brooklyn Fencing Center) and skyscraper design (Center for Architecture Foundation).
Q I love the idea of a day camp outside the city, but how do the kids handle being on a bus for almost an hour each way?
A Most city kids walk to school and rarely ride in a car that isn't yellow and black with a television in the back seat, so the idea of putting them on a 45-minute bus trip to the rolling green hills of Rockland County or Long Island can be daunting—no matter how tempting those tennis courts and horseback riding stables may be. Camps all try to make the most of the commute, making sure their buses are air-conditioned and stocked with water coolers and counselors who are willing to sing endless verses of "99 Bottles of Beer on the Wall." "But honestly," says Laurel Barrie, "camp is so exhausting that the bus ride home is a great time for kids to nap!"