The best new kids' movies of 2017
Catch the best new kids' movies 2017 has to offer. The best G, PG and PG-13–rated flicks of the year are here!
Our list of the best new kids' movies of 2017 will keep you in the loop of the coolest flicks you need to see with the tots. Included in this year's batch are sequels to animated favorites, superhero picks for tweens and teens and reboots that will even make the grownups in the audience nostalgic for their own childhood days.
If you're looking for more films to enjoy with the whole family, browse through our list of the best kids' movies, search for recognizable landmarks in kids movies set in New York City and find the best family movies on Netflix.
Don't forget to check out our guide to the best new kids' movies of 2018!
Best new kids' movies of 2017
1
Photograph: Courtesy Clay Enos
After a steady stream of movies about male superheroes, it's about time a wonder woman shows us how it's done. This film takes us through the upbringing of Amazonian princess Diana as she trains relentlessly to become a fierce warrior. When an American pilot crash-lands on the shores of Diana's secluded island and tells her about a terrible war taking place in a faraway land, the DC Comics heroine flies off to help—and learns that she's capable of so much more than she realized. This action- packed flick is definitely best-suited to your older kids, so be sure to send littler ones on a conveniently timed playdate. Opens June 2. PG-13.
2
Photograph: Courtesy Disney Pixar
Lightning McQueen is zooming back into our hearts, but a fresh crop of speed racers threatens to leave #95 in the dust. Not one to rest on his tires, our hero partners with a young race technician, Cruz Ramirez, who's also hoping to be crowned the Piston Cup racing champion. With her help, this little red car that could is off to prove that he can do it once again—and will totally enchant your kids in the process. Opens June 16. G.
3
Photograph: Courtesy Universal Pictures
Gru and the minions are back! This time, the reformed supervillain's fortitude is tested when he learns that he has a filthy rich twin brother, Dru, who's bent on bringing him back to the dark side. When Balthazar Bratt (voiced by South Park's Trey Parker), a former child star still obsessed with the role he played in the '80s, becomes the pair's groovy yet powerful nemesis, Gru must once again choose between good and evil. While kids will adore thereturn of the minions, adults can appreciate the '80s references that Balthazar throws right over the their little ones' heads. Opens June 30. PG.
4
Photo Credit: DreamWorks Animation
Captain Underpants: The First Epic Movie
This beloved children's book series is finally jumping to the big screen and into a pair of tighty-whities! Hilarity ensues when pranksters George and Harold hypnotize their angry principal, Mr. Krupp, into thinking he's Captain Underpants, the goofy underwear-clad superhero of their imagination. Unfortunately, the bumbling captain is more trouble than the duo had imagined, and now they have to keep him in line while they fend off a real evil genius posing as a teacher in their school. Tra-la-laaa! Opens June 2. PG.
5
Photograph: Courtesy The Weinstein Company
Orphans and BFFs Félicie and Victor take a leap of faith in pursuit of their dreams: She wants to become a dancer in Paris and he a famous inventor. When the doors to the Opera Ballet School finally open for Félicie to prance through, she realizes that she wasn't prepared to take on the attitude and hostile competitiveness of her classmates. With the help of Victor and a school custodian-turned-mentor named Odette, Félicie hopes to find her proper footing in the limelight. It's a story that rings true for many kids struggling both to fit in and follow their wildest ambitions. Opens Aug 30. PG.
6
Photograph: Courtesy Sony Pictures Animation
We might be living in smartphone-obsessed times, but have you ever wondered what's really going on behind those screens? The Emoji Movie takes us on a journey through the messaging app Textopolis, a vibrant city in which our favorite emojis live. All have a single fixed expression, but one guy has the ability to express a multitude of emotions. Determined to deal with his identity crisis, Gene enlists the help of fellow emojis Hi-5 and Jailbreak to correct the code that's making him show all the feelings. But up ahead is a greater threat that could mean game over for the entire emoji civilization. :O Opens July 28.
7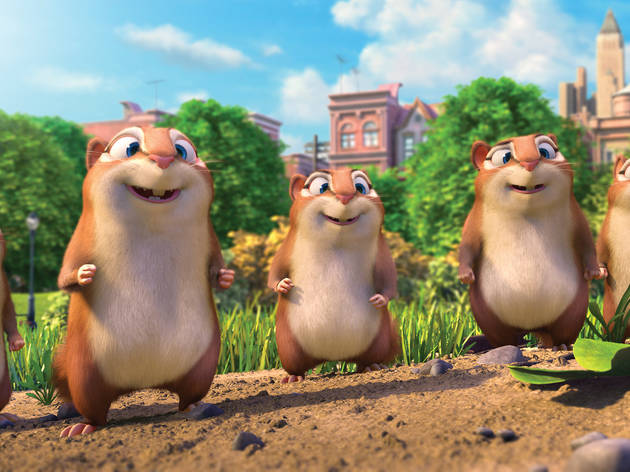 The Nut Job 2: Nutty by Nature
Surly the squirrel and the other critters are living large in Nibbler's Nut Shop, but when the shop gets blown to smithereens, it's up to Surly to find 'em another home. Liberty Park seems like the perfect spot but the grounds are getting razed to make way for a rickety amusement park. Together, they join forces to take on Oakton City's evil mayor and save their new home. It's a nutty job, but someone has to do it! Opens August 18.
My Little Pony: The Movie
Everything's butterflies and rainbows in Ponyville, but when a dark force threatens their home, the Mane 6—Twilight Sparkle, Applejack, Rainbow Dash, Pinkie Pie, Fluttershy and Rarity—travel to the end of Equestria to save their home. Along the way, they meet new friends and encounter obstacles that stand no chance against the ponies' unbreakable friendship. Opens Oct 6. PG.
Ninjago City is under attack and it's up to a team of newbie ninjas led by Master Wu to defeat the warlord Garmadon. Sticky thing is that the Green Ninja, whose real name is Master Builder Lloyd, is the son of the evildoer. Family ties go out the window when the two sides face off and attempt to summon their inner Spinjitzu force. Open Sept 22. PG.
What's a boy to do when he dreams of becoming a guitar player, but his family has a longstanding ban against music? Apparently he grabs his acoustic guitar and doggie companion Dante and heads into the Land of the Dead to discover the real reason why his family is so opposed to the idea. Along the journey, Miguel and Dante meet Hector, a trickster eager to visit the Land of the Living, and ancestors that still carry wisdom to share. Opens Nov 22.
This flick is based on the beloved child's tale about a Spanish fighting bull who'd rather stop and smell the roses than chase down matadors for glory. When Ferdinand is mistaken for a ferocious beast, he finds himself roped in with a group of legit fighting bulls and must decide which path will lead him back home: standing and fighting or staying true to his peaceful nature. Opens Dec 15.
More fun things to watch with kids
Things to do, Film events
Get in the know with the best family movies on Netflix for kids!