The Playdate Project: Elasia and Beatrice
We sent these mini New Yorkers on a blind (play)date in the city...let's find out if they became new BFFs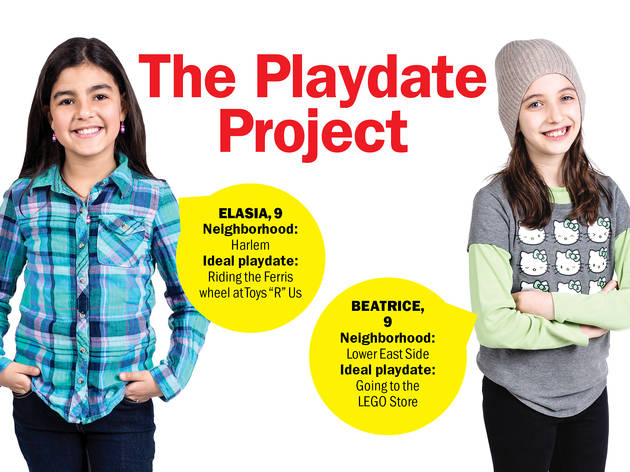 The Playdate: Passport to Eataly food tour
Eataly, 200 Fifth Ave (212-229-2560, eataly.com)
Elasia, 9 (Left)
Neighborhood: Harlem
Ideal playdate: Riding the Ferris wheel at Toys "R" Us
Beatrice, 9 (Right)
Neighborhood: Lower East Side
Ideal playdate: Going to the LEGO Store
Favorite thing about NYC:
Elasia: "You see things that people travel from all over the world to see. If I come downtown, the Empire State Building is right in front of me!"
Beatrice: "The parks. I like to go to the secret entrance to the playground in Central Park. You get in from on top of a rock."
First impression:
Elasia: "I thought she was actually gonna be shorter. I also thought she'd be very quiet, but I can see now that she's the exact opposite!"
Beatrice: "She looked fun, but she didn't look like what I expected—I thought she'd have black curly hair. I'm pretty sure we're the same age."
Best Part:
Elasia: "It's between the gelato and pizza stations. Their Margherita pizza is too good to be eaten with a knife and fork."
Beatrice: "Tasting the gelato. No, no—the mozzarella! It was very chewy and yummy, and I liked seeing how it's made."
Friend Potential:
Elasia: "We have a lot in common because we're older sisters. I wish I'd brought my wallet to give her one of my mom's cards."
Beatrice: "I think we'd get along if we hung out more. We'd probably go here again! We're both obsessed with lasagna."
Want to get set up? Email us at kids.ny@timeout.com with "PLAYDATE" in the subject line.