The Playdate Project: Sasha and Audrey
We sent these mini New Yorkers on a blind (play)date in the city...let's find out if they became new BFFs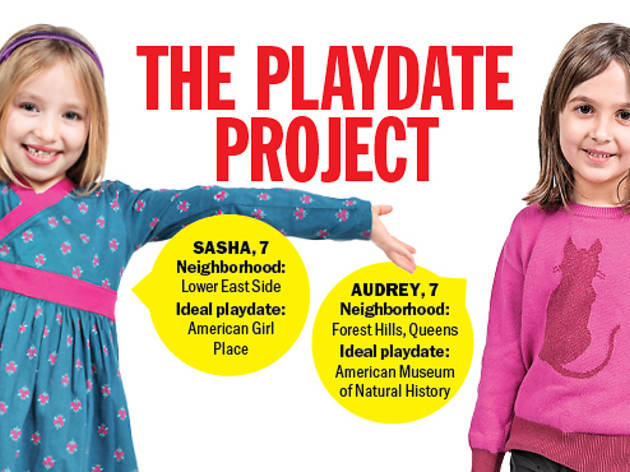 The Playdate: Making Dessert at Crave.It
545 Sixth Ave between 14th and 15th Sts (212-225-4048, craveitnyc.com)
Sasha, 7 (Left)
Neighborhood: Lower East Side
Ideal playdate: American Girl Place
Audrey, 7 (Right)
Neighborhood: Forest Hills, Queens
Ideal playdate: American Museum of Natural History
Favorite thing about NYC:
Sasha: "There's always something going on, always something to do. I like to go shopping and to museums."
Audrey: "I like that it's a nice place to live and there's lots of fun stuff to do. It has museums and restaurants and playgrounds."
First impression:
Sasha: "She was a little shy and really nice! I noticed she had different-colored sparkly stars on her sweater. It made me think of a rock star!"
Audrey: "I thought she was nice and friendly. She shared a gingerbread cookie with me."
Best Part:
Sasha: "When we got to see the ice cream and make hearts out of dough for the cookies. I pretty much liked everything."
Audrey: "Making everything! The chefs made gelato in a machine, and we got to add stuff like sprinkles and strawberries."
Friend Potential:
Sasha: "I want to be friends-she is easygoing and agreeable. Since she is shy, I might have to do all the talking!"
Audrey: "It was cool that we both have little brothers. I liked her and had a good time. I hope to see her soon."
Want to get set up? Email us at kids.ny@timeout.com with "PLAYDATE" in the headline.