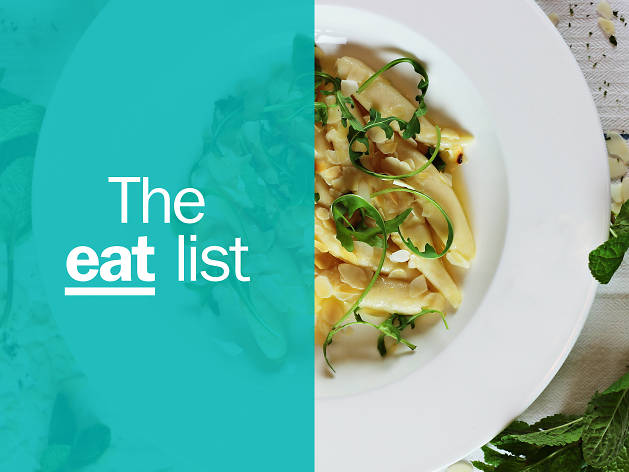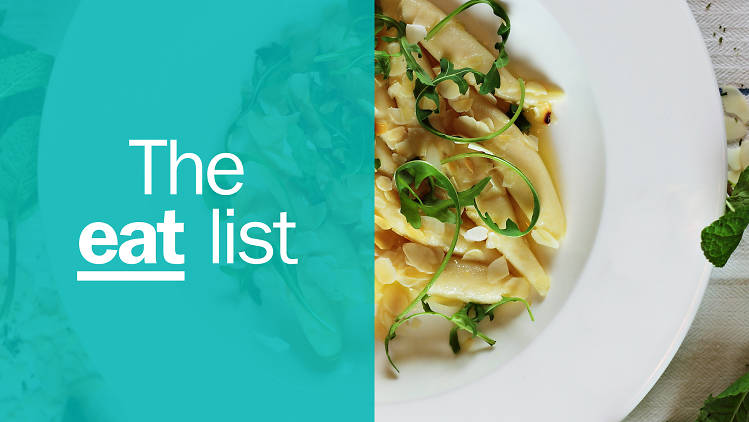 The 21 best restaurants in Newcastle
From award-winning fine dining to superior seafood, the best restaurants in Newcastle will delight your taste buds
If you're vacationing here, you're unlikely to ever go hungry but the best restaurants in Newcastle make living in this town a constant struggle to resist going out for a lavish meal every single night of the week.
From award-winning fine dining to the stalls of Grainger Market, all culinary budgets are accounted for. Don't forget how close you are to the coast: devouring superior fresh seafood is actually one of the best things to do in Newcastle.
Book yourself a room at one of the best hotels in town and get ready for some serious eating.
Best restaurants in Newcastle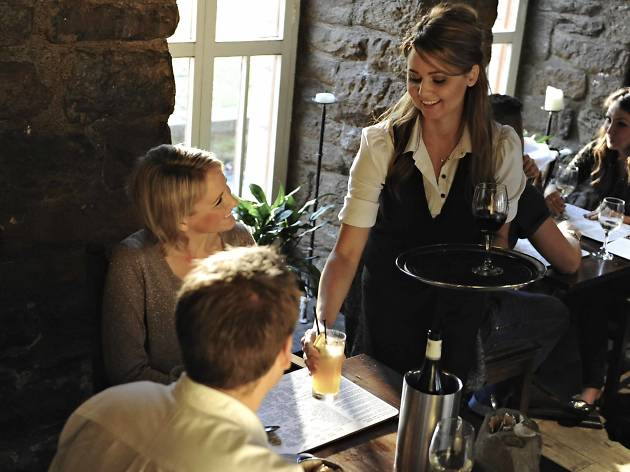 1. Blackfriars Restaurant
What is it? A 13th century friary where you can feast like medieval royalty.
Why go? Okay, okay, before you go full-on Sir Gawain, the 'medieval' bit is optional. Blackfriars do host medieval-themed banquets, but only for large groups booking in advance. The rest of the time the restaurant does fine European dining and some class act puddings. Get into the monastery spirit of things by ordering beer instead of wine. High-end.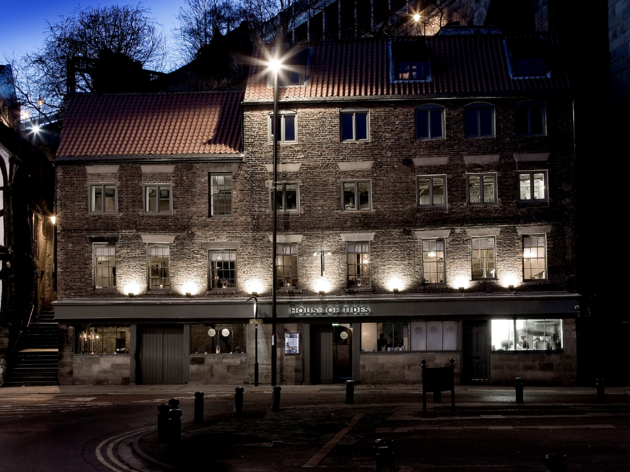 What is it? A michelin star restaurant in a historic building with an absolutely killer tasting menu.
Why go? This award-winning Newcastle restaurant is led by Kenny Atkinson, a familiar face on television, not least for his two wins on The Great British Menu. House of Tides does fine-dining but without the pretention. Its tasting menu is understated and perfectly paired, with the emphasis on local and seasonal. Oh, and it's got four AA rosettes, too. High-end.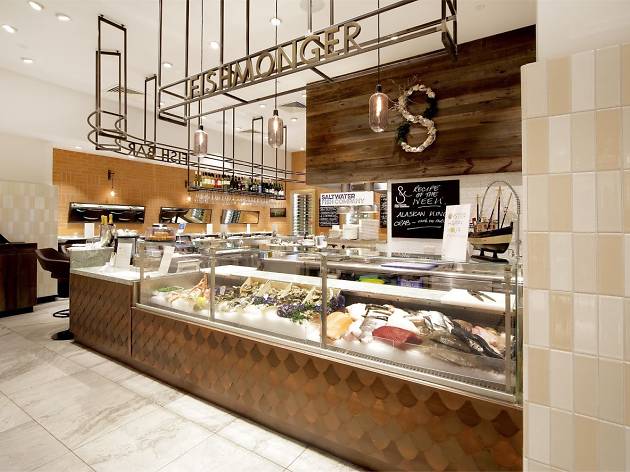 © Kevin Gibson Photography Ltd
3. Saltwater Fish Company
What is it? Fish doesn't get much fresher than this, unless it's still swimming.
Why go? Pull up a stool at the Saltwater Fish Company's counter in Fenwick's Foodhall and prepare for more underwater adventures than Ariel. Or, at the very least, taste some sincerely beautiful seafood. Like all the best fish restaurants, they keep the recipes simple and let the natural flavours speak for themselves. We're talking ceviche, tartare and even croque monsieur. Darling, it's better down where it's wetter, as they say. High-end.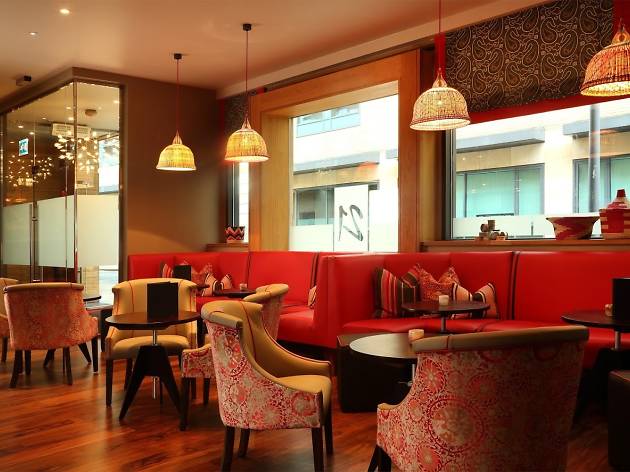 © Kevin Gibson Photography Ltd
What is it? Quayside bistro that's comfortable yet classy.
Why go? If you're feeling in need of a little love – either for your tummy or your heart – then 21 is the place to go. Ideal for a laid-back date where you want to keep chatting for a long while over wine, the menu sticks to classic dishes with seasonal and local additions. It's a simple formula but it works. High-end.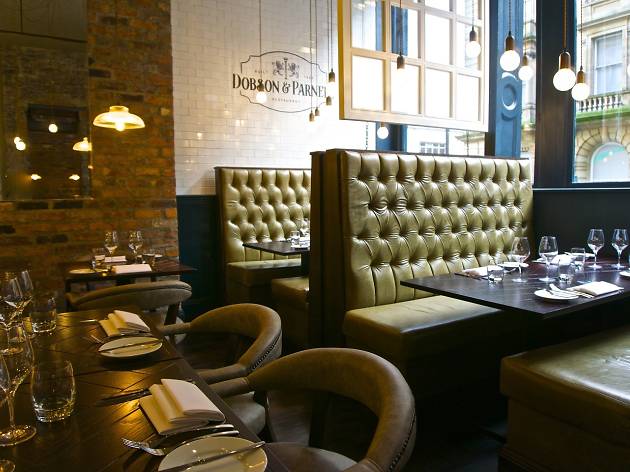 What is it? A foodie fantasia down on the quayside for those who like to Instagram their plates.
Why go? Curing, salting, smoking, brining, fermenting… Dobson & Parnell does it all. Owned by the same guys as Blackfriars, this trendy eatery serves contemporary British cuisine arranged picture-perfect on your plate. If you want to impress a foodie, book in for the 5 or 7-course taster menu. They'll be tagging you on Insta all night long. High-end.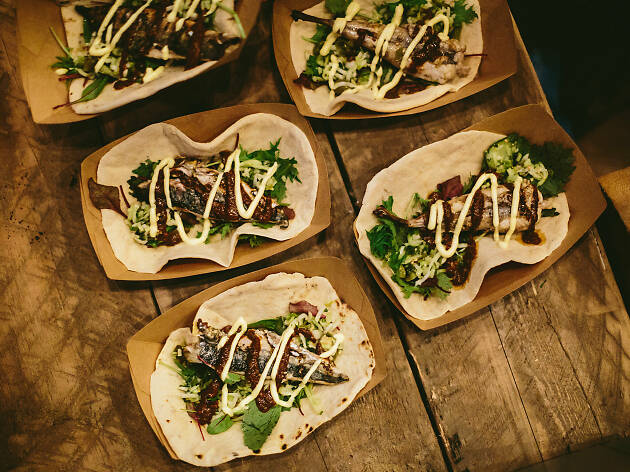 Photograph: Courtesy Nigel John
What is it? The very, very freshest fish at King Edward's Bay, Tynemouth.
Why go? There's a hugely praising quote from restaurant critic Jay Rayner on the Riley's Fish Shack website (and these guys deserve it). If you appreciate knowing where your food comes from, you'll love a visit to Riley's where the menu is completely dependent on the most recent, local catch. Mid-range.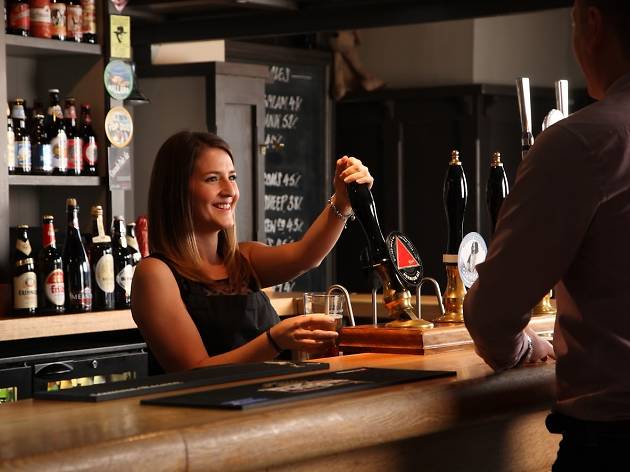 What is it? Old school British pub food to make you smile and keep you full.
Why go? There are times when you want something drizzled in jus or topped with foam, and there are other times when… you don't. You just want a proper scotch egg and a hearty side of fluffy-yet-crispy chips. Got a craving for quality fish, chips and other pub staples? Make a beeline for The Broad Chare. Mid-range.
What is it? Jesmond restaurant where the chef wants you to have a good time.
Why go? The Patricia is an English-style bistro run by a chef with a pedigree CV. But like several other fine-dining Newcastle restaurants it manages to wear its classiness lightly. Be prepared to step pleasantly outside your comfort zone with their four-course dinner menu, where British produce is prepared with flair and experimentalism. Excitement ahead. High-end.
What is it? North Shields gastro pub serving up the best of the British shoreline.
Why go? The Staith House is on North Sheilds' Fish Quay, and there's a big clue in the name. This very well-respected Newcastle restaurant is focused on the fish, meat and game right on its doorstep. It also offers an alternative to the busy city centre restaurants. And, as with any pub worth its salt, the puddings are proper old school: rice pud, crumble and sticky toffee. Mid-range/High-end.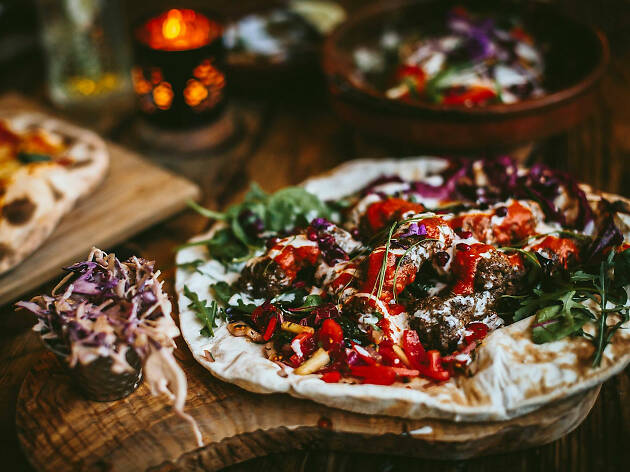 What is it? Posh kebabs, wood-fired pizzas and tacos in a fun and relaxed atmosphere.
Why go? Elder & Wolf were the proud winners of the 2017 Best Newcomer Kebab Restaurant in the UK. And if you think that award title is a bit of a mouthful, then you should try one of their dishes. These kebabs are nothing like the soggy strange thing you inhale at 3am on the street corner. Think: succulent meat, big flavours and fresh bread – there's so much going on here you'll barely have time to order a second cocktail. Mid-range.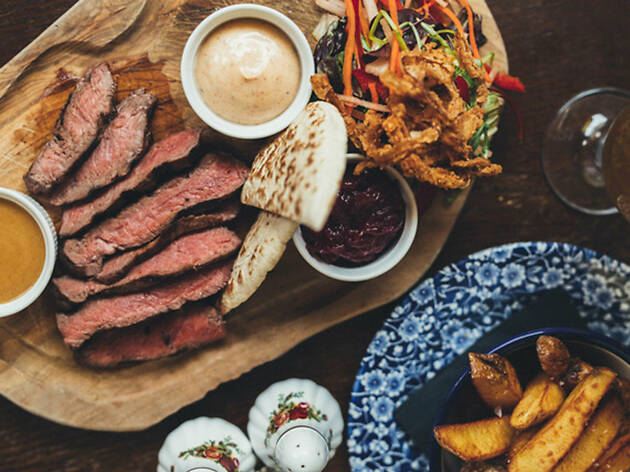 What is it? Cute and quirky food and drinks venue for those who appreciate some sexy decor.
Why go? Lola Jeans may not sound like the name of a restaurant, but don't let that fool you. The company started in Tyneside, and then opened a branch in the city. A delectably decorated location, Lola Jeans has an unapologetically girly vibe. Get pretty in pink with a Five Shades of Grey cocktail and some USA-style bites or a healthy option from the 'clean' menu. Mid-range.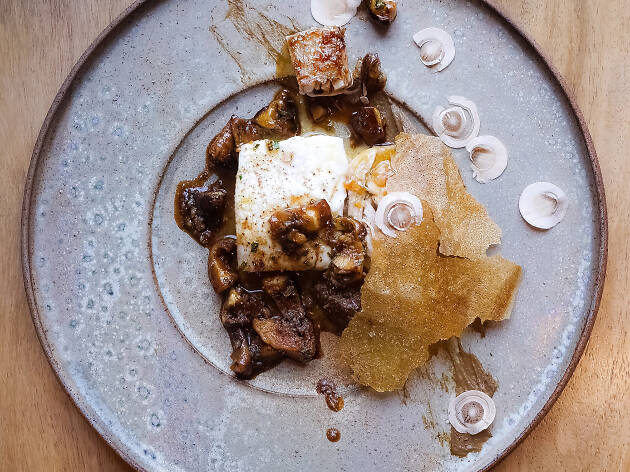 Photograph: Courtesy David Coulson
What is it? Top draw dining at a friendly restaurant run by Masterchef finalist.
Why go? Proving yet again that Newcastle truly is the land of plenty for up-market restaurants, Peace & Loaf provides fine dining, but with less of the hoo-ha than usual. The immaculately presented, pretty food is largely British and comes from a kitchen led by Dave Coulson, a Masterchef finalist. The best part is you get to enjoy it in an unstuffy atmosphere. Winner. High-end.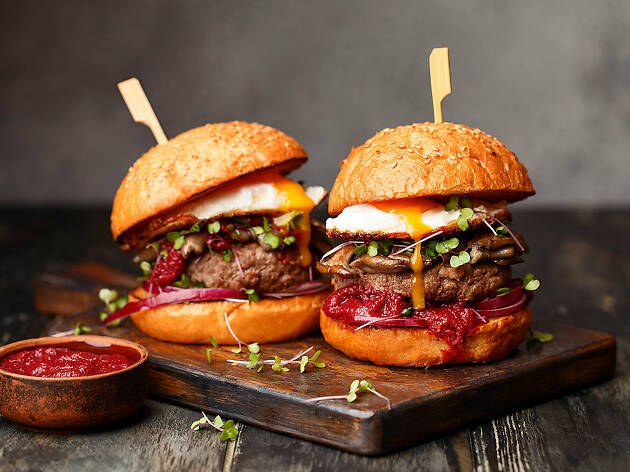 Photograph: Shutterstock
What is it? Super stylish space that's made with private parties in mind.
Why go? If you're looking for a venue to book in advance (hen/birthday/graduation party etc), then As You Like It demands your attention. This multi-floor space is gorgeously decorated and offers three distinct, quirky rooms to hire. Alternately, book a table and pig out on dirty burgers or a steak from the backyard grill. Way better than anything Shakespeare created. Mid-range/high-end.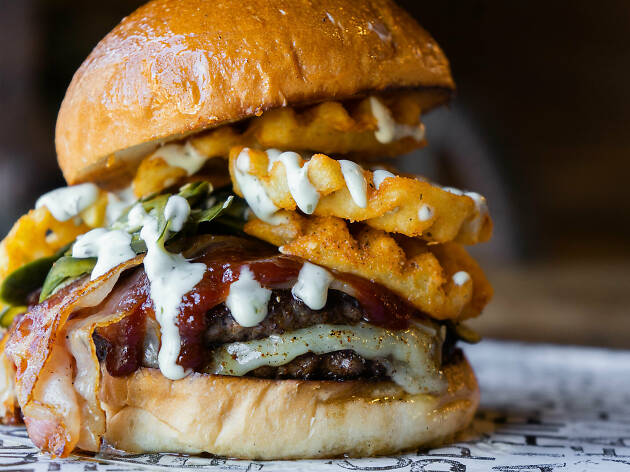 What is it? Seriously lush burgers absolutely dripping with the good stuff.
Why go? There are two branches of The Fat Hippo in Newcastle, so that's at least two excuses to go try their squelchy, succulent take on Americana. Mac 'n' Cheese Balls, Dirty Skins and Deep Fried Gerkins are on the starter menu, but the real deal are the burgers. They even do a Hangover burger to help you out post a heavy night. Mid-range.
What is it? Gin, gin and more gin – with tip-top bar snacks and sharing platters to soak it up.
Why go? No longer associated with the slums of London, gin has become the millennial tipple of choice. Newcastle's The Gin Bar has an extensive (but not too-extensive) menu handily divided into flavour groups (make sure to try something from the floral range), plus classic cocktails. To help you keep standing, order a few spicy bar snacks or get a sugar-high on toffee-filled mini churros. Mid-range/high-end.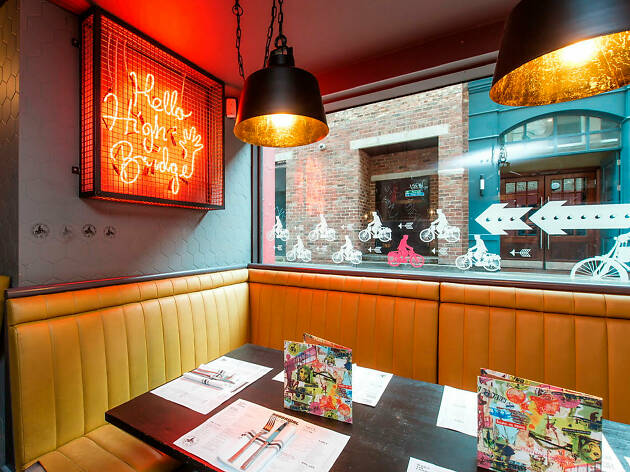 What is it? Small plates of Indian street food proving that sharing really is caring.
Why go? There are two branches of Dabbawal in town, one at High Bridge and one in Jesmond. The idea is the same at both: modern Indian food that looks so good you'll want to order the whole menu. The good news is that you can, by heading down the tapas route with friends. If you hate to share, order a 'big eat' instead. Mid-range (with many affordable offers).
What is it? Cocktails and Mediterranean themed food in a horticultural haven.
Why go? The Botanist chain of restaurants and bars capitalise on a dreamy, flora 'n' fauna aesthetic and a drinks menu to match. For good reason too. The one in Newcastle is particularly pretty and is a good venue for when you want drinks at somewhere a little more date-worthy than a pub. They have a whole gluten-free menu and you'd be sorry to miss out on the cocktails. Mid-range.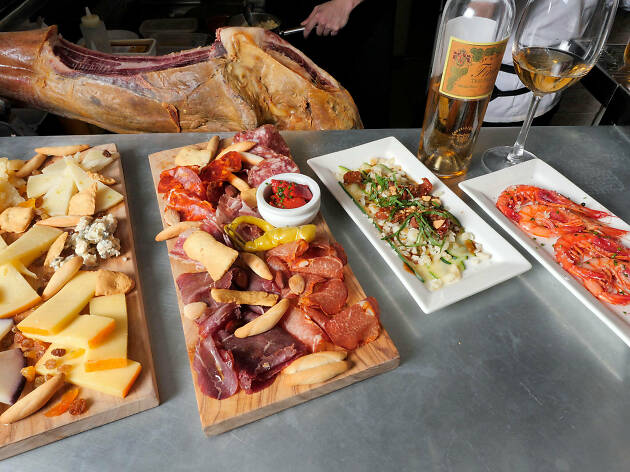 What is it? Authentic, mouth-watering Spanish food served by people who really know their Iberian specialities.
Why go? Kaltur is another favourite place to eat among the Newcastle locals. The tapas and wine bar will introduce you to Spanish dishes way more interesting than a simple paella. The best part is they also know a thing or two about wine, so you can accompany the fresh, colourful dishes with a robust glass of red. Mid-range.
What is it? Grainger Market patisserie where you'll want to buy ALL the cupcakes.
Why go? Whether it's a cupcake, a layer cake, a tray bake, a cookie or bespoke wedding cake, Pet Lamb is the Newcastle name to know. Drooling? Pop into their Grainger Market shop for a strong coffee and something seriously sweet. We like their specials menu best, where cupcake get an old school sweetie shop remix (Parma Violets, Malteasers and Mars…). Mid-range (with cheap-and-cheerful options).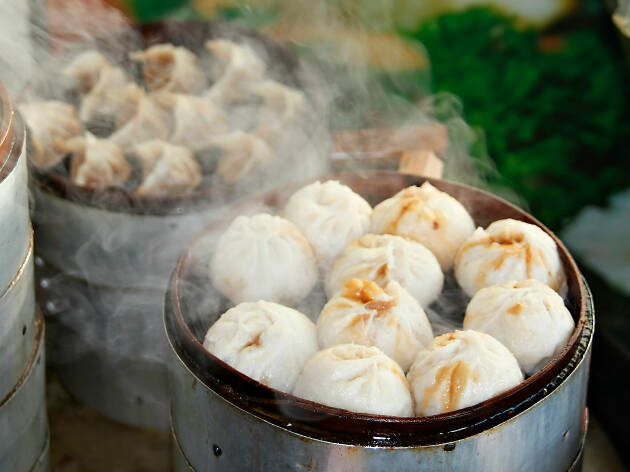 Photograph: Shutterstock
20. Nan Bei Dumpling and Tea Bar
What is it? Impeccably prepared Chinese dumplings you'll return more than once for.
Why go? Another Grainger Market must-visit, Nan Bei Chinese Dumpling and Tea Bar is a great place to grab an authentic, street-food style lunch. The plump packets of meat and veg will have you craving a return visit almost as soon as you're done. Keep hydrated with some Chinese tea on the side. Mid-range (very affordable).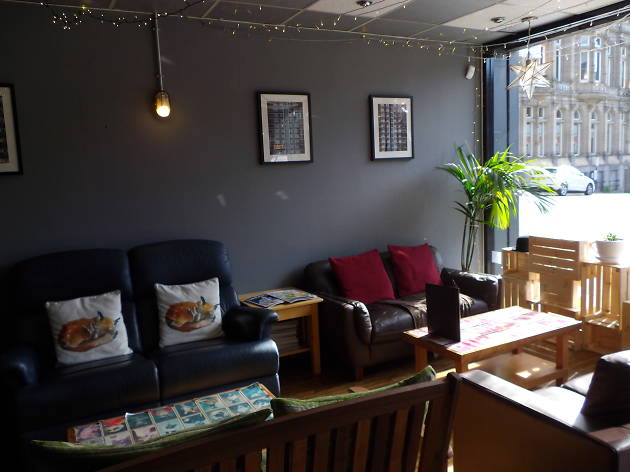 What is it? Vegan-friendly café and bar ideally located if you're heading to the station.
Why go? The Super Natural Café is a vegan and veggie café that's a hit with the locals. Head here for a satisfying selection of burritos, jacket spuds, quiches and sarnies, then take the biggest piece of vegan cake away with you to eat on the train. If you're looking for a lighter lunch, diners always love the Super Natural's salad bar, too. Mid-range (on the cheaper side).
Discover Time Out Market: the best of the city under one roof
Best selling Time Out Offers