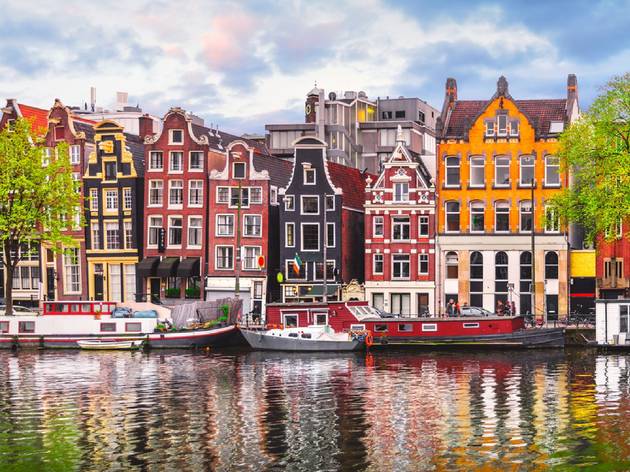 The Netherlands is reopening – but Amsterdam only wants 'responsible' tourists
The Dutch capital has banned Airbnbs from the historic centre and could curb brothels and coffeeshops
Posted: Monday June 29 2020, 11:21am
If you're pining for stroopwafel, apple pie or, y'know, just a cheeky dose of Dutch Golden Age painting, we bring good news: the Netherlands is has officially reopened its borders to most travellers from within the EU. Once you're there, bars, restaurants, museums, cinemas and even music venues will be open.
In a statement on June 3, the Dutch government said it would welcome visitors from around 30 countries within the EU and the Schengen free-movement area from June 15. The list of countries you can travel from includes France, Spain, Germany, Belgium and Italy. The only two nations excluded are the UK and Sweden.
From July 1, the country is likely to allow travellers from around 15 countries including China, Canada and Australia as the EU reopens its borders to tourists from around the world.
All visitors to the Netherlands must show a valid reservation when they arrive, and the authorities say you could be turned away if you have no pre-booked accommodation. Visitors must keep 1.5 metres away from anyone they're not staying with, and wear masks on public transport.
Many hotels, campsites and holiday parks are already open, while bars, restaurants, galleries and cinemas can reopen as long as they admit no more than 30 people. From July 1, that may rise to 100 people. Music venues can already host concerts for up to 100.
Perhaps unsurprisingly, however, the country's reopening has reignited debate over whether Amsterdam should do something to deter the millions of party tourists who flock to the city's old town every year. More than 19 million people visited the Dutch capital alone last year.
The brothels of De Wallen, the city's red light district, and cannabis-peddling coffeeshops throughout Amsterdam have lain pretty much empty for four months now, and in the wake of the ongoing world crisis, the local authorities are looking for ways to strike a better balance between residents and tourists in the city centre.
'It painfully showed how few people actually live in the centre and how little it has to offer locals,' Mascha ten Bruggencate, who chairs the council of Amsterdam's central district, told Bloomberg. 'We need to change that.'
Amsterdam&Partners, a non-profit working to improve life in the city, recently said they are looking at 'how we can restart [tourism] in a more sustainable and responsible way'.
The city council has already announced it will ban tourist rentals – including via Airbnb – in the old city and part of the canal area from July 1. The capital will also introduce strict permits for the rest of the city. These will only be awarded if the property is not rented out for more than 30 days, is lived in most of the time, and is rented out to a maximum of four people. Fines could reach €21,000 (£19,000, $24,000 or A$34,000).
It comes after Femke Halsema, the city's mayor, last month set out a plan to reduce its stag-party appeal and reclaim the centre for locals. Other measures suggested in a letter to the central-district council include buying property and limiting permits to ensure the old city offers more than just coffeeshops, souvenir emporiums and overpriced waffle stands.
The government is also planning to force brothels out of the historic old town and limit coffeeshops aimed squarely at tourists. There will no doubt be pushback from those who run these establishments, but given the country has been suffering from over-tourism for years now, the number of locals who stand to benefit from such curbs is far greater.
We can't wait to roam the winding streets surrounding the Oude Kerk on a post-lockdown city break sometime (hopefully) soon. Fingers crossed they're significantly less rowdy than before.
Remember, many countries are still warning against all non-essential travel and some are quarantining all overseas arrivals, including their own returning citizens. Check all the relevant restrictions before you think about travelling.
When will you be able to travel again? Here's what we know so far.
Where can you go on holiday right now? These are all the countries that have already reopened their borders.
Share the story