The best Airbnbs in Amsterdam
Looking for a roof over your head in Holland's biggest city? Have a gander at our round-up of the best Airbnbs in Amsterdam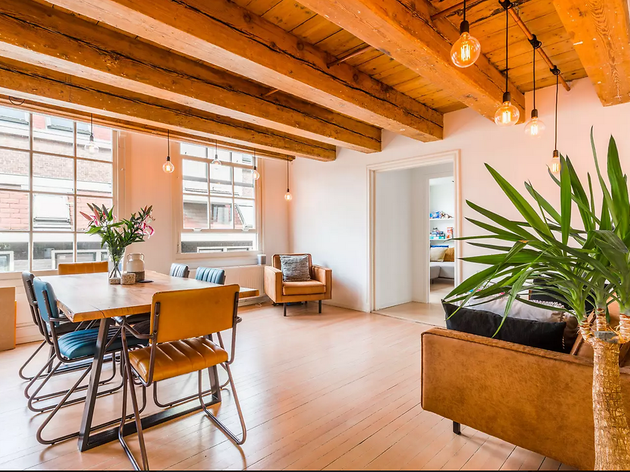 Amsterdam might be chiefly associated with pot-smoking and prostitution (okay, great museums and nightlife, too), but despite its unsalubrious associations, it remains a quaint, cosy and relatively small European city. Its size is a boon for those look to rent a place through Airbnb, as you'll find no end of places in the heart of the city that are affordable – especially if you're in a large group. We've rounded up the best Airbnbs that Amsterdam has to offer. Spoiler alert: some of them float.
Amsterdam's best Airbnbs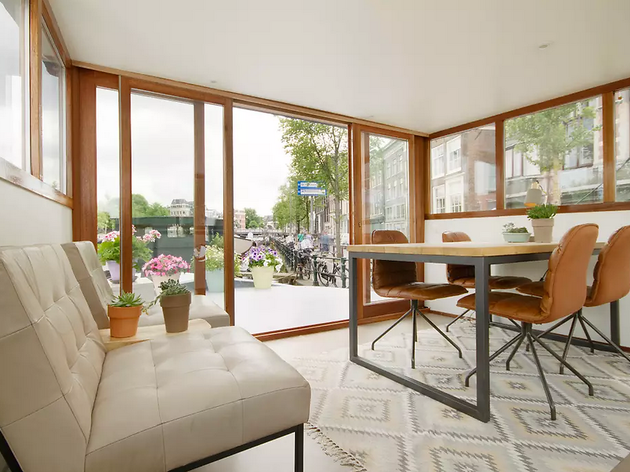 Unsurprisingly for a port city full of canals, there are plenty of houseboats to rent via Airbnb in Amsterdam. And this is a very pleasant one indeed, modernly furnished, with a deck that's perfect for sitting out on during the sunnier months. Plus, access to a nearby gym is included!
© Airbnb
Elegant two-bed near the train station
Planning on arriving and departing from Amsterdam via train? Take a look at this two-bed place – it's a ten-minute walk from the city's Central Station. Also, you're not at all far from Dam Square, which is home to a number of attractions including the sumptuous Royal Palace.
© Airbnb
Swanky two-bed loft apartment
Another one in the City Centre district, this is easily one of Amsterdam's most stylish places, with its spacious open-plan kitchen/living room space and contemporary decor. It's very close to the world-famous floating market, too.
© Airbnb
Luxury De Wallen apartment
This three-floor property is in the De Wallen district of Amsterdam, which basically puts you slap-bang in the middle of a buzzing area filled with bars, restaurants, cafés and coffee shops (you know, those of the smoky variety). A good one for sheer convenience.
© Airbnb
Two-bed apartment in the Museum Quarter
A good one if culture's on your Amsterdam checklist: this place is just a few minutes' walk from the Van Gogh Museum, Rijkmuseum and the other galleries and institutions that filled the Museum Quarter. Rather sweetly, the hosts of this apartment describe it as 'admirable' – it's certainly very homely.
© Airbnb
Spacious house near Frankendael Park
This one looks like a smart choice for families. It's outside of the hubbub of the city centre, and has a garden for kids to run around in. Though you want to make a beeline for the nearby Frankendael Park instead: a former country estate that's pretty as a picture.
© Airbnb
Sailing ship in the harbour
Houseboat schmouseboat! If you fancy a water-based property with a difference, take a look at the Isis. And yes, it's not cheap, but since it will accomodate up to 16 guests, the costs will shoot right down. Better still, in the summer the hosts (or should that be crew?) organise trips along Holland's Wadden Sea. All aboard!
© Airbnb