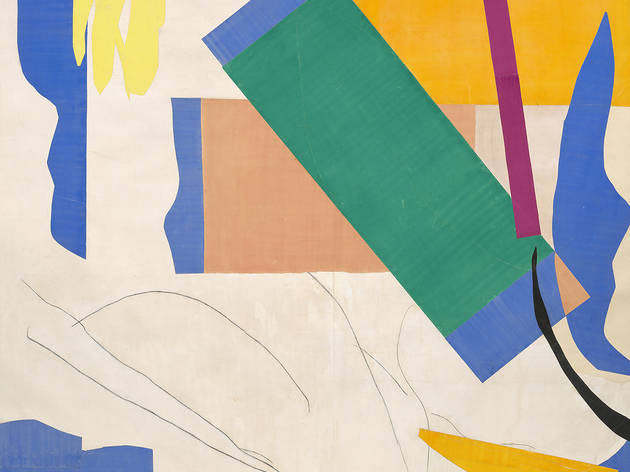 The 10 best Matisse paintings
We present the top ten paintings by French artist Henri Matisse, the 20th-century master of color and form
There are certain names (Pablo Picasso among them) that have become synonymous with modern art, but none have been as closely tied to the sensual pleasures of color as Henri Matisse (1869–1954). A friend and friendly rival of Picasso, Matisse's art was the temperamental opposite of the Spanish painter's. Whereas Picasso's paintings and sculptures were about angles and the shock of the new (at least during his Cubist period), Matisse's work was about sinuous curves rooted in the traditions of figurative art. Originally educated as a lawyer, Matisse took painting classes while working as a law clerk, eventually becoming a full-time artist. Over the course of his career, he produced some of the greatest masterpieces of the 20th century. These included sculptures and ceramics, but in the minds of most people, Matisse will always be identified with his paintings. While his stylistic shifts weren't as pronounced as Picasso's, his art underwent a considerable evolution as the century progressed. Yet it always focused on the beguiling pleasures of pigment and hue. "I am not a revolutionary by principle," he once said. "What I dream of is an art of balance, of purity and serenity, devoid of troubling or depressing subject matter…a soothing, calming influence on the mind, something like a good armchair." Although such sentiments seem antithetical to the sturm und drang of modernism, Matisse was radical in his own way, as these ten vivid Matisse paintings suggest.
10 best Matisse paintings, ranked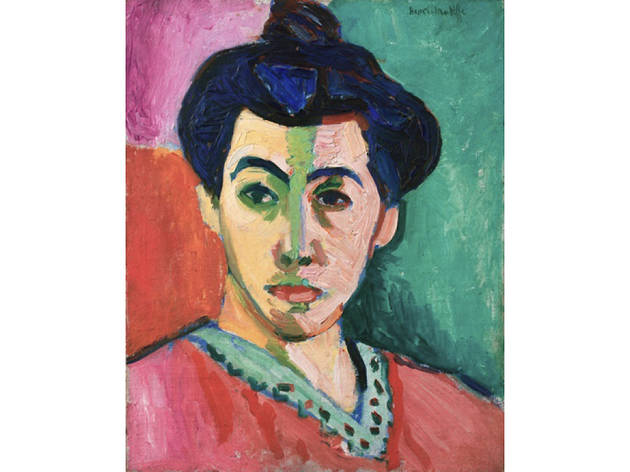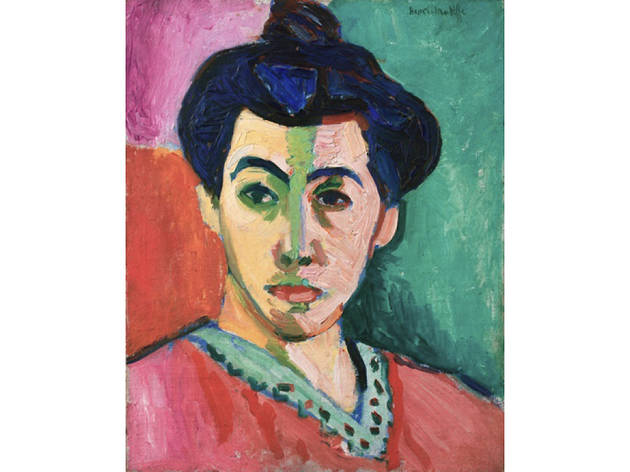 1. Portrait of Madame Matisse (The green line), 1905
As a young man, Matisse studied with the Symbolist painter Odilon Redon, but he paid close attention to work of the Impressionists and Post-Impressionists. Initially, he adopted the pointillist techniques of Georges Seurat and Paul Signac, and even became an acquaintance of the latter. But in time, Matisse moved on from dashes and dots to broader planes of color that abandoned any pretense of realism. Matisse used color for its own sake, becoming a leader of the Fauves along with Andre Derain. Perhaps the first true avant-garde movement of the 20th-century, Fauvism outraged critics of the day with seemingly haphazard applications of pure color. This likeness of Matisse's wife is a case in point. It transforms her face into a mask divided in the middle by a green stripe, abstracting her features and the wall behind her into a chromatic jigsaw puzzle.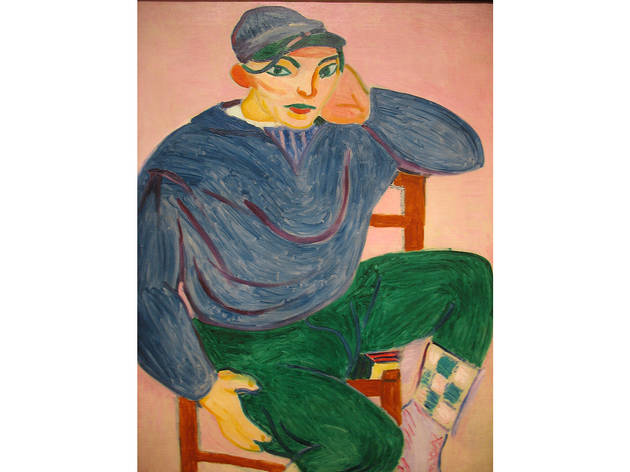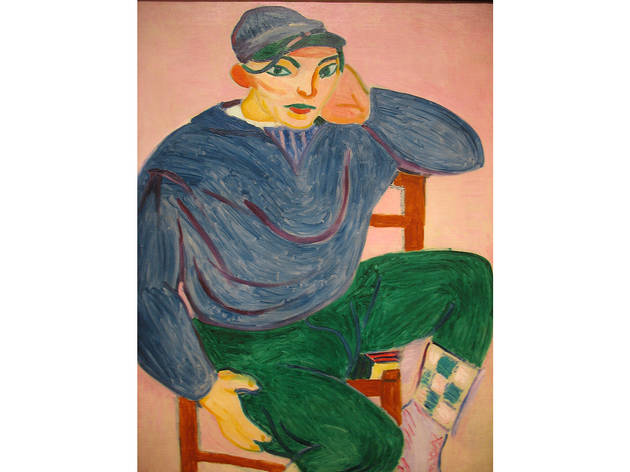 Photograph: Courtesy CC/Flick/Peter Elimon
Another example of Matisse's Fauvist work, this study of an 18-year-old fisherman is less confrontational than the artist's portrait of his wife made a year earlier. But its palatte is no less striking, and its undulating contours anticipate the artist's more familiar style.

Photograph: Courtesy CC/Flick/Peter Eimon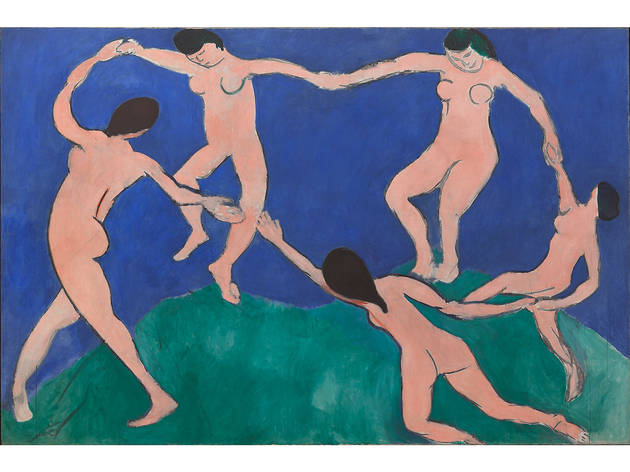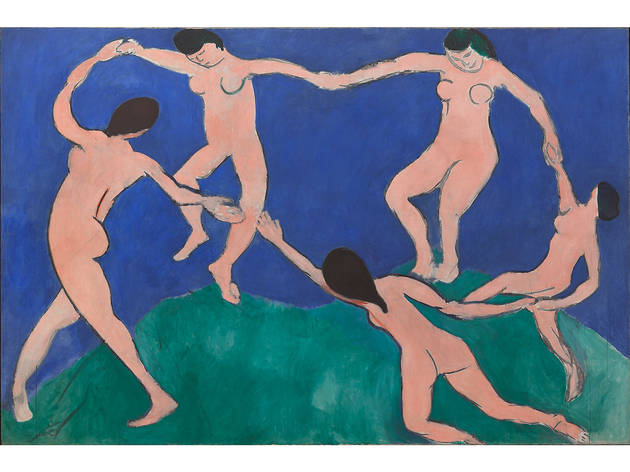 Photograph: Courtesy Succession H. Matisse/ARS NY/MoMA
3. Henri Matisse, Dance (I), 1909
This is among the first of Matisse's works that can be immediately recognized as his. In it, his brushwork becomes flatter, looser and more fluid. Originally commission by a Russian industrialist named Sergei Shchukin for his palatial home in in Moscow, Dance (I) is one of the artist's most famous and beloved works.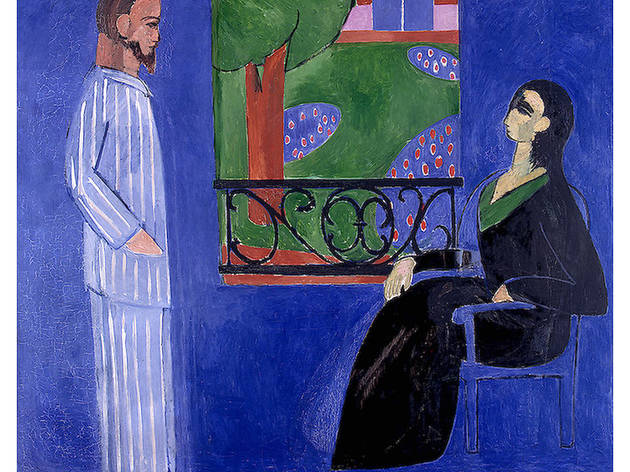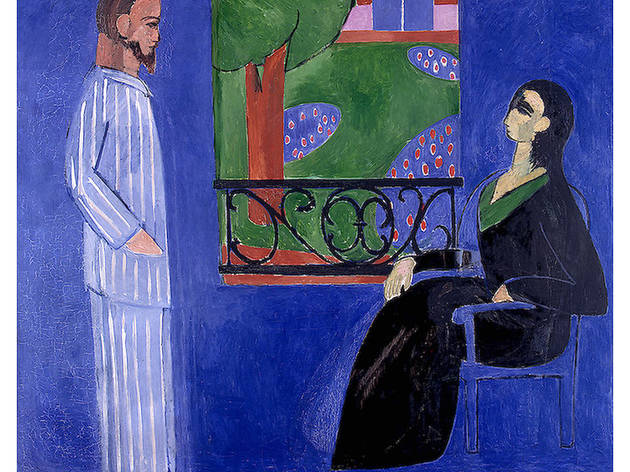 4. The Conversation, 1909
Painted at Matisse's country house, this canvas features the artist and his wife talking in a room overlooking a garden. Room, however, may be too generous a description of the painting's background as the rich azure field enveloping the two subjects doesn't really describe an interior; instead, it's an overall flurry of brush-marks. The dominant use of blue, however, does evoke the emotional distant permeating the scene, permitting us to suppose that their exchange is strained, or at least lacking in intimacy. Matisse provides another clue in the figures' body language: He pictures himself standing ramrod-straight while his wife is seated. She wears street clothes, while he's dressed in striped pajamas (his outfit of choice not only for sleeping, but also for working in the studio). Partially obscured by ornamental ironwork, the view to the backyard hangs between them like a painting. Is it a sign of better times in the past, or of better times to come? Matisse leaves the answer ambiguous, though there's no mistaking the tension between the couple.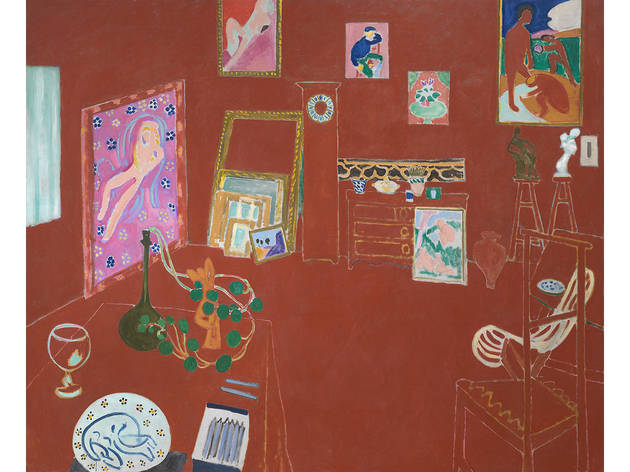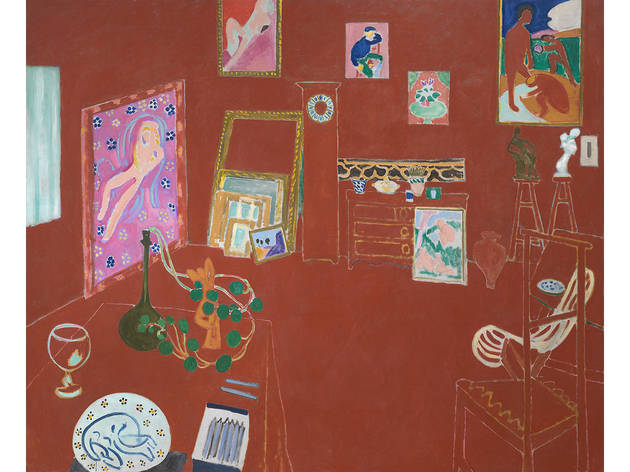 Photograph: Courtesy Succession H. Matisse/ARS NY/MoMA
Painted in Issy-les-Moulineaux just outside of Paris, The Red Studio is a retrospective of the artist's work in miniature with paintings, sculpture and at least one ceramic piece hung up or strewn around his workshop. Young Sailor II, for instance, is clearly recognizable, occupying a spot on the wall in the top right quadrant of the composition. It's placed just above a grandfather clock with no hands, as if to suggest that time stands still when an artist is at work. While the objects in the room are fleshed out, the furniture is rendered in ghostly outlines. Matisse himself admitted that he didn't know why he choose red for the composition, though one earlier piece, The Dessert: Harmony in Red (1908) was likewise characterized by a preponderance of crimson. But the overwhelming presence of the color here pushes the canvas towards a monochromatic scheme that would influence abstract painting over the next 100 years.

Photograph: Courtesy Succession H. Matisse/ARS NY/MoMA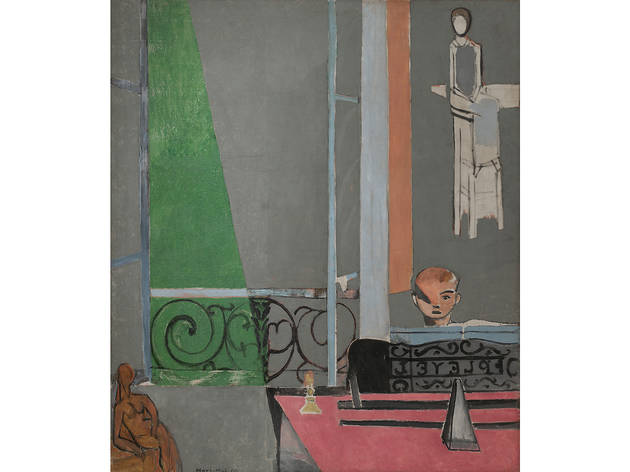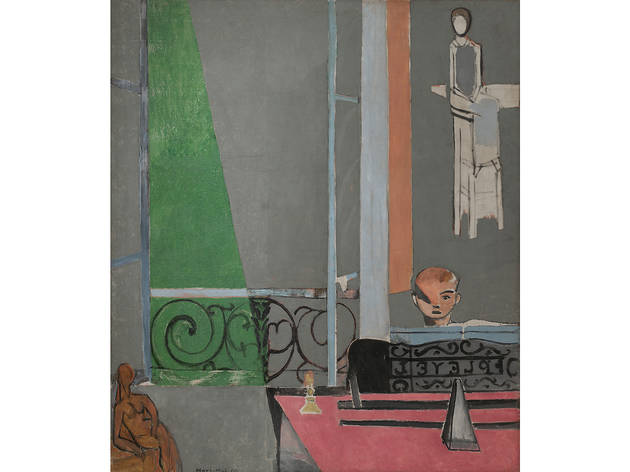 Photograph: Courtesy Succession H. Matisse/ARS NY/MoMA
6. The Piano Lesson, 1916
This painting dates from a five-year period overlapping with World War I, when Matisse became a more daring—and difficult—artist. He abandoned his signature arabesques for a harsher, angular geometry, while turning the color knob down on his palette to a brooding spectrum of grays, blacks, browns and fleshy pinks. Instead of his usually aqueous applications of paint, he often attacked the canvas—sometimes with a chisel—scraping, incising, constantly revising and leaving behind ample evidence of the revisions. The Piano Lesson is one of the artist's most personal pieces from that body of work, showing his son Pierre at the keyboard. It's a composition about space, but also about time, as it echoes again and again the pyramidal shape of the metronome on the piano—in the band of green slicing across a casement to the left, in the strange elisions in the boy's face. He's set between two of his father's works depicting females, the matronly Woman on a High Stool and a small sculpture of a sensuous, reclining nude. Still and serene, The Piano Lesson is an allegory of the transition from boyhood to manhood.

Photograph: Courtesy Succession H. Matisse/ARS NY/MoMA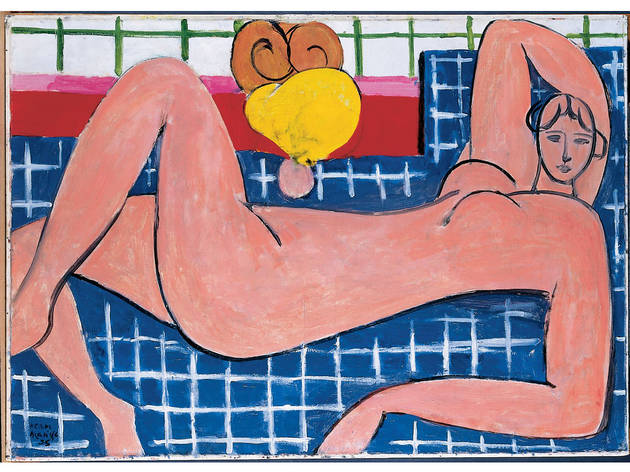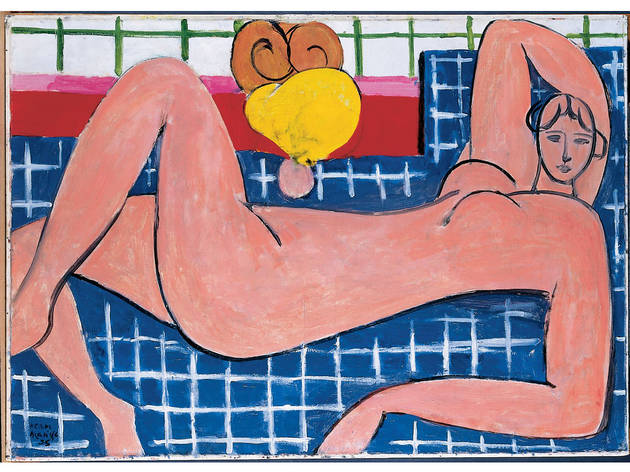 Photograph: Courtesy 2015 Succession H. Matisse
7. Large Reclining Nude (The Pink Nude), 1935
During the 1920s Matisse turned to a more naturalistic style that was particularly apparent in a series of semi-nude odalisques pictured in fanciful settings suggesting Middle Eastern or North African harems. But by the 1930s he returned once again to painting flatter forms and colors that were even more simplified than before—The Pink Nude being a notable example. Though the painting is relatively small—25 X 36 inches—the subject nearly takes up the entire composition, and its serpentine curves threaten to burst out of the frame. The image has a languid, monumental grandeur that belies it modest scale. The Pink Nude anticipates the artist's late cut-outs, and in fact woman who the modeled for it, Lydia Delektorskaya, was one of the assistants who would later aid a frail and aged Matisse in making those works.

Photograph: Courtesy 2015 Succession H. Matisse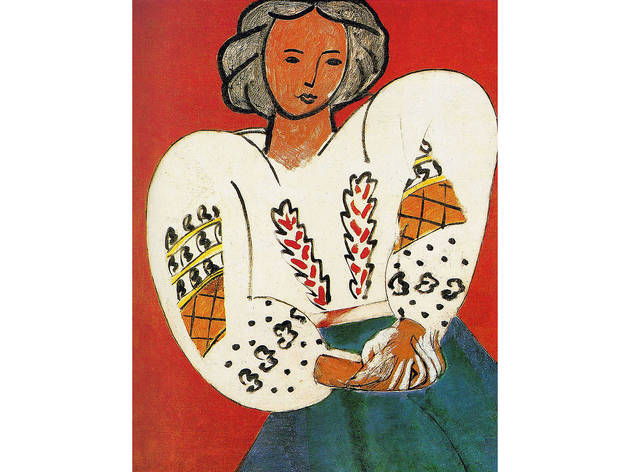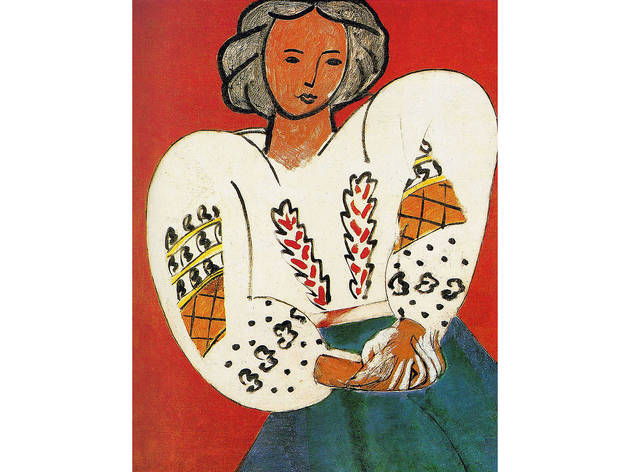 Photograph: Archivart/Alamy Stock Photo
8. La Blouse Roumaine, 1940
La Blouse Roumaine—in English, The Romanian Blouse—may have been inspired by a visit paid to Matisse by an old friend and fellow student at the Ecole des Beaux Arts in Paris where Matisse trained as an artist. His name was Theodor Pallady a Romanian painter with whom Matisse maintained a longstanding correspondence. Matisse had used the image of a woman in a peasant-style blouse in previous works, though not front and center as Matisse made it here. The Romanian Blouse was painted the same year the Nazis overran France, and it's said that Matisse created the picture to cheer himself up during one of his country's darkest moments.

Photograph: Archivart/Alamy Stock Photo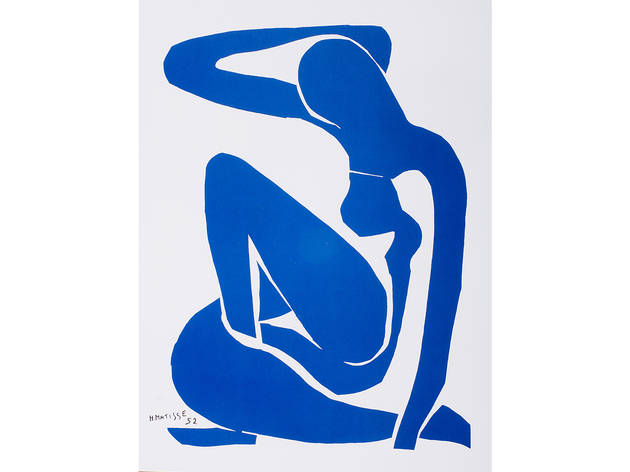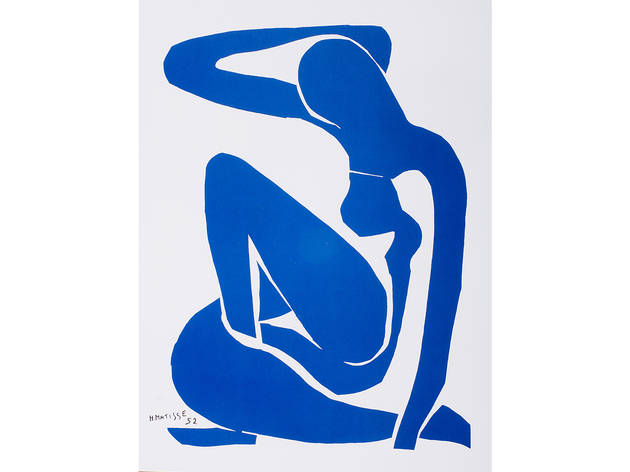 Photograph: Dennis Hallinan/Alamy Stock Photo
9. Blue Nude II (Nu bleu II), 1952
In 1941, Matisse was diagnosed with abdominal cancer and underwent surgery that left him confined to bed. He was also able to sit in a chair, but his loss of mobility meant he could no longer paint. Nonetheless, during the last decade of his life he managed to produce some of his most renowned and popular works. The cut-outs, as they were called, were made by taking scissors to pieces of paper that had be painted various solid colors by Matisse's assistants—who then arranged the shapes on a large backdrop of paper or muslin under Matisse's direction. The technique wasn't anything new for the artist, however: He'd employed it as far back as 1919. Until the 1940s, however, he used cut-outs mainly to formulate studies for stage sets and costumes, like those created for Sergei Diaghilev's Ballets Russes between 1937 and 1938. He did likewise while designing the interior decor for the Chapelle du Rosaire de Vence, a chapel built for Dominican nuns near the French Riveria. But pieces like Blue Nude—perhaps the iconic image of the artist's career—were intended to exist on their own, with the effect of distilling Matisse's aesthetic to its bare essentials.

Photograph: Dennis Hallinan/Alamy Stock Photo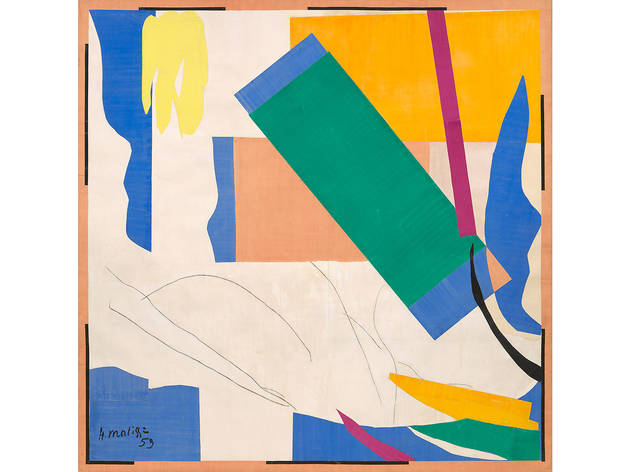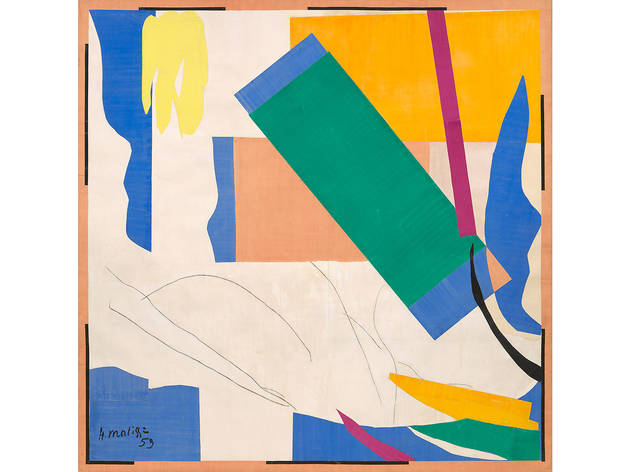 Photograph: Courtesy Succession H. Matisse/ARS NY/MoMA
10. Memory of Oceania, 1952–1953
Among the last works Matisse created before his death, Memory of Oceania is based on an old photograph taken in 1930 of a schooner in Tahiti. Though the forms are derived from the boat, the result seems markedly abstract; at nine by nine feet, it is also commanding. It's thought by some art historians that Memory of Oceania (and another sizable cut-out made around the same time titled, The Snail) were responses to the large-scale abstraction coming out the United States at the time, particularly Abstract Expressionism.

Photograph: Courtesy Succession H. Matisse/ARS NY/MoMA
See Matisse's best painting at the Museum of Modern Art
Check out our guide to the best pieces on view right now at the world-renowned Museum of Modern Art in NYC