The best flower paintings of all time
Check out our art-historical bouquet of the best paintings of flowers from Édouard Manet to Roy Lichtenstein
Few things are as beautiful as flowers, so it's no wonder that they've attracted the attention of artists from ancient times to the present. Beyond sheer beauty, flowers provide rich opportunities to play with color and form. The results can be found pretty much on any give day at museums around the world, and also in NYC at institutions like the Metropolitan Museum of Art or MoMA or at one of the many galleries in Chelsea and elsewhere. If you need more convincing, check out our selection of the best flower paintings of all time
Missing Time Out magazine?
You can still read our latest issue from the comfort of your couch
Read online
Top 10 flower paintings
1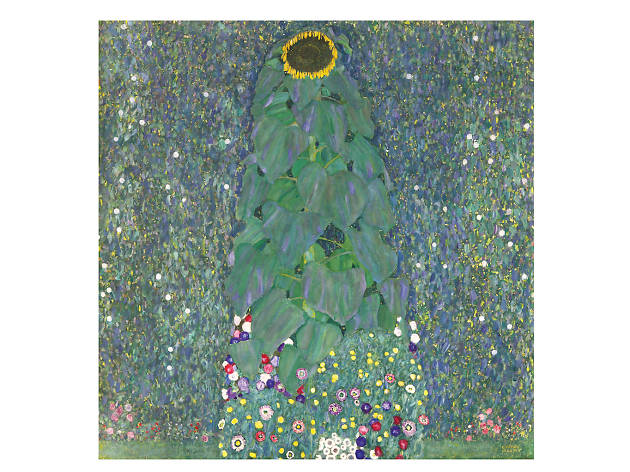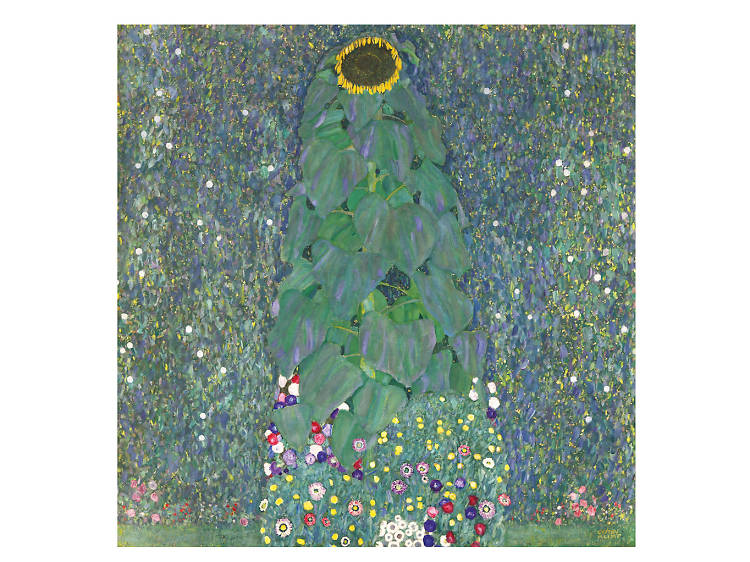 Photograph: © Belvedere, Vienna
Gustav Klimt, Sunflower, 1906
The great Viennese painter was known for portraits, but he was no slouch when it came to depicting landscapes and gardens. In a way, the odd pyramidal form of the eponymous sunflower gives it an anthropomorphic quality, uniting, as it were Klimt's interests in the figure and the natural world.
2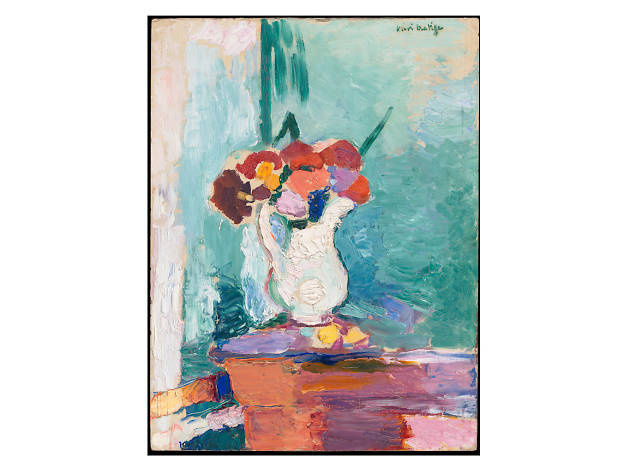 Photograph: Succession H. Matisse/Artists Rights Society
Henri Matisse, Flowers, 1907
Henri Matisse's career spanned more than 50 years, and throughout that period, he repeatedly returned to the subject of flowers, either as still-lifes or as elements in larger compositions depicting interior scenes or landscapes. This particular painting was completed early in his career when he was associated with Fauvism, a style that emphasized brushwork and bold use of color over naturalism. This small oil on cardboard ticks off all the boxes.
3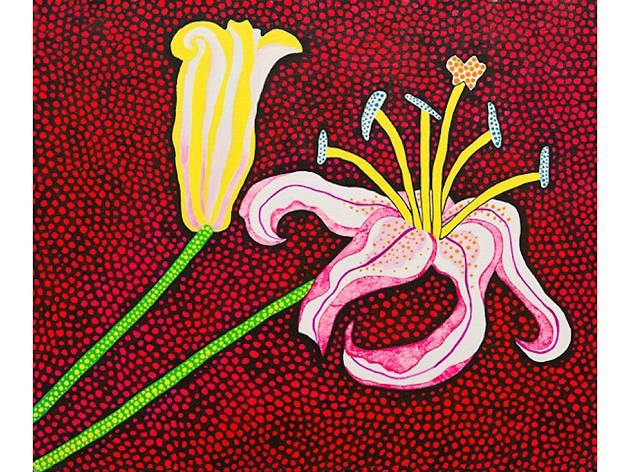 Photograph: Yayoi Kusama
Yayoi Kusama, Ready to Blossom in the Morning, 1989
Though known for her mirrored "Infinity Rooms" and use of polka dots (a motif derived from the hallucinations she's suffered since childhood), Yayoi Kusama has incorporated the image of flowers into some of her paintings, sculptures and installations, often rendered in a style that evokes children's art.
4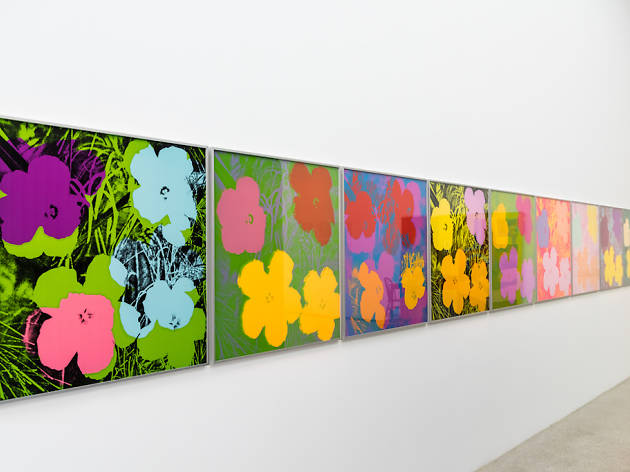 Shutterstock/Radu Bercan
Andy Warhol, Flowers, 1964
When Andy Warhol unveiled his flower paintings in 1964, they came as something of a surprise since they marked a departure from the images of Campbell's Soup Cans and movie stars (Marilyn Monroe, Elizabeth Taylor) that made his name. The image itself was sourced from a photography magazine, and two years after the paintings' debut Warhol was sued by the photographer who took the picture on which the series was based. He settled out of court, but because of the way he abstracted the original photo, it was always difficult to tell just what sort of flowers they were. Twenty years later, Warhol made matters clearer with another floral series title Daisy.
5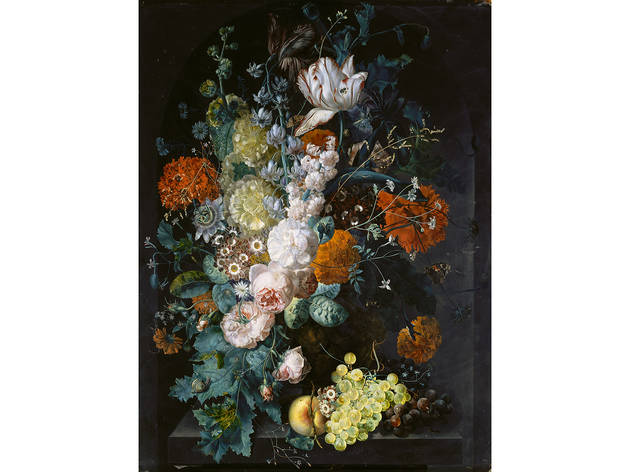 Photograph: Courtesy The Metropolitan Museum of Art
Margareta Haverman, A Vase of Flowers, 1716
Margareta Haverman (c. 1693–1739) was one of a group of female painters in 17th- and 18th- century Holland who specialized in flower paintings. Haverman's road to success, however, was somewhat bumpy. She was the only pupil of Jan van Huysum, a Dutch painter who became jealous of her budding talent. In 1722, for example, he became enraged when Haverman was admitted to the prestigious Académie Royale de Peinture et de Sculpture in Paris. However, she was tossed out the following year because of claims—most likely spurious—that work included with her application had actually been made by Van Huysum. Nonetheless, as this exuberant example from The Met's collection attests, her paintings were self-evidently brilliant.

Photograph: Courtesy The Metropolitan Museum of Art
6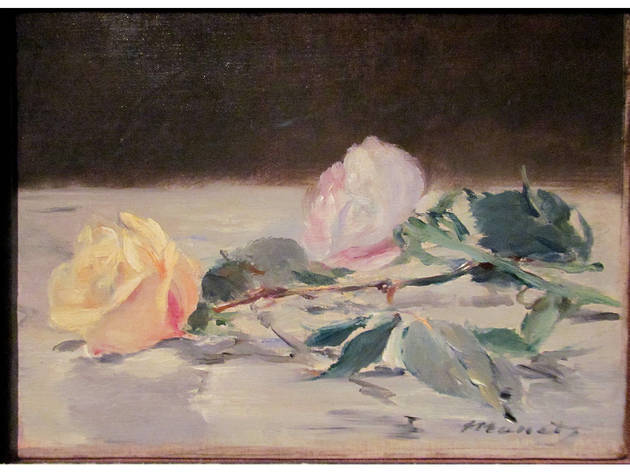 Photograph: Courtesy CC?Flickr/rocor
Édouard Manet, Two Roses on a Tablecloth, 1882-83
Toward the end of his life, Édouard Manet (1832–1883) had begun to paint small still lives, including a number featuring flowers. Almost all of these were depicted in crystal vases, except for Two Roses on a Tablecloth. Manet was seriously ill at the time, suffering from rheumatism as well as a case of syphilis he'd left untreated for years. Friends visiting his sickbed often brought flowers, which became subjects for compositions that seemed more like portraits than still-lifes, given their emotional resonance. This is especially true of Two Roses, whose dark background (borrowed from Goya) and fluid brushwork (which recalls Velázquez) hints at the transience of life. Not long after completing the painting, Manet developed gangrene in one foot, which required amputation. He died a week late due to complications from the surgery.

Photograph: Courtesy CC/Flickr/rocor
7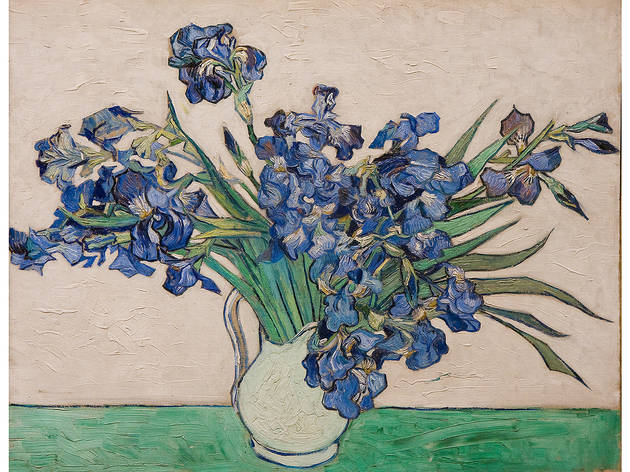 Photograph: Courtesy CC/Flickr/Garrett Ziegler
Vincent van Gogh, Irises, 1890
Vincent van Gogh (1853–1890) is legendary for being mentally unstable (he did, after all, cut of part of his ear after an argument with fellow painter Paul Gauguin), and this painting comes from a period in 1889 when he committed himself an asylum in Saint-Rémy-de-Provence. He continued his work while there, producing a number of notable pieces—among them, Irises. Van Gogh had initially eschewed formal still-lifes, preferring to paint the hospital's overgrown garden instead. But he concluded his year-long stay with a series of floral compositions, including this one. In it, violet petals are juxtaposed against a background that had originally been pink, but turned white over time because of the unstable red pigment Van Gogh used to create the painting.

Photograph: Courtesy CC/Flickr/Garrett Ziegler
8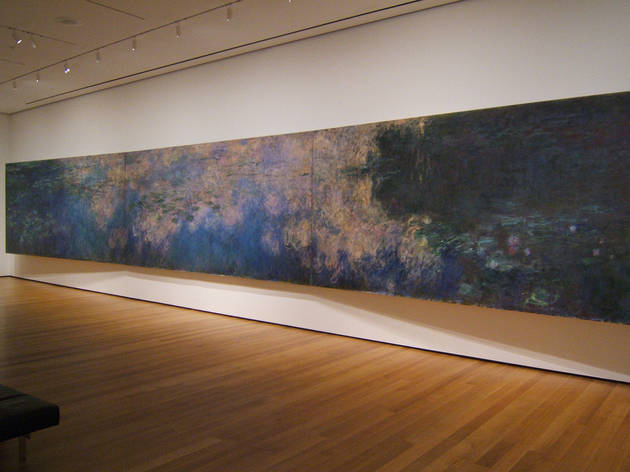 Photograph: Courtesy CC/Flickr/JoAnn Bishop
Claude Monet, Water Lilies, 1914-26
This panoramic triptych is one of greatest works produced by Claude Monet (1840–1928) at Giverny, the famous home and studio where he maintained an elaborate garden populated by lily ponds. Much like Matisse's cutouts, Water Lilies represents an instance of an artist working late in life to distill the essence of his art into almost abstract form. Its all-over compositional format—in which sky, water and plants merge into a drowsy dreamscape of gestural marks—anticipated Abstract Expressionism and Colorfield painting by decades.

Photograph: Courtesy CC/Flickr/JoAnn Bishop
9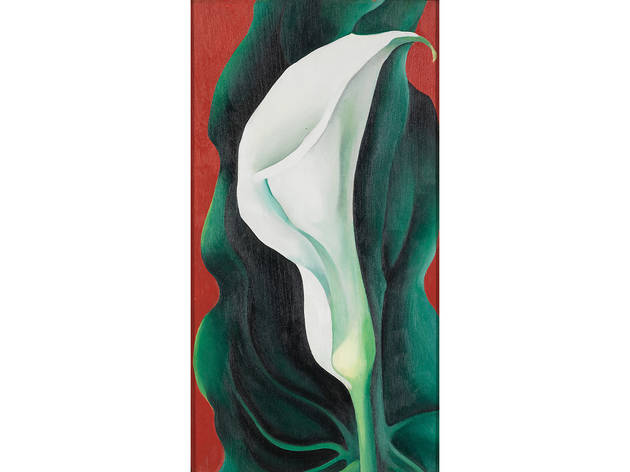 Photograph: Courtesy Georgia O'Keeffe Museum/ Artists Rights Society (ARS)
Georgia O'Keeffe, Single Lily with Red, 1928
During her lifetime, Georgia O'Keeffe (1887–1986) angrily rejected the notion that her floral studies were symbolic representations of vaginas, though it's hard to shake that impression given Georgia O'Keeffe's propensity for sinuous lines that suggest the folds of a vulva. Exhibit A is this image O'Keeffe painted at age 41, the year before she first departed for Santa Fe, New Mexico, the place that would soon become synonymous with her work.

Photograph: Courtesy Georgia O'Keeffe Museum/Artists Rights Society (ARS)
10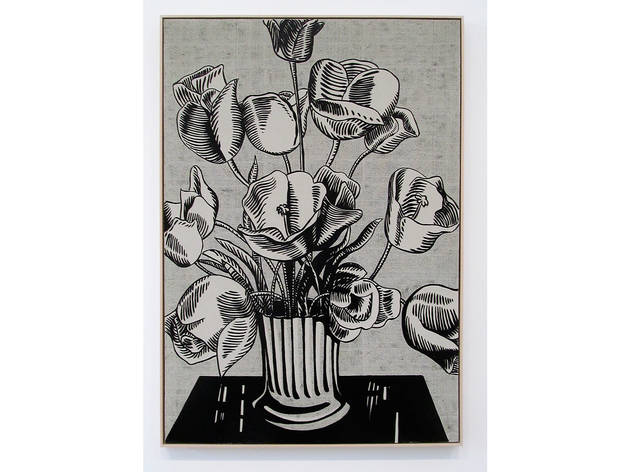 Photograph: Courtesy CC/Flickr/rocor
Roy Lichtenstein, Black Flowers, 1961
Painted early in the career of Pop-Art maestro Roy Lichtenstein (1923–1997), Black Flowers employs his signature motifs—broad outlines, Ben-Day dots—to create a kind of anti-still life. Here a subject ordinarily associated with color and traditional notions of beauty is rendered in a crude, dispassionate arrangement of black and white simulating the cheap, smudgy quality of an old newspaper ad. With its fluted vase evoking the base of a Classical column, Black Flowers is a wry midcentury takedown of art-historical tradition.

Photograph: Courtesy CC/Flickr/rocor
11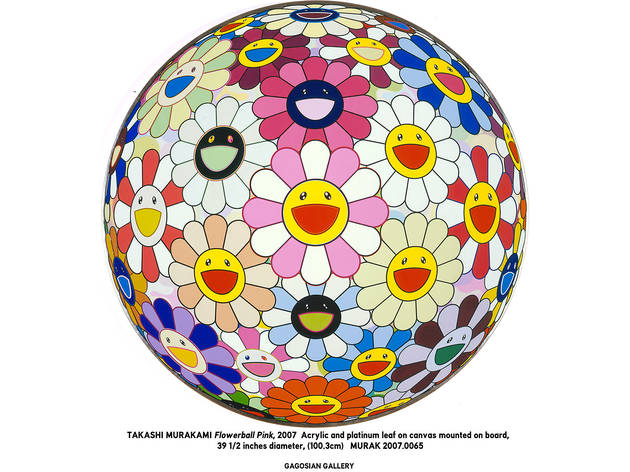 Murakami, Flowerball Pink, 2007
The work of Takashi Murakami, who's often called the Japanese Andy Warhol, focuses on the paradoxes of Japan's popular culture, particularly the wild swings between cuteness and sexualized violence that so often characterize manga and anime. He's developed a theory called Superflat, which equates these pop genres with traditional ukiyo-e, or "floating world" art of the Edo period. Just as importantly, he connects the animistic tradition of Japanese religion to the way cartoons anthropomorphize animals and inanimate objects. The result, bold and fantastically exaggerated, makes no distinction between fine art and commerce. All of these qualities are apparent in this tondo composition featuring oppressively cheerful flowers, a motif that crops up regularly in Murakami's work, as well as in his fashion collaborations with Louis Vuitton.
12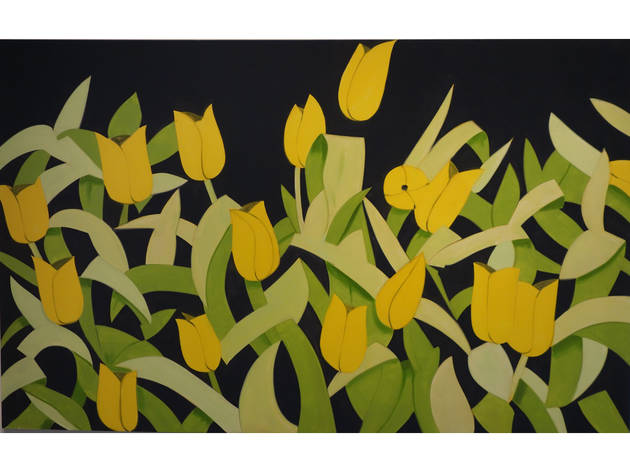 Photograph: Courtesy CC/Flickr/jdf_92
Alex Katz, Tulips 4, 2013
Throughout his 60-year career, Alex Katz's Pop-inflected approach to representational painting has been as elegant as it's been welcoming and straight to the point. He's brought his style to bear on such traditional genres as portraits, landscapes and still-lives—which as he nears 90, increasingly includes floral studies. Tulips 4 is a good example. Its cinematic, wide-angle take on the subject has the effect of unmooring it from a recognizable context. Are these flowers in a garden, or in a magazine layout? Are they a wallpaper design? There's no way to know for sure.

Photograph: Courtesy CC/Flickr/jdf_92
13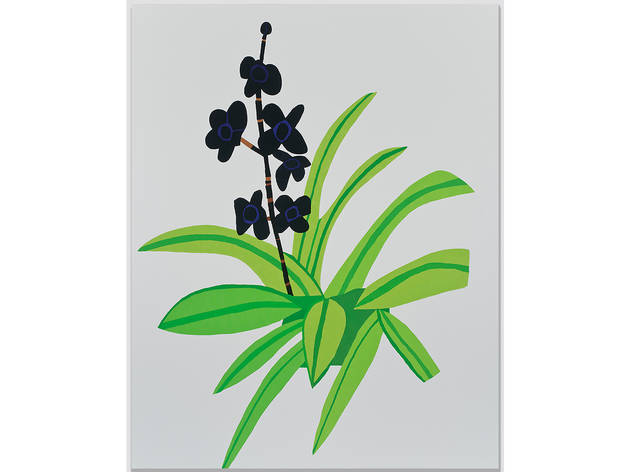 Jonas Wood, Clipping A2, 2013
Jonas Wood's paintings have the crisp, flattened appearance of silkscreen prints. Like this minimalistic floral rendering, they're decorative, deadpan, and highly stylized in a way that suggests a mix of Matisse, Hockney and early 1950s cartoons.
14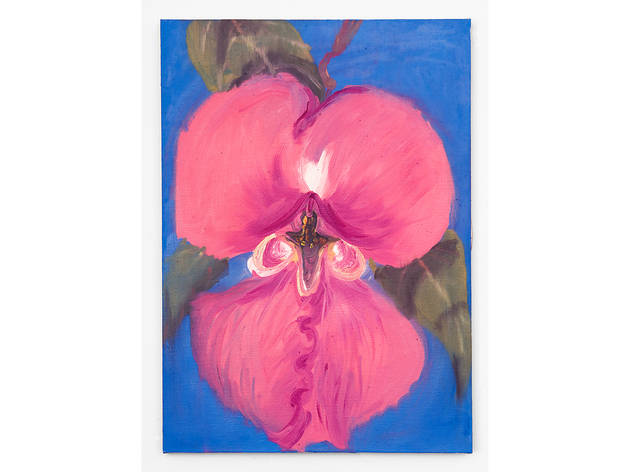 Ann Craven, Flower (Cushing, 8-4-13, 12PM Noon), 2013
Ann Craven's paintings can seem maddeningly dashed off, but they embody a highly focused approach to medium and method. She often paints the same images over and over again, because whatever the subject at hand, her real interest is the relationship between observation, appropriation and reproduction. Flower, for example, is one of several nearly identical takes on the subject, and, as its titular timestamp suggests, is less about the flower as a form than it is about the flower as a marker of a certain moment and place.