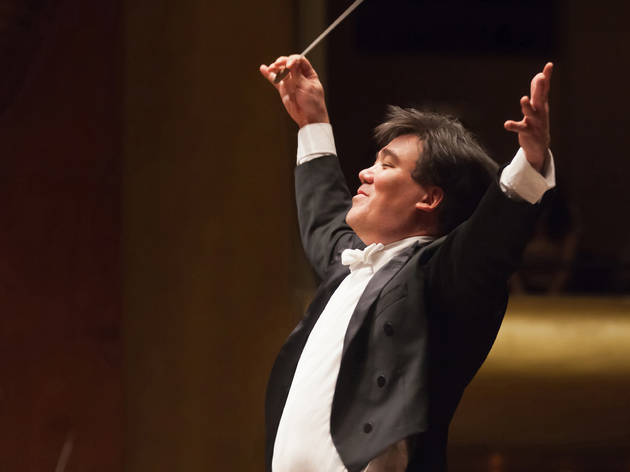 New York Philharmonic conductor Alan Gilbert cues up his "Playlist"
The Philharmonic music director shows off a few of his favorite things in a new festival filled with fresh sights and sounds
Nearing the end of its current season, the New York Philharmonic is giving music director Alan Gilbert the chance to indulge his diverse tastes and interests. "Gilbert's Playlist," which starts on Thursday 30 and runs through June 29, includes modern repertoire, standard works presented in fresh ways and chamber music featuring the conductor on violin.
As an exclusive introduction for TONY readers, Gilbert created a Spotify playlist covering the fest, with comments explaining each pick—and yes, he really did include Wagner's entire Ring Cycle. (In a few cases where no appropriate recording was available, we've patched in a representative track to convey the right mood.) Read on, tune in, then head out and get your tickets.
Wynton Marsalis, Swing Symphony
"One thing I've been interested in pursuing with the Philharmonic is collaboration with important cultural institutions across New York City. Jazz at Lincoln Center with Wynton Marsalis was an obvious choice. Wynton is such an iconic figure: a great artist, instrumentalist, teacher and communicator who really believes in the power of music and the importance of bringing people into our world."
Aaron Copland, Clarinet Concerto
"Coupled with the Russian contributions to this program—by Stravinsky and Shostakovich, who were smitten with America's native contribution to music—and with Wynton's piece, I hope the program shows that there is no real divide between so-called 'serious' classical music and jazz; I would be hard-pressed to draw a line between them."
Prokofiev, Violin Concerto No. 1
"The Prokofiev First Violin Concerto is probably less often performed than the Second, but I think I might like it even more. It's very sad at the end, although it ends in a spiritually uplifting way. It's a true masterpiece, and it's one of my favorite pieces of Prokofiev."
Luigi Dallapiccola, Il Prigioniero
"Il Prigioniero's exploration of questions of oppression and rebellion is compelling and powerful, and the musical language is incorporated in a way that works well dramatically; it will be wonderfully evocative when performed by the actor-singers who are joining us, Gerald Finley and Patricia Racette."
Brahms, String Quintet in G
"I learn a lot about the orchestra by sitting down with the players and producing and matching sounds. The string quintet we're playing is one of the greatest chamber works of Brahms. It just explodes out of the box and grabs you and doesn't let go; there's such a wonderful, joyous enthusiasm in it."
Tchaikovsky, Symphony No. 6 ("Pathétique")
"Tchaikovsky's Sixth is probably his most intimate, profound personal statement. The pathos is so clear; it paints a picture of this man who was tortured by his own inner demons. It ends on one of the most despairing notes you'll find in music. It's a struggle and a real journey, but I have to see a ray of hope in this piece because it's not entirely bleak—there's some kind of comfort and repose achieved by the end."
Haydn, Piano Concerto No. 11
"I love Haydn: When asked that terrible question, 'Who is your favorite composer?' that's the name I give."
Christopher Rouse, Symphony No. 3
"I've always said and long felt that Christopher Rouse is one of the really important composers working today. His music, while being highly individualistic, is absolutely rooted in the tradition from which it springs. Chris has described his Symphony No. 3 as new wine he poured into the older bottle of Prokofiev's Second Symphony. Rouse's Third Symphony and Haydn's Piano Concerto No. 11 are two great pieces, and together they represent both our artist-in-residence and our composer-in-residence on the same program. Doing so reflects that whole idea of connecting and collaborating to which I am committed."
Wagner/arr. Gilbert, A Ring Journey
"The Ring Cycle is some of the greatest music ever written, and it's a find for orchestral musicians when they get to put their hands on this incredible sound world. Wagner is an amazing composer because without singers, without words, the story still comes through. I'm a Ring fanatic!"
Stravinsky, The Fairy's Kiss and Petrushka
"I have often spoken about my belief in storytelling through music, sometimes in ways that are literal, but often in ways that are less easy to define. The Fairy's Kiss and Petrushka contrast with each other, but both are intrinsically associated with dance, and the action on the stage allows certain themes to emerge and connect them. In our production, created by Giants Are Small, there will be dancers, puppets and video projections—not entirely unrelated to the way video was used in Le Grand Macabre."
The New York Philharmonic launches "Gilbert's Playlist" on May 30 at Avery Fisher Hall (at Lincoln Center).