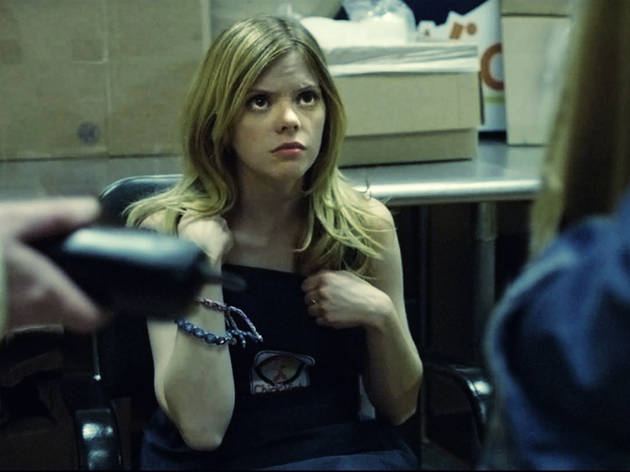 Sundance: Compliance riles everyone up
RECOMMENDED: Read our full coverage of Sundance Film Festival
Ah, here we go. This is more like it.
A huge thanks goes out to a trio of veteran Sundance directors who've returned to Park City with new works, as you Awesome Threesome have, within 24 hours, substantially brightened my festival experience. Grazie, Ira Sachs, So Yong Kim and Craig Zobel; if I'd have walked away from Sundance 2012 having only seen your movies, I'd still have felt the trip was worth it. All three of these filmmakers' projects bear the marks of personal expression and their creator's unique storytelling sensibility; only one of them, however, accomplished the director's goal so well that it nearly caused a riot.
That would be Zobel's Compliance, a movie predicated on the notion that, when presented with the voice of authority (or even a facsimile thereof), people will chuck common sense and their moral compass out the window. Having already started her day off on a bum note due to an employee fuck-up, a fast-food manager (Ann Dowd) is simmering at the lack of respect her crew shows her during a shift. A phone call from a police officer then informs her that a 19-year-old counter girl (Dreama Walker) has stolen money from a customer's purse; his team is going to investigate the matter, but until they get there, could the manager keep the alleged perp locked in the back office? It would be a big help to the cops. Also, she'll need to strip-search the young woman, and...
We've already figured out that the smooth talker on the other end of the line isn't a cop, and once our suspicions are confirmed, it's simply a matter of how far this hoax will go. The answer: way too far. The fact that the film's nightmare of sexual abuse and sheeplike behavior is based on an actual 2004 incident at a Kentucky McDonald's only makes everything more nauseating: It took three hours of a young woman being humiliated and eventually assaulted, just because someone said to do it in the name of the law, before anyone had the guts to say this is wrong?
A world away from Zobel's previous Sundance feature, Great World of Sound (2007), this tense, extraordinary follow-up presents no easy answers and forces the viewers into being complicit with both the muddled manager and the pervert pulling the strings. It's designed not just to force audiences to question the big-picture, how-could-this-happen aspect of it all, but to make viewers uncomfortable while doing so. If anyone thought that Zobel's unflinching look at human behavior at its worst didn't succeed in doing this, they only needed to count the walkouts during the screening—or wait around for the Q&A.
To say that the crowd was hostile when the director and the cast took to the stage after Compliance's premiere is a bit like saying bullfights are violent. Boos were abundant; people angrily wanted to know how Zobel and Sundance could consider this misogynistic work to be "entertainment." (It's not supposed to be entertaining, people.) Everybody was already on the defensive when someone in the audience mentioned that Walker, who's forced to appear seminaked for most of the film, had a "hot body." This is the equivalent of saying that Jodie Foster's "sex scene" in The Accused was, like, so smokin'!; it doesn't just miss the point by miles, it proves that exposure to onscreen ugliness is apparently contagious. A costar came to her defense, but the damage regarding the dialogue had been done. It'd be a pity if this incident were to overshadow the compelling sophomore effort Zobel has made. It's not a movie you want to watch twice—or miss the opportunity to see once.
A quick mention about Sachs's and So's equally stellar movies: The former's Keep the Lights On charts an NYC-based gay couple's highs and lows over a nine-year span, tracking one member's descent into drug addiction and the other's into helplessness; it's a sensitive, sexed-up and lovingly raw look at a relationship, and easily Sachs's strongest movie after 1996's The Delta. The latter's For Ellen further embellishes the Treeless Mountain filmmaker's reputation as an actors' director and a master of atmosphere, following Paul Dano's sad-sack rock star as he tries to briefly connect with the five-year-old daughter he never knew. It's a quietly heartbreaking gem, marred only by a questionable lifting of a '70s classic's ending. (Hint: The movie in question has a number in it and involves an iconic scene in a diner.)
And I'd be remiss if I didn't tip my hat to Wrong, Quentin Dupieux's lysergic head trip about a man, his lost dog and any number of other peripheral tangents involving the bending of reality. It isn't as flat-out brilliant as his meta-movie horror riff Rubber, but this zany skull-fuck of a comedy easily qualifies as the best midnight movie of 1974. The Surrealists used to love walking into movies in the middle, and Wrong is designed for that mind-set; you could program it with Buuel's The Phantom of Liberty and it'd be the perfect double bill to get folks properly riled up.