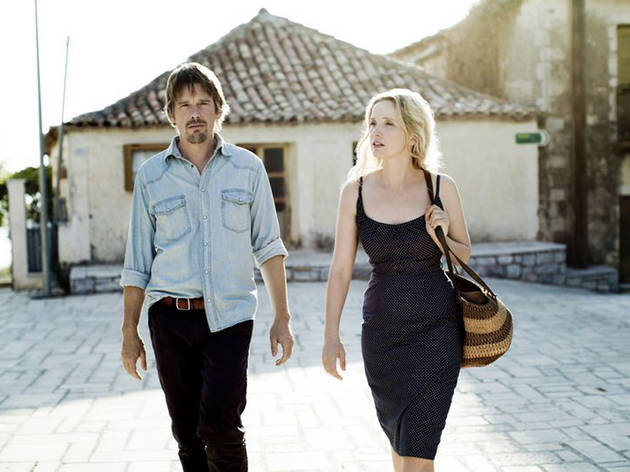 Sundance Film Festival 2013: Before Midnight
Richard Linklater, Julie Delpy and Ethan Hawke deliver a masterpiece.
So let's talk about Before Midnight, the third chapter of Richard Linklater's "Before" series and arguably the most anticipated premiere of Sundance this year. (At the very least, it's tied with Upstream Color, Shane Carruth's long-awaited follow-up to 2004's Primer; we'll get to that one in tomorrow's post.) In order to have any sort of meaningful conversation about this—and these movies are nothing if not gushing valentines to the joy of long, meaningful conversations—we're going to have divulge a few things. If you want to go into this film cold, you should stop reading this. Sit in a café and have a cup of coffee. Read a Balzac novel. Go for a long walk with a friend or loved one and discuss your life, where you want to go for your summer vacation, the latest episode of Girls. Come back here tomorrow and read about the other films playing here in Park City.
Last chance. Okay. We're all good here? Great.
RECOMMENDED: Read our full coverage of Sundance Film Festival
Set nine years after we last left Celine (Julie Delpy) and Jesse (Ethan Hawke) sitting in a Parisian apartment and contemplating their future in Before Sunset, part three picks up the story in Greece, filling in the details regarding what's happened in the interim. The two have been living together, unmarried but fully committed, in Paris (we later find out there was also a two-year sojourn in New York). Their twin daughters are curly-haired little moppets. The brood has been on vacation, staying with a group of friends at a seaside house several hours outside of Athens. And as we listen to this couple joke, bicker, complain and comfort during a long car ride, we see how comfortable they've become with each other, how they've aged (Hawke's scruffy handsomeness has become weathered; Delpy keeps bemoaning her "fat middle-aged French ass") and how much has occurred since Jesse decided to chuck everything for his soulmate.
Yet his guilt over having followed his bliss and feeling like he abandoned his older son in America is starting to fray their union. After the family and friends frolic together, Celine and Jesse take off to a hotel for a night alone; once again, we follow these lovers as they stroll through picture-postcard settings and wax on about everything under the late afternoon sun. By the end of the night, every bit of bitterness they've been holding on to for nine years gets blown up to epic proportions.
Linklater has made no secret of the debt these movies owe to Eric Rohmer's compelling chatathons, and a lengthy scene at a dinner table in which everyone discusses love, grief, literature, Shakespeare and Mars-versus-Venus gender differences could have easily been plucked out of, say, Claire's Knee (complete with a comely young femme). Once the knives are unsheathed, however, the Texas auteur goes full Bergman and turns this into his own personal Scenes from a Marriage, with Delpy and Hawke flinging as much vitriol at each other as they can muster. You don't have to be in a long-term relationship, have kids, be worn down by negotiating life or feel like your partner sometimes thinks that the dishes just magically wash themselves to feel like these arguments cut to the bone—though if you can check off any or all of these items, you will cringe in recognition as pet peeves are used to score points off of each other.

It isn't the switch to rage and resentment in this second half that makes this entry stick out from its predecessors, however, so much as the way this film unflinchingly delves in to the good, bad and ugly of life in one's forties. It's been 18 years since these characters (and actors) met cute on a train, and their narrative has changed from sky's-the-limit youngsters to adults who blinked and found themselves suffering from middle-age malaise. If the first movie was about Romance and the second was about Regret, then the third is about Time: the way it sneaks up on you and can erode everything, be it bodies, hope or love itself. (A shot of Delpy's face watching a sun slowly set behind a mountain becomes a heartbreaking example of reluctantly giving in to the dying of the light.)
But Before Midnight also mirrors how life deepens the conversations and thoughts one has; gone are the days of discussing whether Tolstoy is better than Gogol, or even whether one should have taken a chance on another person after a gamechanging train ride. Now, they chew over notions of lost passion, smothered desire, why having the one true love next to you is occasionally not enough. The conversations we're lucky enough to eavesdrop on this time out are profound ones, and offer more Big Questions than know-it-all answers. It would be easy to say that it's this willingness to tackle heavier concerns is what makes this the superior movie of the three. Yet that doesn't quite hit the mark: The movie is the best entry of the bunch because it reflects change—their change, our change—in a way that honors these flawed fictional characters and real life without pulling any punches. It's funny, touching and, in keeping with Linklater & co.'s past attempts to mine the personal, all too identifiable. It's also, inarguably, a masterpiece.
Follow David Fear on Twitter: @davidlfear
Check out the rest of our Sundance Film Festival 2013 coverage