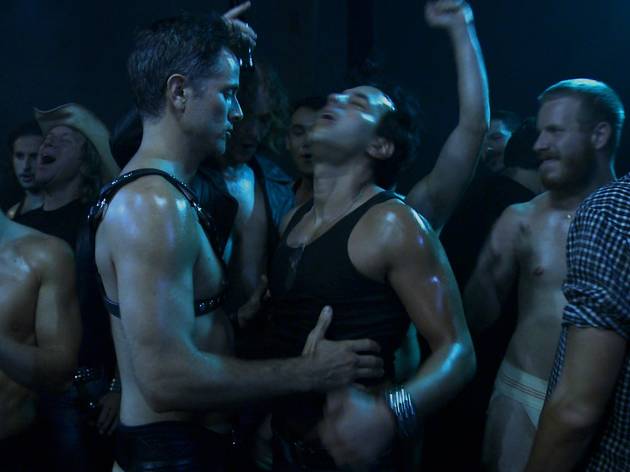 Sundance Film Festival 2013: James Franco's Interior. Leather Bar, Escape from Tomorrow and more
The 127 Days star stages another meta-movie mindfuck, while a secret Disneyworld movie garners huge buzz.
When William Friedkin submitted his controversial thriller Cruising to the MPAA in 1980, the board demanded that he cut 40 minutes of footage if he wanted to avoid an X rating. The director reluctantly snipped, the film was released with an R rating, and the rest, as some are wont to say, was history. Those of us who had heard about the missing scenes of leather daddies and other Tom-of-Finland types getting hot and heavy in a nightclub hoped that the sequences would be restored when Cruising was digitally restored in 2007, but according to Friedkin, the footage had been destroyed by the studio.
RECOMMENDED: Read our full coverage of Sundance Film Festival
Enter James Franco and documentarian Travis Matthews, who've decided to recreate what they think said footage might have looked like—and the result, Interior: Leather Bar, uses these what-if scenarios as a starting point for examining social attitudes about sexuality. That Franco would be behind such a semiotics-rich project isn't surprising for anyone who's been following the actor's multimedia-multitasking career (Author! Visual Artist! Student! Oscar Host! And, occasionally, Movie Star!), and given his predilection for pushing the envelope, the crowd at Saturday night's premiere often wondered aloud whether he wouldn't be participating in a more active role before the camera as well.
What the audience did get once a slew of nightmarish technical difficulties were fixed (during one prolonged period where we forced to stare at a completely black screen, Matthews yelled out "It gets better" to much appreciative laughter) was part pornographic PSA and part Ph.D dissertation. The recreated scenes themselves are brief and relegated to a few quick montages; mostly, I:LB consists of people filming people filming those scenes, along with actors talking about why they'd participate in the project. No, the creatively restless star/co-director does not don dead-animal hides and make out with dudes. Yes, he does prove that a life of perpetually treating stardom as a performance-art piece can belch out some interesting food for thought, even if said meals tend to be somewhat undercooked and overflavored.
Specifically, the movie is "about" actor/Franco's buddy Val Lauren coming to grips with playing Pacino's part in these imaginary sequences, and in the process, dealing with the whole concept of homosexuality. Even as Franco explains why he was interesting in resurrecting this film maudit's lost footage—partially as a tribute to unassimilated queer culture, partially as a way of combating society's notions of the sexual "norm"—Lauren can't quite grasp the intent. When he keeps asking another actor about what the latter would or would not do once the cameras start rolling (an example of the art of men cruising each other by any other name), the handsome bit player seems to be searching for some sort of boundary marker for acceptable behavior on- and off-screen. By the end, Lauren is complimenting a real-life same-sex couple he's just watched fuck on a couch and declared that "we're one sexy bunch of guys here." Interior: Leather Bar may be intended as another hall-of-mirrors intellectual exercise for the meta-minded Franco and his collaborator(s), but ultimately, this wonky 60-minute–long whatsit feels like little more the star's attempt to upend prejudices against homosexuality, one straight actor at a time.

Two other cultural-dissection stories, albeit vastly different in texture and tone, capped off Sundance Day Three. Easily the most out-of-left-field buzzed-about entry so far, Escape from Tomorrow benefits from Randy Moore's possession of some serious brass balls. The filmmaker's surreal, nightmarish story of an everyman (Roy Abramsohn) losing his mind was shot completely on the down-low in Disneyworld, Disneyland and Epcot Center over a three-year period, crafting a poison-pen letter that persistently pricks at the amusement park's shiny, happy facade.
Shot in black-and-white, the movie leeches the color out of familiar family attractions like "It's A Small World," et al., rendering everything like a woozy, bad drug-trip; it's essentially a horror film set in the happiest place on earth. The fact that Moore will probably never be able to show this copyright-infringing cult-film-in-the-making outside of a festival partially explains for it being such a hot ticket, as well as for some of the overpraise being heaped upon what's basically a semi-decent lo-fi Twilight Zone episode. (Lots of schadenfreude towards Orlando, Anaheim, and Disney's iron-fist grasp on those cities helped as well.) Still, Moore deserves a tip of the hat for flipping the bird to the Mouse in the most guerilla, go-for-broke style possible. PS: We know the names of some really good lawyers.
Finally, there's Mother of George, a typical diaspora-blues tale that, in director Andrew Dosunmu's hands, becomes a visually stunning portrait of Brooklyn's Nigerian community. Adenike (Danai Gurira) has no sooner married Ayodele (veteran Franco-African actor Isaach De Bankolé) than the pressure to deliver grandkids starts kicking in; neither folk remedies nor fertility experts is helping her yield a baby. Afraid that, per tradition, her husband will start taking up with other women so as to produce an heir, Adenike finds herself heeding her mother-in-law's suggestion: Sleep with Adenike's younger brother (Tony Okungbowa), as "it's the same blood."

As with Dosunmu's last film Restless City (2011), the filmmaker displays a knack for detailing rituals and cultural signifiers (that Yoruba wedding sequence!) in ways that are eye-poppingly gorgeous without feeling like grandstanding. It's hard to think of a recent movie that's made better use of shifting focal points as a formal trick to express alienation—with both her modern urban surroundings and old-world customs—or that's displayed such delicate eroticism in its love scenes. Melodrama starts to rear its head and disrupt the lyrical flow by the end, but after seeing a number of anticipated big-name films here that have disappointed—Touchy Feely, Breathe In, The Look of Love—stumbling across a small, well-crafted gem couldn't be more welcome.
Follow David Fear on Twitter: @davidlfear
Check out the rest of our Sundance Film Festival 2013 coverage