Sundance Film Festival 2013: May in the Summer and Crystal Fairy open the fest
One opening night selection fizzles, while a Michael Cera oddity unexpectedly pays off.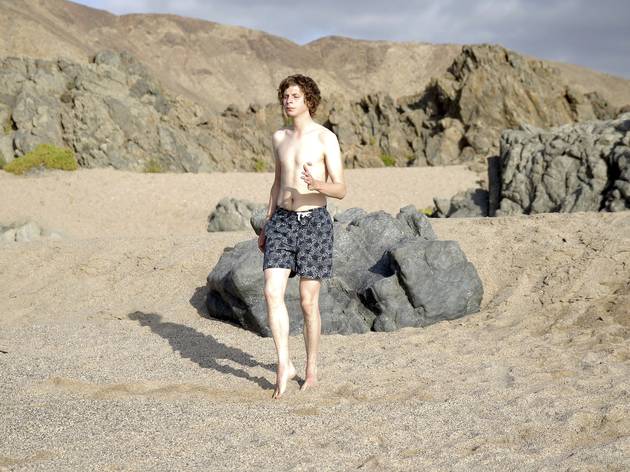 "Be excited!"
That was what an industry friend I'd run into kept telling me, a look of wide-eyed joy on his face, as I was walking to the very first screening of the 2013 Sundance Film Festival. He'd had a chance to see a good number of the fest's entries prior to Park City officially opening its arms to us sundry locusts who descend upon the Utah resort town every January in droves; without naming specific titles, he claimed that, lineup-wise, this was a particularly strong year. At the opening-day press conference, Sundance's towheaded godhead Robert Redford declared that, if the idea to start up the annual gathering of the independent-film tribes had occurred to him today, he probably wouldn't do it. "There's a festival in every neighborhood [now]," he lamented, the suggestion being that the fest was formed to fill a niche and fulfill a need, and both elements no longer needed ten days in Utah as a showcase. But according to my friend, that hasn't stopped Sundance from finding an overabundance of quality programming.
RECOMMENDED: Read our full coverage of Sundance Film Festival

So imagine the cognitive dissonance one would experience if, flush with this insider knowledge, one sat down in the cavernous Eccles Theater and proceeded to watch an opening-night selection that exemplified Sundance at its blandest. I'll say this for slotting May in the Summer as the kick-off flick: It proves that Redford's assertions that the fest exists to serve the Sundance Institute's fellows, and not the other way around, isn't a lot of hot air. Developed at one of the storytelling labs the Institute has now established across the globe (in this case, Jordan), triple-threat filmmaker Cherien Dabis's tale of an Arab-American woman travelling back to her homeland was clearly a personal project. Introducing the film, she thanked her mom for letting them film in her house ("Sorry for rifling through your drawers on camera") and recalled how, when her first feature Amreeka (2009) was accepted at the festival, her mother replied, "Cherien, that's great! What is the Sunnydance?"
That comment drew bigger laughs than the film itself, which details the travails of Dabis's writer suffering through familial strife as she plans her wedding to a fellow Middle Eastern ex-pat. Her character, May, has just published a study of Arabic proverbs; the film is itself a study of clichés, ranging from bridal shenanigans to nonstop bickering with her two sisters (Nadine Malouf and Arrested Development's Alia Shawkat) and her devout Christian mom (Hiam Abbass). Dabis is far more compelling performer than she is a writer or a director, and other than two extraordinary shots—one of May drowning in a sea of white wedding-gown fabric, the other of her dwarfed against an expanse of desert—there's nothing interesting going on visually or verbally. Culture-clash films should say something about at least one of its clashing cultures, and May in the Summer has precious little to offer on either the contemporary Middle East or America's East Coast. It's a story of Arab-American as told in the lingua franca of CBS primetime dramas and sitcoms, and a reminder that even labors of love sometimes end up simply being laborious.

If May suggested that my friend should have said, "Expect the unexceptional" instead of "Be excited," the evening's next offering quickly offered a counterpoint. Sebastián Silva's Crystal Fairy is one of two films the Chilean director has at the festival starring another Arrested Development alum, Michael Cera. The other project, Magic Magic, screens next week; whether it's funnier, odder or more of left-field pleasure than this shambling stoner odyssey remains to be seen, but it quickly establishes itself as something outside of the norm. Cera's obnoxious ex-pat has an appetite for drugs, ridiculous utterances ("The other weeds I've had here have been a little heady") and visionquests, as well as a knack for narco-fuelled bad choices. Like, say, inviting some hippie-dippie young woman named Crystal Fairy (former child star Gaby Hoffman) to come with him and his three Chilean friends on a three-day trip to take mescaline on a beach. She takes him up on the offer. He immediately regrets it.
From there, Silva's movie takes on aspects of various road movies, cringe comedies and the types of films in which New Age-y free spirits drive uptight dudes crazy. Yet the longer the movie lazily winds its way towards its destination, the more its unpredictability and shambling, go-with-the-flow pace start paying off handsomely. Shot in 12 days and largely improvised, this fuzzy-headed farce works its magic on viewers in sly increments and uses Cera's inherent irritability to great effect; a beautifully framed two-shot of the actor's face and a hairy vagina is a lesson in comic economy. It also mirrors the arc of a drug trip to a tee (or so, um, I've been told), as it goes from anxiety to wooziness to a final come down in the last ten minutes that's a bit of a bummer. Still, that final-act fumble wasn't enough to kill my buzz. I was starting to get just a little bit excited. For me, the Sunnydance had now begun.
Follow David Fear on Twitter: @davidlfear
Check out the rest of our Sundance Film Festival 2013 coverage