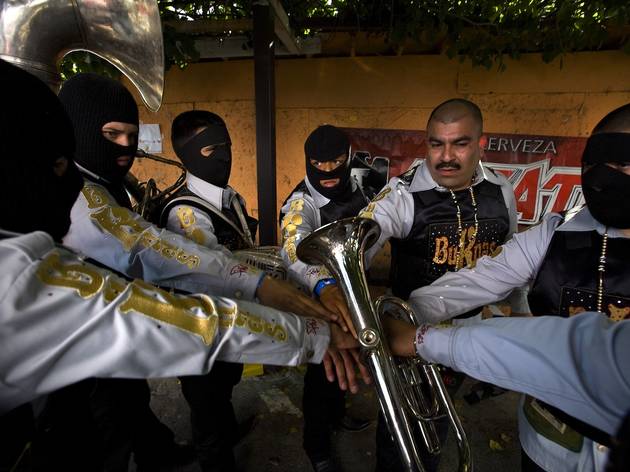 Sundance Film Festival 2013: Narco Cultura, After Tiller and Blackfish
Drug songs, abortion and killer whales; Sundance's docs take on the issues.
There are only so many star-studded red-carpet premieres—or for that matter, wonky lo-fi black-and-white video movies about vintage supernerds; we're looking at you, Andrew Bujalski's Computer Chess!—that you can attend before you start craving a bit more real-world substance. That's not to knock these films on quality or suggest that anything with name actors is merely mindless escapism: Fox Searchlight's thriller The East efficiently mines suspense out of Brit Marling infiltrating Alexander Skarsgaard and Ellen Page's eco-terrorist group (at least until it goes south in its last third) and the Paul Rudd-Emile Hirsch two-hander Prince Avalanche makes the most of its pastoral settings and gently bro-centric chattiness, to name just two.
RECOMMENDED: Read our full coverage of Sundance Film Festival

But if you're looking for movies that engage with what's happening outside of the theater, your best bet at Sundance has traditionally been its documentary programming, and this year's crop of social-issues vérité has taken on a variety of topics in intriguing ways. Take, for instance, Narco Cultura, Shaul Schwarz's look at the drug wars plaguing Mexico's Ciudad Juárez, in which the filmmaker embeds himself with a local crime-scene investigator and details how cartels have fuelled a major escalation in murders (320 homicides in 2007; 3,622 in 2010). That would have been enough for a standard journalistic doc, but Schwarz then turns his focus on several Americans who make money off of writing narcocorridas—songs dedicated to lionizing Mexican drug lords.
Ping-ponging between grisly south-of-the-border carnage and Angeleno musician Edgar Quintero's growing success as one of the subgenre's stars, you start to see how this parasitic relationship works. Bands like Quintero's group, BuKnas de Culiacan, become famous by exploiting the region's devastation; the subjects of their songs gain further notoriety by having these songs turn them into larger-than-life Scarfaces. Crime pays, and so does singing about it. Everybody is a winner in the pop-culture sweepstakes, except, of course, the actual corpses littering Juárez's plazas. The concept of juxtaposing both of these aspects sounds clever on paper, yet Schwarz, a former war photographer, deftly balances the elements; he shows exactly how the gangsta-rap-meets-Stagger-Lee music is contributing to a real social crisis without being brain-dead reductive. You wonder how folks at that BuKnas show—the ones yelling out the chorus "We're bloodthirsty and like to kill!"—would react if they saw this film and realized what they were supporting. You hope they'd at least stop singing along.
From one hot-button topic to the next: Martha Shane and Lana Wilson's After Tiller kicks off with the 2009 assassination of George Tiller, a Wichita doctor who performed third-trimester abortions (the termination of a fetus between the 20th to 25th week of pregnancy) and was considered Public Enemy no. 1 by anti-abortion activists. But he is not the subject of the film; rather, the directorial duo are interested in profiling the four remaining third-trimester abortionists in America and how their lives have been affected, personally and professionally, by what they do.

The result isn't pro-choice propaganda so much as a re-evaluation of why this quartet have stuck with providing this service and how, given that many such procedures are performed due to serious-to-terminal fetal health issues, keeping this a legal option is actually humane compared to post-natal euthanasia. These doctors have the courage of their convictions and show courage in leaving their houses every morning, but After Tiller never comes off like an exercise in blind hero worship. It simply tries to show that these people have their own deeply felt, well-thought-out ideological reasons for what they do. They've been long overdue for a forum sans cries of "baby killer." Now hear their side of the story.
You could say the same thing about the formerly silenced whale trainers who act as talking heads for Blackfish, one of the most talked-about documentaries showing in competition this year. Part exposé and part portrait of a marine-park serial killer, Gabriela Cowperthwaite's look at how Tilikum—the notorious SeaWorld orca responsible for the death of trainer Dawn Brancheau in 2010—talks to a half-dozen ex-employees of the organization about the incident. What emerges is a counterpoint to the company line that such "accidents" are isolated (they aren't); that Tilikum was not an unstable animal (he had a history of attacking trainers that dates back to 1991); and that the conditions in which these whales are kept don't cause problems for the highly emotional and intelligent animals (they most certainly do).

The case is presented forcefully, but there's a gap between the righteous advocacy and some poor aesthetic choices here that keeps undermining the good intentions. Whether it's the cheesy dun-dun-DUN music choices or a climactic scene of trainers staring lovingly at a while herd in its natural habitat, Blackfish seems to keep shooting itself in the fin by resorting to such chintzy Dateline moves; you'll leave angry at those who've perpetrated these animal-rights atrocities and agitated that the storytelling feels so stock.
Follow David Fear on Twitter: @davidlfear
Check out the rest of our Sundance Film Festival 2013 coverage