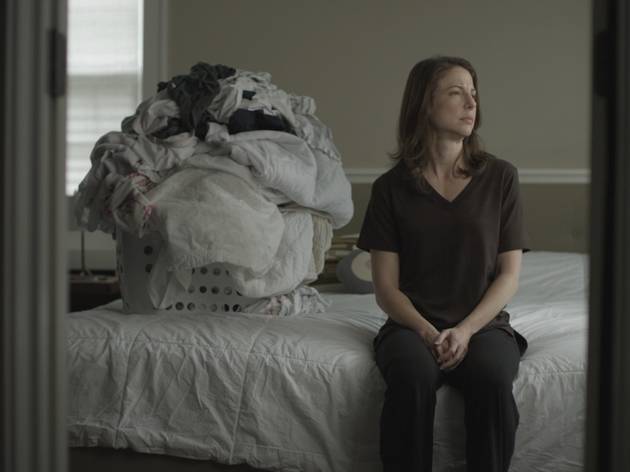 Sundance film festival 2013 wrap-up
Head trips and carnal knowledge dominated this year's edition of Park City's indie-film festival.
Sex, drugs and rock & roll aren't necessarily the first words that spring to mind when you think Sundance. But this holy trinity of hedonism was everywhere this year in Park City, and during the Sundance Film Festival's 11-day run, the odds were you'd get at least one or two of those elements whenever the lights went down. The annual indie-flick summit has been particularly friendly to rockumentaries in recent years, so it wasn't shocking to see nonfiction looks at everyone from the Eagles to Pussy Riot, L.A.'s Sound City to Alabama's Muscle Shoals studios. And though the fest has long supported projects that touch on body-rockin' and mind-expandin' taboos (see Poison and Drugstore Cowboy), the 2013 edition was particularly fixated on using those two topics to further push envelopes.
RECOMMENDED: Read our full coverage of Sundance Film Festival
Take, for instance, Crystal Fairy, Chilean director Sebastián Silva's buzzy, fuzzy-headed road movie about an obnoxious American (Michael Cera) who goads his South American buddies to aid him in sampling the juices of a mythical, hallucinogenic cactus. These easy riders reluctantly end up bringing a hippie-dippy space cadet (former child star Gaby Hoffmann) along for the ride, and her free-spirit attitude tests the tolerance of everyone involved. Made in 12 days while waiting for funding for another film, Silva's lo-fi lark mines its psychedelic-comic premise for all it's worth while sending up the myopic vision-quest genre; the movie also features what may be the funniest two-shot of a well-known star and hairy mons pubis ever composed.

Or, turning toward the social-issues documentary entries, there was Narco Cultura, Shaul Schwarz's extraordinary exploration of the connection between Mexican drug cartels and Angeleno troubadours who write narcocorridos, Spanish-language songs dedicated to turning real-life criminals into larger-than-life Scarfaces. Cutting between scenes of impotent cops dealing with south-of-the-border carnage and those who exploit this homicidal epidemic north-of-the-border for profit, the parasitic relationship between subject and singers becomes damningly clear: Crime pays, and so does mythologizing it. Everybody wins, except for the everyday citizens of Juárez, who fear for their lives.
Drugs made cameos in everything from biopics on Brit pornographers (Michael Winterbottom's coked-out The Look of Love) to Beat authors (Kill Your Darlings, a Muppet-baby take on the young Kerouac, Burroughs and Ginsberg). Sex, however, earned top billing, even when it was paired with celebrities behind the camera. Joseph Gordon-Levitt's Don Jon's Addiction initially seems like a performance-art piece, as the writer-director-actor goes full Garden State metamook (check out JGL's new juiced physique!) to detail one man's numbing obsession with Web porn—clips of which show up roughly every two minutes—before turning into a bridge-and-tunnel car wreck. Even more intriguing than Gordon-Levitt's Jersey Shame vanity project is Interior. Leather Bar., James Franco and codirector Travis Mathews's attempt to reenact 40 minutes of missing gay S&M footage from 1980's controversial Cruising. They then turn the cameras on the footage's Pacino avatar, actor Val Lauren, who goes from paranoid confusion to alt-lifestyle acceptance by the day's end. Franco's apparent goal: to cure homophobia, one straight thespian at a time. Success!

While the fest's most impressive debut film also revolved around getting it on (Stacie Passon's liberation-via-sapphic-prostitution drama Concussion, which provided a career-making showcase for Deadwood's Robin Weigert), Sundance's single sexiest entry limited its salaciousness to one extended topless scene—and reminded viewers that nothing is as titillating as great moviemaking. Richard Linklater's Before Midnight picks up nine years after we last left Before Sunset's tortured lovers, Ethan Hawke and Julie Delpy, in Paris, contemplating their future. Without spoiling things, let's just say that the two have kept in contact and these characters are much different from those kids who met on a train all those years ago. The way Linklater punctures the romantic illusion of the trilogy's first entry with the harsh reality of middle-aged life is nothing short of genius, and in the time between its screening of Before Sunrise in 1995 and this year's unveiling of the characters' swan song, the fest has changed with the times as well. As this masterpiece proves, however, Sundance is still a place that values quality as much as star power and discovery—a notion that even naysayers would admit is highly arousing.
Follow David Fear on Twitter: @davidlfear