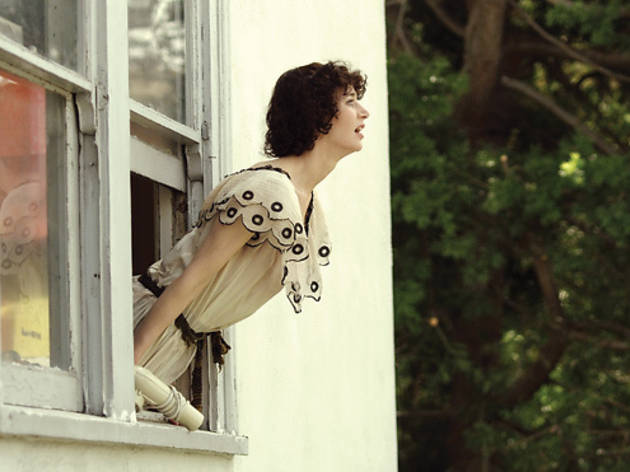 Sundance halftime report
Traumatized teens and bad religion dominate Park City's first half.
If you only read last year's Sundance halftime report, you probably thought that the 2010 edition was no big whoop: Other than Blue Valentine and Exit Through the Gift Shop, at that point the festival had produced precious few stop-the-presses entries. Then came the second half, and out marched Last Train Home, Winter's Bone, I Am Love, Animal Kingdom and The Kids Are All Right. What initially seemed like an artistic dust bowl actually yielded a bumper crop.
So I'm loathe to judge Sundance 2011 based on its rather ho-hum first weekend; maybe John Cooper, now in his sophomore year as head programmer, still has a few tricks up his sleeve. There are new films by David Mackenzie (the epidemic romance Perfect Sense), Azazel Jacobs (small-town teen drama Terri) and Dito Montiel (The Son of No One, a Queens cop thriller starring Channing Tatum and Al Pacino) on the horizon, so hope for a showstopper springs eternal. But other than one truly outstanding work, the 15 or so movies I've seen have largely produced a shrug of the shoulders rather than a drop of the jaw.
What is certain is that two themes are already threading their way through a number of disparate flicks. The kids most definitely aren't all right this time out: Movies like the creepy character study Martha Marcy May Marlene, the formalist haunted-house riff Silent House (both starring young Olsen sibling Elizabeth, the official It girl of this year's fest) and Fox Searchlight's quirk-com Win Win all feature teens with chips on their shoulders and traumas in their past. The pitching of screaming, flailing fits is less a matter of if so much as when, and in that respect, this trio doesn't disappoint. Even James Marsh's Project Nim, a documentary involving scientists who try to raise a chimpanzee like a human child, finds its simian acting out once ape adolescence sets in.
The other recurring motif seems to be religion as a modern bugaboo, with everything from Paddy Considine's Brit-miserablism-on-metabolic-steroids drama Tyrannosaur to Kevin Smith's fundamentalist horror show Red State casting evangelical zealotry as an enabler for evil behavior. Though the aforementioned Martha Marcy involves a Mansonesque cult, it shares a dread of spiritual manipulation and messiah complexes with its more obvious brethren. Only Vera Farmiga's near-great directorial debut, Higher Ground, treats faith with any sort of complexity—and you still get a lead character whose entanglement with a born-again congregation becomes the ultimate crutch.
Real salvation did arrive, however, in an unlikely form: The Future, Miranda July's superior follow-up to Me and You and Everyone We Know. Like much of this performance artist's work, her new film starts off courting a hipster-tweeness that suggests cinma du McSweeney's. Then this tale of a couple (July and Hamish Linklater) that chucks their normal life detours into some dark, profoundly sad material, and you're so moved by the movie's mournful beauty that even a helium-voiced kitty narrator doesn't grate. It's the one thing I've seen so far that suggests a sui generis sensibility in full, glorious blossom. Should The Future signify the shape of things to come, Sundance 2011 may just be a late bloomer.