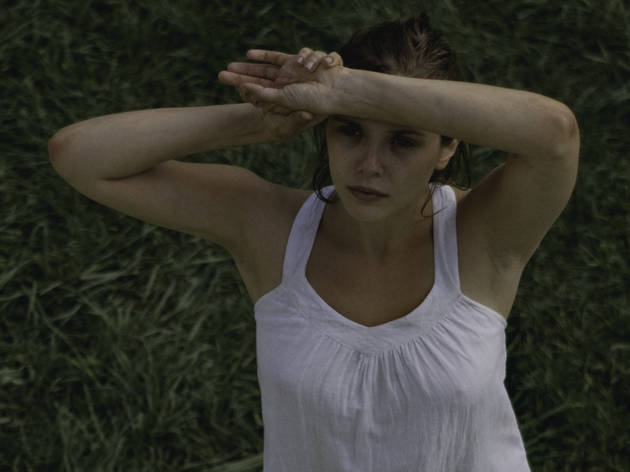 Sundance: Meet Elizabeth Olsen
The following pre-Sundance conversation did not actually take place:
RECOMMENDED: Read our full coverage of Sundance Film Festival
Person: Dude, you know who's going to be the buzzed-about, breakout star at this year's Sundance?
Me: Good question...the kid from Win Win, Alex Shaffer?
Person: Nope, though he's good.
Me: Lubna Azabal, the Belgian actress that's in Here and Incendies, right?
Person: Again, wonderful answer. You're getting closer.
Me: This guessing is making me sleepy. Who will it be?
Person: Elizabeth Olsen, the younger sister of Mary-Kate and Ashley Olsen.
Me: Wait, what?!? You, sir, are high on illegal drugs.
Person: No, I am not.
Had somebody offered this opinion prior to the festival, I would have laughed, or stared in disbelief, or maybe even laughed while simultaneously staring in disbelief. But it's absolutely true: A mere 24 hours after both of her films premiered, crowds and critics were chattering madly about this 21-year-old actor. Sundance 2011 suddenly had a photogenic face, and we now have a new female movie-martyr extraordinaire.
She's the titular character(s) in T. Sean Durkin's Martha Marcy May Marlene; "Marcy May" is the handle given to Olsen's nave young Martha when she joins a cult in upstate New York. (The "Marlene" addition remains a mystery.) Lorded over by a Mansonesque figure played John Hawkes—now the official spokesmen for scary, sinewy creeps—Marcy May's new family communally does the household chores, which includes the master's "cleansing" rape rituals. After she escapes, Martha slowly tries to adjust back to normal living. Paranoia and post-traumatic stress disorders make this a virtual impossibility.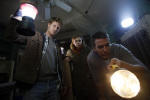 That's her Dramatic Competition title; the second film, part of Sundance's "Park City at Midnight" program, is Silent House, a remake of an obscure 2010 Uruguayan haunted-house film called La Casa Muda. (A colleague who's seen both versions confirms that the Americanized take is essentially a shot-for-shot remake—or rather, a "shot" for "shot" remake, given that the two films are each composed of one single, carefully co-ordinated long take.) Filmmakers Chris Kentis and Laura Lau, the husband-and-wife team behind 2004's sharkaplooza Open Water, milk the forced-perspective trick of staying alongside Olsen's freaked-out heroine for all its worth, laying on the suggestive spookiness as she gradually spirals into madness.
Each film has its minor flaws. Martha adheres to an indie-flick formula that, to paraphrase Pauline Kael, could be described as Come-Dressed-as-the-Unblinking-Look-into-the-Abyss; deadpan scenes of dread and human ugliness are allowed to play out with minimal gloss, all the better to bum you the fuck out. Silent House occasionally wears its influences—The Shining and Repulsion in particular—too nakedly on its sleeve and eventually wears its whole haunted-house-as-repressed-memory-therapy-session scenario into the ground.
But the key thing these two movies have in common is the way Olsen sells her onscreen suffering. Both of her characters are forced to deal with the predatory men, both are infantilized and sexualized, both have to take their destinies into their own hands. Most importantly, however, is that Olsen's facility for emotional transparency is the X-factor that make both the films work overall. You watch every thought and every instinctual tide-change pass over her face without the usual actorly acrobatics that denote damaged-goods characters. It's not easy to make hysterics and breakdowns seem natural, much less tolerable, for 90 minutes straight, yet this dead ringer for a young Vera Farmiga does it with grace. On their own, Martha and Silent House would make for interesting genre entries. Blessed with this young talent, they each come within weeping distance of winning the Lillian Gish award for watery-eyed greatness.