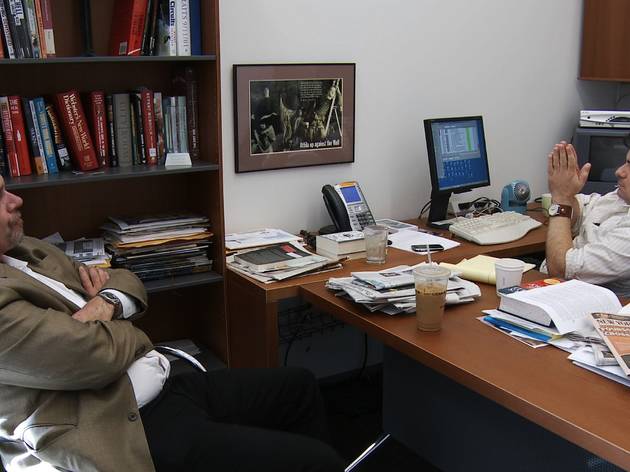 Sundance: The Times, A Tribe Called Quest and Ronald Reagan get "doc"-ed
The New York Times, A Tribe Called Quest and Ronald Reagan are the subject of three Sundance Film festival docs.
Dailies across the country are biting the dust. Ad revenue for print has plummeted, the Web has siphoned off readers for better or worse, and the New Media model is in the process of becoming the new norm. You've undoubtedly heard these declarations regarding the wheezing woolly mammoth of the Information Age; you've probably even read such predictions in a newspaper.

The shaky state of the Fourth Estate is a given in Page One: A Year Inside the New York Times, one of the stronger documentaries playing in this year's Sundance. There's very little Cassandra-complex bitching here in this portrait of folks working a meta-beat while the industry shudders. Having spent 12 months embedded among the cubicles of the Gray Lady's Media Desk, filmmaker Andrew Rossi seeks to find out how, and perhaps if, the paper of record will evolve or perish. You will not get an answer, of course. What you will see are people getting pink-slipped and Pulitzer nominations being announced, deadlines being blown and the veracity of sources being debated, victories and defeats—and one huge cult of personality.

That'd be David Carr, the paper's former awards-season correspondent, who's been covering media comings and goings for decades. He's not the only NYT employee who gets beaucoup screen time (both desk editor Bruce Headlam and former independent blogger Brian Stelter make impressions). But this towering figure with the craning neck, the serious chops and the razor-sharp wit is turned into a rock star of shoe-leather journalism. Carr takes down naysayers, works leads and throws a phone headset like nobody's business, and it's his H.L. Mencken--like attitude toward old-school reporting that offers the best example for why traditional news-gathering won't ever truly die. You wish that Rossi had shown the same stamina as his wisecracking subject, and gone the full Wiseman with a four-hour portrait instead of ending abruptly (and we do mean abruptly) at the 100 minute mark, leaving some loose ends dangling. Still, Page One's look at a tipping point in media history packs in plenty that's fit to print.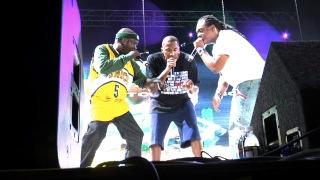 You can't necessarily say the same, alas, for two of the other big-name, prebuzzed documentaries screening here. Beats, Rhymes & Life: The Travels of A Tribe Called Quest is a love letter to the influential hip-hop group, directed by actor and Tribe superfan Michael Rapaport. It does offer a lot for diehards: an origin story; a timeline; famous folks gushing about ATCQ's 1991 masterpiece, The Low End Theory; concert footage; and some fly-on-the-wall moments. But don't mistake a mash note for a penetrating look at a collective that changed the course of an art form. And even when it gets personal, delving into member Malki "Phife Dog" Taylor's health problems and the bad blood between him and founding member/childhood friend Kamaal "Q-Tip" Fareed, the doc still skims the surface of a deeper story.

That goes double for Reagan, Eugene Jarecki's disappointing look at the former commander-in-chief and neocon icon. A major missed opportunity, this history lesson on the "Errol Flynn of the Bs" who became a political giant succeeds only in being objective: Pro and con camps discuss his early years, his legacy and his passage into myth for a new generation of GOP hopefuls. But neither side gets into the whys of their viewpoints, which is crucial when you're talking about one of the most divisive Presidents of the 20th century. Kudos to Jarecki for trying to avoid the usual sound bites and such, but if such omissions means leaving major portions of Ronald Reagan's life unexamined and letting him off the hook for Iran-Contra ("It was a major setback for his image," says one talking head. Yeah, that and a stunning abuse of executive power), then maybe including the MIA "I don't recall" snippet is, y'know, justified. The film is neither a hagiography nor a critical essay. It just presents some facts and stops at the story's first page.