The highs and lows of Russell Crowe
He's won one Oscar and been nominated for two more, but the Noah actor is an unpredictable movie star. You never know whether he's going to sink or swim.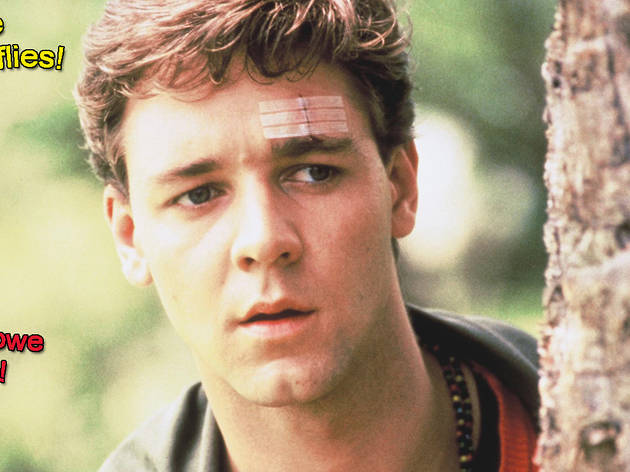 1/16
'I Just Want To Be Like Marlon Brando': so sang aspiring musician Russell Crowe on a single released in New Zealand in the 1980s. The song may not have stormed the charts, but his Aussie acting adventures went better: after a stint in trashy Aussie soap 'Neighbours' he featured in solid home-grown fare such as this award-winning love-triangle drama with Hugo Weaving and Geneviève Picot. Read 'Proof' review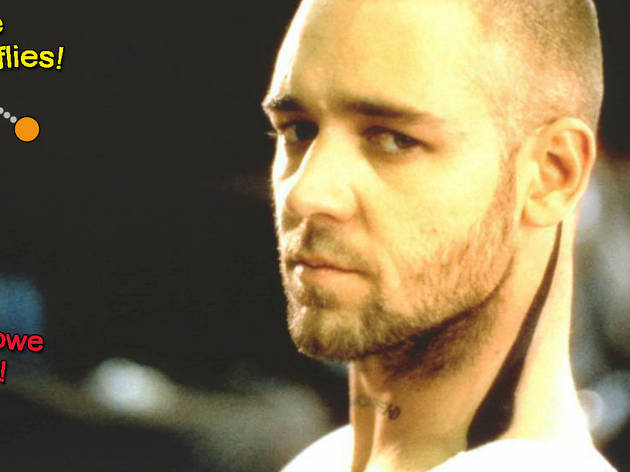 2/16
Crowe's boyish locks were shorn off for this gritty crime drama about a group of skinheads wreaking havoc on the streets of Melbourne. The actor put in a memorable turn as a violent neo-Nazi involved in yet another dangerous love triangle. The 28-year-old had scratched quite a few notches onto his on-screen bedpost even by this stage. Read 'Romper Stomper' review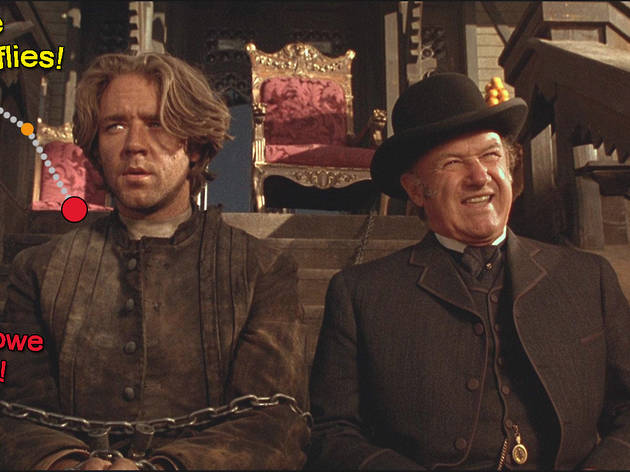 3/16
Playing another strong, silent type, Crowe held his own against Sharon Stone in this western, without exactly acting her or Gene Hackman off the screen. Still, his first Hollywood movie got him on the fast track and impressed director Sam Raimi, who said, 'Crowe is what we imagine the American cowboy to have been like.' Read 'The Quick and the Dead' review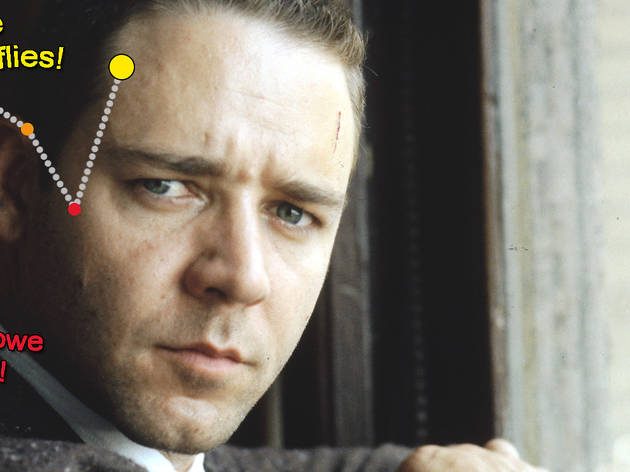 4/16
Hello Hollywood! Crowe struck gold with another hot-headed role, this time in one of the best-loved crime thrillers of the '90s. Director Curtis Hanson had spotted him in 'Romper Stomper' and found him 'repulsive and scary, but captivating'. Acclaim duly followed. Read 'LA Confidential' review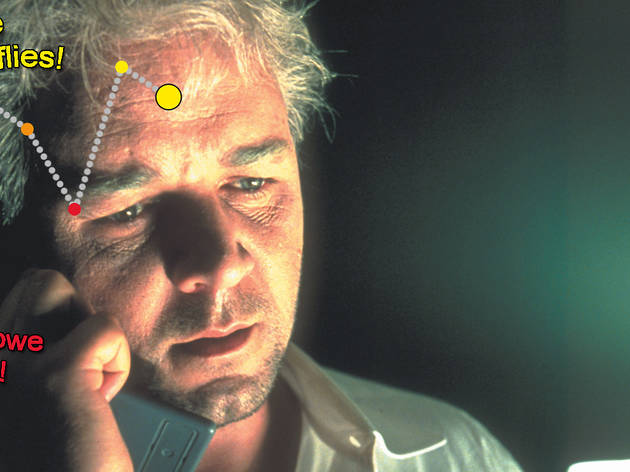 5/16
And hello Oscar nomination… Crowe gained a Best Actor nod for his nuanced turn as the tobacco industry insider who decided to turn the tables for an exposé. Under Michael Mann's strong direction, he impressed and settled into a role as one of Hollywood's new leading men. Read 'The Insider' review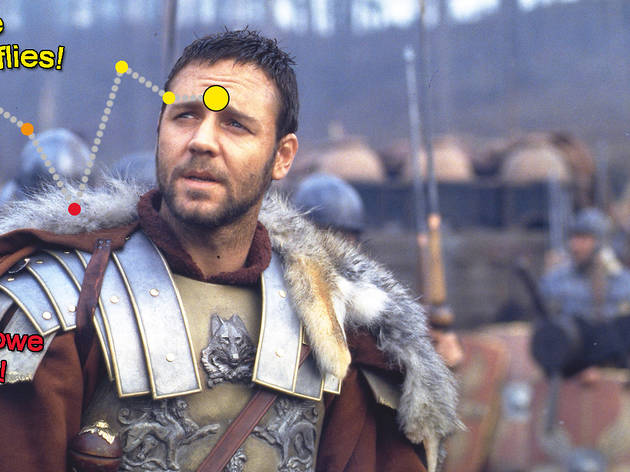 6/16
Here's Crowe in fine form, winning his first Oscar for his leading role in a smash-hit epic from Ridley Scott. This was the role he was made for: gruff, buff and manly, yet with a splash of sadness radiating from those puppy-dog eyes. Read 'Gladiator' review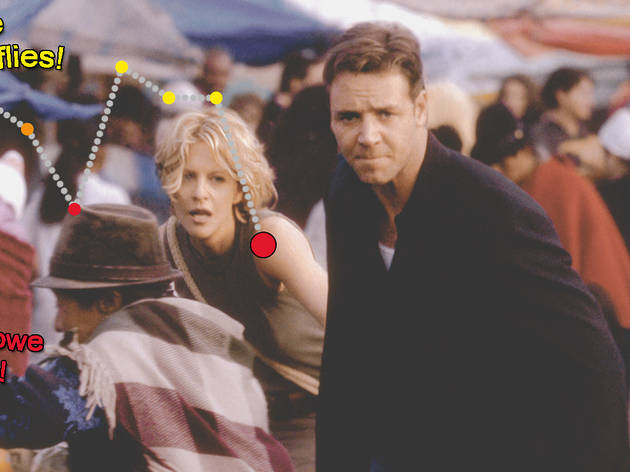 7/16
Crowe's turn as a kidnapping and ransom negotiator wasn't the finest follow-up to 'Gladiator': the film was criticised for being slow and dull and he failed to set the screen alight opposite Meg Ryan (even though they paired up in real life). Read 'Proof of Life' review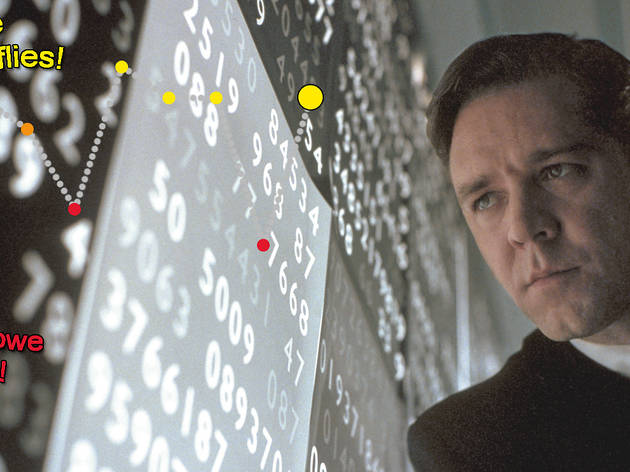 8/16
Crowe was back on form in director Ron Howard's touching story of a brilliant schizophrenic, winning the actor another Oscar nomination. But while his co-star Jennifer Connelly won the Best Supporting Actress award, Crowe was pipped to the post by Denzel Washington for 'Training Day'. Read 'A Beautiful Mind' review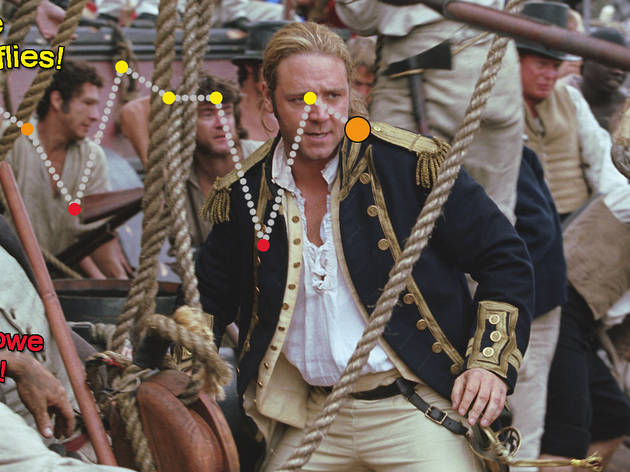 9/16
Peter Weir recruited Crowe to play a cunning naval captain in a film that won plenty of praise, if not for its star's English accent, which had a distinct Antipodean twang. Still, he scored multiple award nominations and emerged with dignity befitting a master and, indeed, a commander. Read 'Master and Commander' review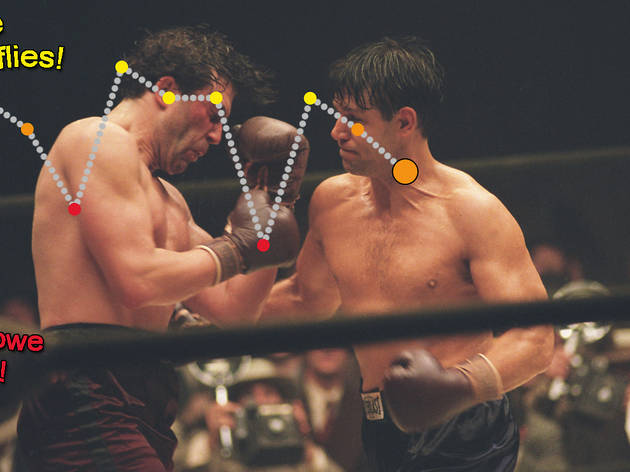 10/16
Another true-life Ron Howard drama for Crowe to get his teeth into, this one saw him playing a boxer lured into the old One Last Fight routine. Despite jabbing the 'inspirational' button a little too enthusiastically, this was a respectable movie, although Crowe admitted to having a scuffle with his bodyguard during a drinks bash on the set. Read 'Cinderella Man' review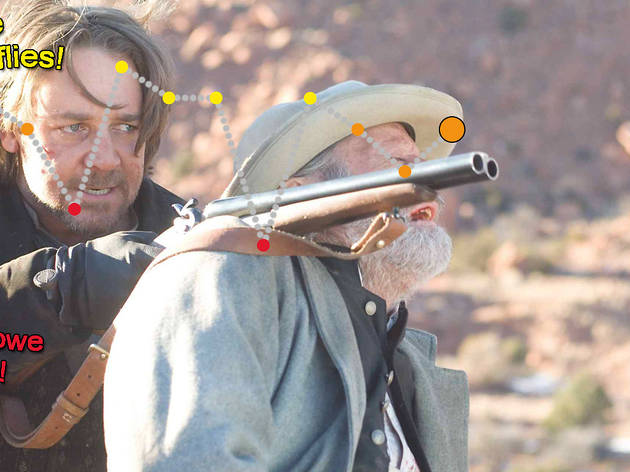 11/16
More gunslinging for Crowe in this taut western from James Mangold that helped him flex his bad-guy muscles once again. His intense ruthless outlaw was a great match for the equally fierce Christian Bale, who played his nice-guy nemesis. Read '3:10 to Yuma' review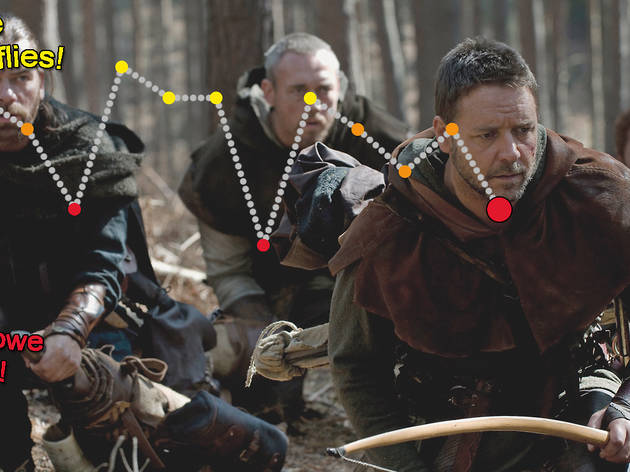 12/16
This humourless affair saw Crowe essaying another ill-received English accent: he stormed out of one TV interview after it was suggested there was a hint of Irish in his lilt. His fifth film with Ridley Scott was not his finest, although not his worst either (that would be 2006's 'A Good Year'). Read 'Robin Hood' review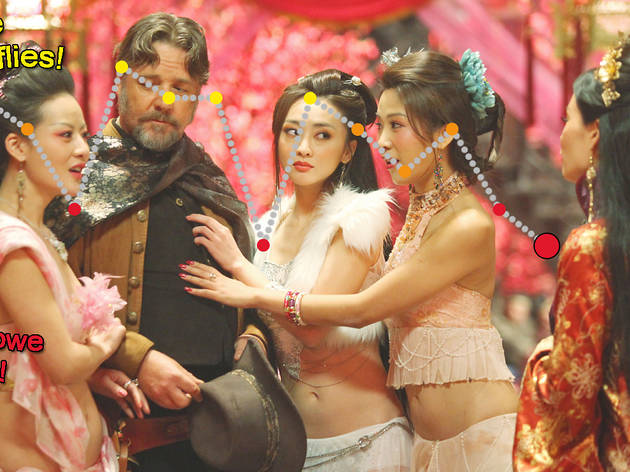 13/16
The downward spiral continued with this martial-arts pastiche. Crowe looked ill at ease as an opium-addicted British soldier in nineteenth-century China in this film from his homie RZA, although it's not every day you get to see Russell Crowe (in character of course) order a bunch of hookers to his boudoir. 'The room we built for him is a total S&M room,' said RZA. 'I said, "Let's hook him up so he can just go wild in there".' Read 'The Man with the Iron Fists' review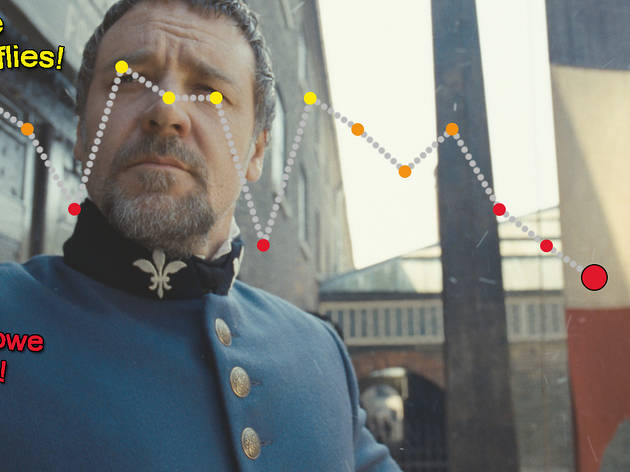 14/16
While this heart-wrenching musical scored both Oscars and praise, most audiences and critics agreed on one thing: Russell Crowe was the worst thing in it. A shaky singing voice was the main problem, though Crowe posted a YouTube response of him singing slightly better. Slightly. Read 'Les Misérables' review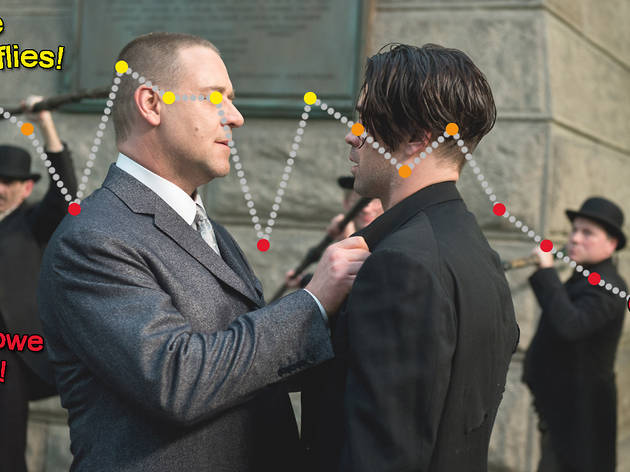 15/16
In fairness, Crowe was by no means the worst thing in this supernatural romantic fantasy (step forward Will Smith as Lucifer) – but his turn as a demonic gangster felt very routine. Think Inspector Javert from 'Les Misérables' with scary eyes and no singing. Well, that's something. Read 'Winter's Tale' review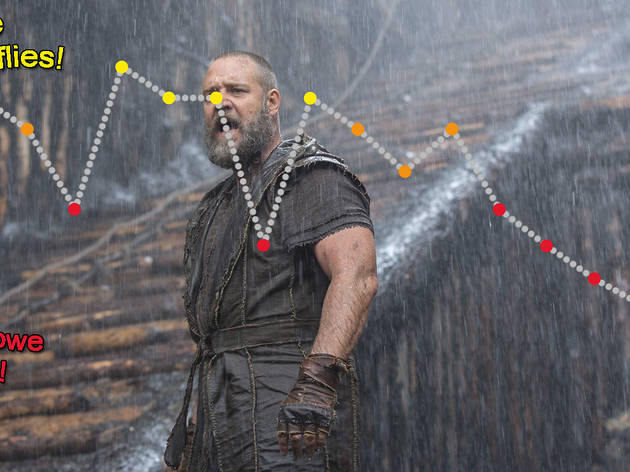 16/16
Darren Aronofsky has put Crowe back in his comfort zone with this sprawling biblical epic, giving him a meaty character and a serious story to chew on. His turn in 'Noah' just goes to show that as a rule, Russell Crowe is about as good as the movie he's in. Just like Marlon Brando? We shall see. Read 'Noah' review
The gruff gladiator from Down Under is still a favorite with big-name filmmakers like
Darren Aronofsky
, who wrote and directed
Noah
. But Russell Crowe's performances over the last two-and-a-half decades have been mixed to say the least. Here are the ebbs and flows of the temperamental star's career.