The 25 best friend songs of all time
Calling all pals, buddies, brosefs and BFFs: Gather round and spin these best friend songs of all time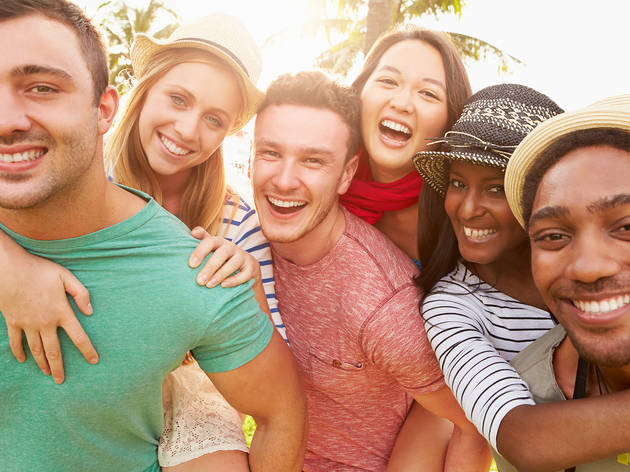 Whether you're bouncing with your buds to the best party songs or at a karaoke bar belting out one of the best karaoke songs, who doesn't love a tune about friendship? These are the top songs on the topic, the best friend songs from ditties about new acquaintances to odes about day-one besties.
Best friend songs of all time
1
Randy Newman, "You Got a Friend In Me"
This raspy-voiced gem from the Toy Story soundtrack plays as a reminder that people make for subpar friends. A stuffed cowboy, though? That's for life.
2
The White Stripes, "We're Going to Be Friends"
While most of Jack and Meg's ouvre delves into fuzzed-out bombast, this tender-hearted tune opts for soft-spoken lyrics and plucked acoustic guitar. Sweet, ain't it?
3
Queen, "You're My Best Friend"
It's hard to think of a better match than Freddie Mercury soaring voice and Brian May's searing lead guitar, both of which are in fine form on this timeless ode to friendship.
4
The Beatles, "With a Little Help From My Friends"
Good for Ringo that Paul and John wrote this song's hummable, easily sing-able melody with their buddy's distinctive baritone in mind.
5
Andrew Gold, "Thank You for Being a Friend"
Even though it serves superbly as the Golden Girls theme song, Gold's tune stands alone as a timeless tribute to friendship and gratitude.
6
Bill Withers, "Lean on Me"
The reciprocal nature of friendship—important!—is at the heart of Withers' heart-string-tugging tune.
7
James Taylor, "You've Got a Friend"
There's countless renditions of this Carole King soft rocker—Barbara Streisand, Aretha Franklin and Dusty Springfield all have their versions—but James Taylor's hushed folkie tones bring it a unique intimacy.
8
MF Doom, "Deep Fried Frenz"
Sampling the superb "Friends" by Whodini, DOOM cycles through friend in its different forms—from friends who need "trees for the blunt" to those who "be around whether you paid or bummy."
9
The Jackson 5, "I'll Be There"
"Let me fill your heart with joy and laughter / Togetherness, well that's all I'm after," tween MJ sings—sounds like a solid grasp of the concept of friendship for a 12-year old.
10
Ben E. King, "Stand By Me"
Both the R&B hit and 1984 film classic it inspired stand as timeless tributes to camaraderie.
Show more
Best friend songs on Spotify