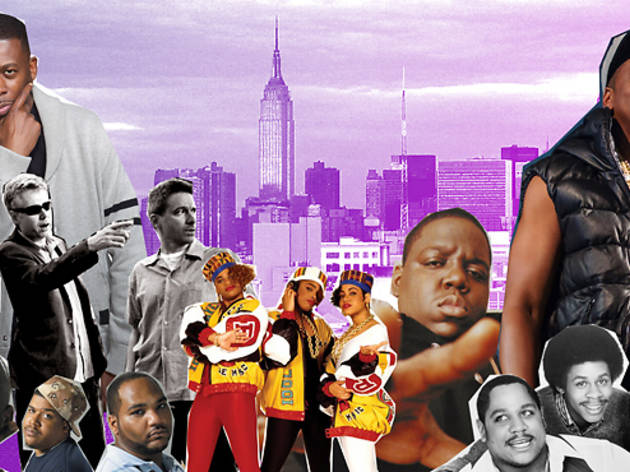 Best New York hip-hop: The 50 greatest NYC hip-hop artists
New York is the home of hip-hop. We pay homage to the genre's brightest stars and biggest innovators.
New York is the hip-hop music capital of the world. You can argue with us all you like, but we will simply respond with geography and genius—the raw statistics that tell you everything you need to know about the city and its still-unfurling legacy. Namely? The Bronx: KRS-One, Big Pun, Slick Rick. Staten Island: Wu Tang Clan. Queens: LL Cool J, Run-D.M.C., A Tribe Called Quest, Nicki Minaj, Nas. Harlem: Doug E. Fresh, Biz Markie, Mase. Brooklyn: Busta Rhymes, Big Daddy Kane, Foxy Brown, Biggie.

Not only is New York the birthplace of hip-hop, it's also home to the genre's biggest star today: Jay-Z, whose cultural and fiscal influence is evidenced by his financial investment in Brooklyn's Barclays Center, a venue/basketball team/mass-media enterprise that opened with an eight-night run of sold-out shows from the star.

Assembling this roster, we kept the big-business aspect of hip-hop in mind—so you'll find such hefty quarterbacks as 50 Cent alongside art-world crazies like Rammellzee.Time Out Music writers voted on the list, and we invited some of our all-time favorite hip-hop artists and tastemakers—such luminaries as Big Daddy Kane, De La Soul and Peter Rosenberg—to give us their personal picks. And you can listen to the greatest hip-hop songs on our Spotify playlist.

Did we argue over this list? Of course. Are we proud of it? As proud as we are of this city. Let us know what you think.—Edited by Sophie Harris
Photograph: Kyle Johnson
Heems and Kool A.D. first came to attention in 2010 with the joke-rap song "Combination Pizza Hut and Taco Bell." What followed were insightful, creative tunes, especially on Das Racist's excellent pair of 2010 mixtapes, Shut Up, Dude and Sit Down, Man. The latter contained "hahahaha jk?," something of a response to its initial labeling. The group's first proper release, Relax, followed in 2011, but the two announced their split last year.—Colin St. John
Key Track: "hahahaha jk?"
Photograph: Brett Hammond/Wiki Commons
It's hard to think about where hip-hop might be without a one-eyed dude who rapped in a British accent and wore so many chains that their ponderous weight would make normal humans slump over. But Slick Rick pretty much invented (or at least perfected) the idea of rap narrative, and that's something you can't really assign a value to.—Drew Millard
Key Track: "Children's Story"
Download on iTunes
Download on Amazon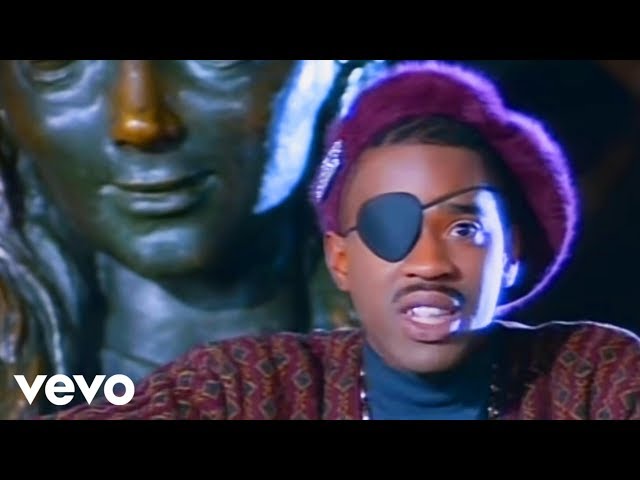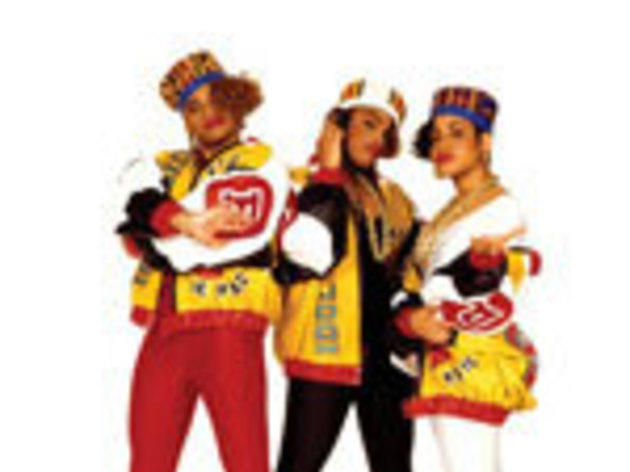 Photograph: Janette Beckman
Queens trio Cheryl "Salt" James, Sandra "Pepa" Denton and DJ Spinderella became such a dominant presence in '90s pop ("Let's Talk About Sex", "Whatta Man") that it's easy to forget the group's humble beginnings in '85 as an all-girl crew named Super Nature. Then came the fresh '80s leisure wear; the album Hot, Cool & Vicious; and a remix of a certain B-side that became Salt-N-Pepa's signature song, "Push It." If your date isn't dancing when "Push It" comes on at the bar/club/wedding disco, check their pulse.—Sophie Harris
Key Track: "Push It"
Download on iTunes
Download on Amazon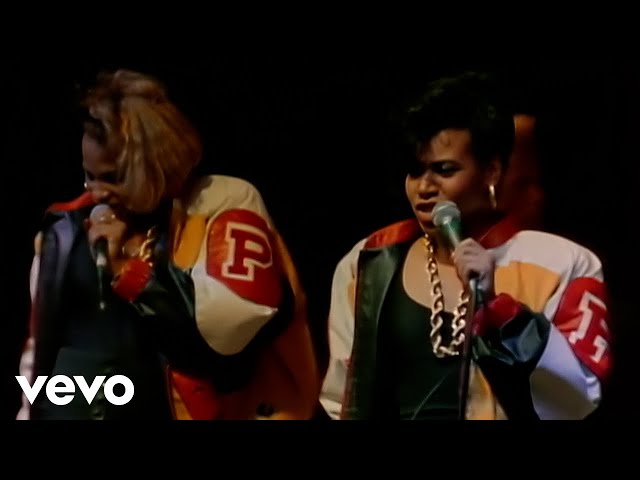 Photograph: Mika-photography/Wiki Commons
Clive Campbell grew up in Kingston, Jamaica, and was well versed in the ways of sound-system culture by the time his family moved to the Bronx when he was 12. In 1974, Campbell, now rechristened DJ Kool Herc, created a Gotham version by adding a world-changing twist—he began to isolate the breaks from songs like Bra's "Cymande" and James Brown's "Give It Up or Turnit a Loose," playing them back-to-back on two turntables. It was more than a simple way to move the crowd—it was the birth of a new culture, one that would soon be dubbed hip-hop.—Bruce Tantum
Rammellzee is a local hip-hop legend, almost literally—it's almost impossible to find the birth name of this sui generis visionary, who passed away in 2010. In the '80s, the graffiti writer and MC turned up in all the right places, including the now-legendary Wild Style doc and on "Beat Bop," a single that sported Basquiat cover art. The Rammellzee discography is frustratingly slim, but no one who witnessed his rare late-career performances—riveting talk-rap rants delivered in homemade junkyard-cyborg costumes—came away unmoved. This was an artist who viewed hip-hop as a limitless cultural force: not simply the act of slinging rhymes, but the process of fashioning something beautiful and even mythic out of urban imperfection.—Hank Shteamer
Key track: "Beat Bop"
Tsidi Ibrahim might be the daughter of jazz royalty, but that doesn't mean her output under the Jean Grae moniker lacks edge. Since the early aughts, this NYU dropout turned mercurial hip-hop force has demonstrated uncanny range, excelling at both ice-cold takedowns and confessional autobiography. Her output has been sporadic, yet as proved by 2008's outstanding Jeanius, it's always worth the wait. Until her long-rumored next LP emerges, we're content to revel in classics like "My Story," fierce cameos with the Roots and all the other reasons Grae comrade Talib Kweli saw fit to label her "a living, breathing superhero."—Hank Shteamer
Key track: "My Story"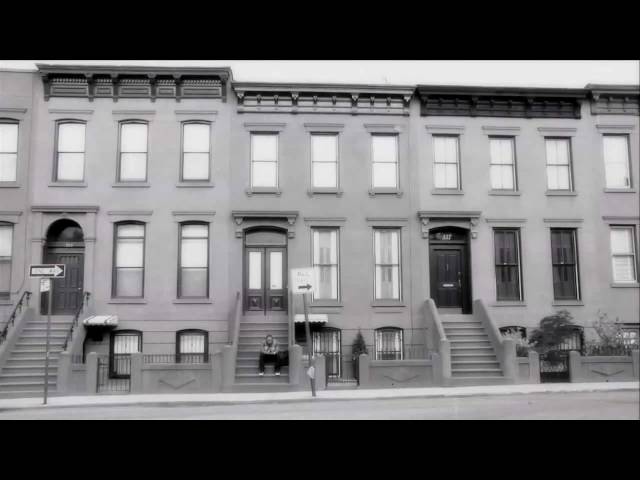 El-P has issued a string of sobering, sardonic solo gems, but what really makes the man born Jaime Meline essential to NYC hip-hop is his status as a nexus for various far-flung scenes. After turning heads with Company Flow in the mid-to-late '90s, the Brooklyn-born Meline colaunched Definitive Jux, the imprint behind era-defining alt-rap landmarks such as Cannibal Ox's The Cold Vein; in 2004, he collaborated with local avant-jazz heroes on the improv-heavy curveball High Water. And thanks to recent alliances with smart-aleck newbies Das Racist and OutKast affiliate Killer Mike, El-P's profile is still on the rise.—Hank Shteamer
Key track: "Stepfather Factory"
El-P nominated Run-D.M.C. as NYC's Greatest hip-hop artist
The members of this early crew hailed from Englewood, New Jersey, but a survey of New York hip-hop would be unthinkable without Wonder Mike, Master Gee and Big Bank Hank. Granted, including the NYC-honed combo on a tally devoted to creative originality warrants an asterisk heavier than Roger Maris's: Hank's verse was actually penned by Grandmaster Caz, and no one even tries to disguise the backing track, Chic's "Good Times." But as the song that brought hip-hop to mainstream America, "Rapper's Delight" is a lock.—Steve Smith
Key track: "Rapper's Delight"
Download on iTunes
Download on Amazon
A groundbreaking Bronx quintet (originally a foursome until their expansion forced a wily titular adjustment), the Funky Four Plus One are pioneers in an almost ridiculous number of ways: They were the first Bronx rap group to get a record contract, the first hip-hop crew to have a woman out front and the first rappers to perform on national television (Debbie Harry brought the group onto an episode of Saturday Night Live she hosted in February 1981). Why are they so obscure? Who knows. Just revel in the sublime party jam "That's the Joint" —which is, if not precisely the joint, one of the genre's top ten—and pass their legend on.—Michael Martin
Key track: "That's the Joint"
Download on iTunes
Download on Amazon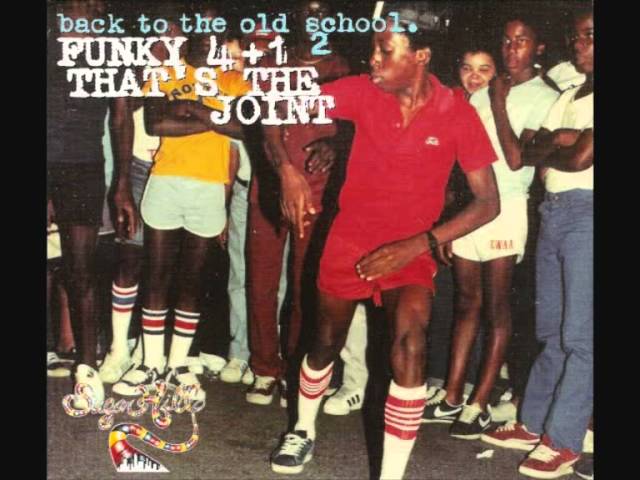 Photograph: Mikamote/Wiki Commons
Sorely underrated now, the Jungle Brothers were critics' darlings during their late-'80s and early-'90s prime. Conscripted early on into the Native Tongues wave, this potent trio injected jazz and house music into its proudly Afrocentric grooves, as heard on its classic, indie-label debut, Straight Out the Jungle.—Steve Smith
Key track: "Straight Out the Jungle"
Download on iTunes
Download on Amazon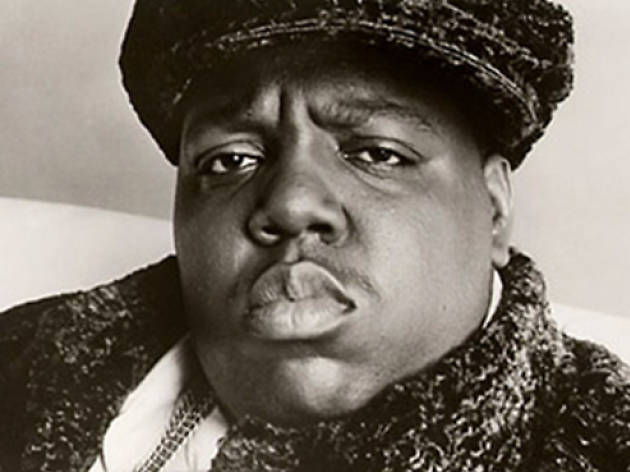 Tragically, we'll never see Notorious B.I.G.'s career reach its full potential. The mythology we're left with, though, speaks to the brilliance and capital-G genius of Biggie; his debut album, Ready to Die, has a legitimate claim to the title of Greatest Rap Album Ever. The follow-up was just as good, though it didn't have the benefit of his guiding hand, and that relatively tiny sample size still earns him a spot in any hip-hop discussion that involves the words Greatest or Ever. No one else at the time—maybe no one else ever—married the pop savvy that B.I.G. could pull out of his back pocket ("Hypnotize," "Juicy") with the hard-hitting street knock ("Gimme the Loot," "Machine Gun Funk") that sated the "real hip-hop" heads, while at the same time crafting powerful odes to melancholia ("Sky's the Limit"). What other heights would Brooklyn's finest have reached? We'll never know.—Corban Goble
Key track: "Juicy"
The Notorious B.I.G. was nominated as NYC's Greatest hip-hop artist by Noah Callahan-Bever
Download on iTunes
Download on Amazon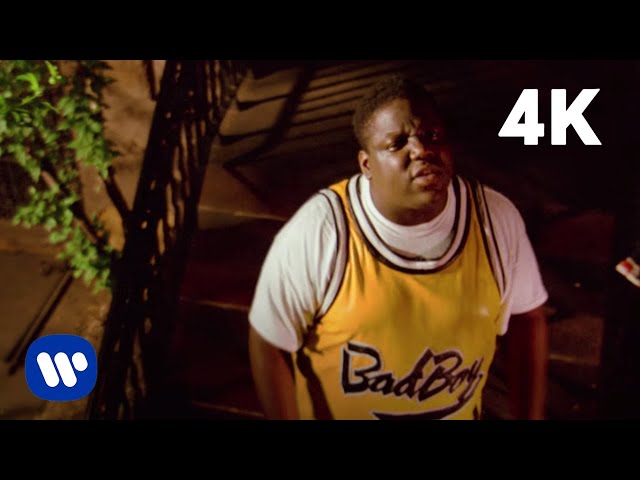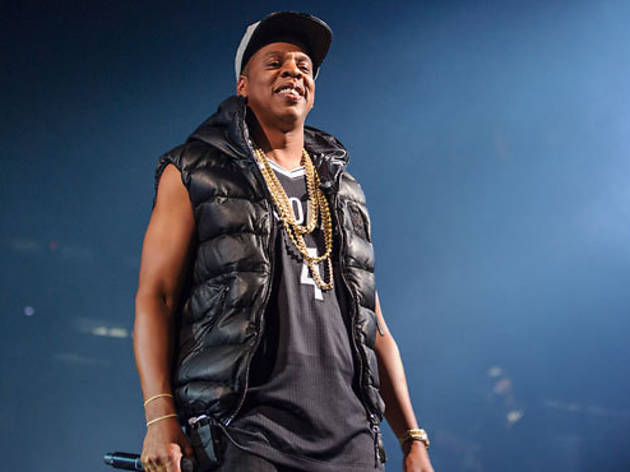 Photograph: Jon Klemm
While he's traded the desire to make classic albums for more top-down tycooning in recent years, never forget this—no rapper has better endured the day-in, day-out shift of the modern rap era than Bed-Stuy's Jay-Z. Not many rappers can list collaborators as varied as the Notorious B.I.G. ("Brooklyn's Finest") to Coldplay ("Beach Chair") to UGK (the masterpiece "Big Pimpin'") and bookended basically the entire career of modern day GOAT candidate Kanye West, while still flashing brilliance in the '10s (Watch the Throne). An old man (26) in rap years by the time his breakthrough instant classic, Reasonable Doubt, came out in 1998—for perspective, the Notorious B.I.G. was 24 when he was murdered in Los Angeles—Jay filled the void created with Christopher Wallace's death with gold-standard-setting LPs like 1998's Vol. 2 … Hard Knock Life, 1999's Vol 3… Life and Times of S. Carter and 2001's The Blueprint. Before marrying Beyoncé and fathering Blue Ivy to construct the real First Family (no shade, Obama), he was already taking others' hot lines and making them into hot songs, running streets like drunks might run street lights, accosting others for trying (and presumably failing) their best Jay-Z renditions. For those doubting his worthiness of our top spot, he's asked you nicely before. Don't make him ask you again.—Corban Goble
Key track: "Hard Knock Life"
Jay-Z was nominated as NYC's Greatest hip-hop artist by Brian "B.Dot" Miller
Download on iTunes
Download on Amazon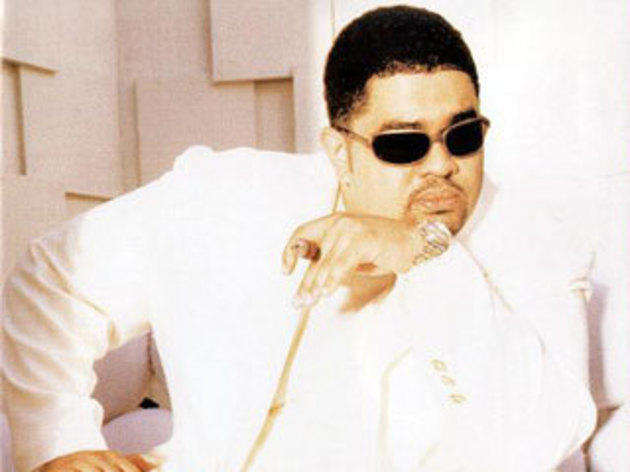 They didn't make the list—this time around. Outraged by our list of the 50 greatest NYC hip-hop artists? Think we missed some true hip-hop heroes? The competition for the top 50 was so fierce, we made space to celebrate these artists who have made an enduring contribution to NYC hip-hop—or might just be a part of its future. Heavy D Rap's history is littered with MCs who lost their base after going too mainstream. Whether it was rhyming on Michael Jackson's "Black or White" or bringing the short-lived early-'90s hybrid hip-house to the charts with "Now That We Found Love," the late Heavy D was the first rapper to master the balancing act between pop and hip-hop. What's more, the "Overweight Lover" helped pave the way for plus-sized lotharios from Biggie Smalls to Fat Joe.—Jesse SerwerKey track: "Nuttin' but Love" Download on iTunes Download on Amazon Native Tongues Posse Along with De La Soul, the Jungle Brothers and A Tribe Called Quest (all of whom feature in our main list), the poetically minded Native Tongues collective included pioneering MCs Monie Love (from London) and Queen Latifah (New Jersey); two female MCs in a pool of too few, who were proudly woman-shaped but felt no need to use sex as their hard sell.—Sophie HarrisKey tracks: Monie Love: "It's a Shame (My Sister)." Queen Latifah: "Mama Gave Birth to the Soul Children." Antipop Consortium Whoever came up with the concept of "dropping science" might have been describing Antipop Consortium, a cult-fave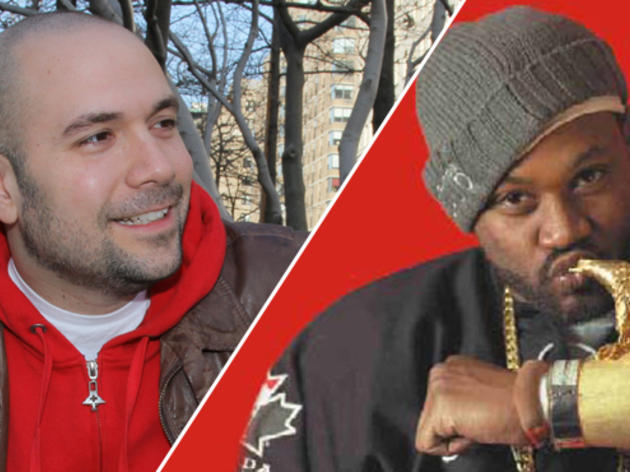 You've seen the list, now hear what Big Daddy Kane, De La Soul, Peter Rosenberg and more have to say. The biggest names in New York hip-hop reveal who they think is the greatest NYC hip-hop artist. In other words, your favorite rapper's favorite rappers dish on their favorite rapper. You heard right. Talib Kweli Black Star MC and solo pioneer, No. 31 on our list of 50 greatest NYC hip-hop artists"Rakim was the artist who successfully moved hip-hop from the party and the streets to the intellectual side. But he did it without moving a step. As a lyricist, Rakim is the father of my style—he's the father of Nas, he's the father of anyone who is considered to be a good lyricist. He was talking about esoteric stuff, he was talking about Five Percent philosophy [Nation of Islam], he was talking about the state of the community—but he still wore Dapper Dan suits. He was still able to kick street knowledge. "So, Rakim encompasses all the great things about New York hip-hop. The grittiness, the griminess, the intelligence, the lyricism, but also being fly and making party records, you know? I think that 'Follow the Leader' is the best-written hip-hop song of all time. So I would have to give it to Rakim. He's the cornerstone of anybody that takes hip-hop seriously." You might also like The 50 sexiest songs Let our sexiest-songs playlist take you by the hand, whisper sweet nothings in your ear and lead you all the way to the bedroom. Yeah, baby! Music may very well be the food