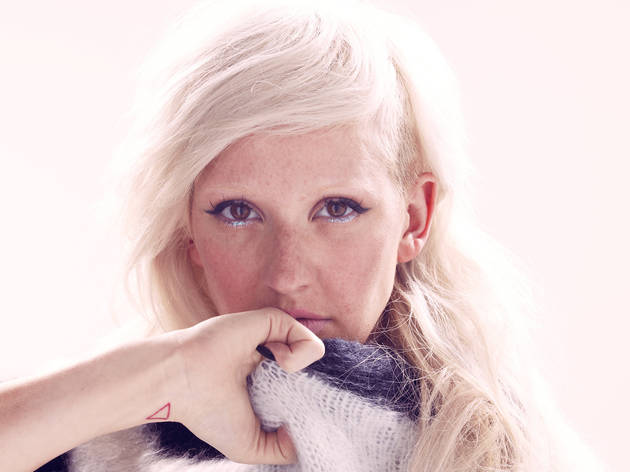 British pop star Ellie Goulding is a study in opposites
The singer-songwriter revels in her dual image in a pair of big New York concerts this week
You could say that Ellie Goulding is hard to pin down. She's prone to grabbing headlines in indie rags and pop tabloids alike. Her voice conveys both childish wonder and wizened pain. She can rock blond-bombshell tresses or a pale pink undercut with equal aplomb. She rules the charts in both the States and her native U.K., yet jogs with her fans in every country. Across the pond, she's perceived as a pop sweetheart; here, she's a dance-floor deity who's been remixed by countless electronica artists.
"It's become sort of a cliché to remix me, really," says the 26-year-old chanteuse during a telephone interview. "People would say stuff like, 'Oh you're doing an Ellie Goulding remix? That's original.' " For an example, check out her debut album's triple-platinum title track, "Lights," which received a dubsteppy reworking by California DJ Bassnectar.
Her follow-up disc, Halcyon, also resists pigeonholing. On the album, released in October, Goulding put more emphasis on her voice, a high-pitched, sensitive, raspy instrument, than on the clubland beats that defined Lights. That's not to say the album lacks pulsing womp-womp, but the deliriously infectious single "Anything Could Happen" sounds more like a soaring Passion Pit number than a ravey banger. And aside from that made-for-celebrating gem, the strongest cuts on Halcyon are more restrained, finding her reflecting on bittersweet themes in her characteristically bummed-out way. Lost love is equated with lost blood on the soulful "My Blood," and hankies are recommended when listening to "I Know You Care," a trembly ballad widely assumed to deal with being abandoned by her father.
To write the selections for her sophomore set, Goulding took herself to a retreat-by-the-sea in Southern Ireland. "A lot of the songs ended up sounding quite fateful," she says. "Some of the songs on the record are really happy and uplifting, but there is a dark theme. I became obsessed with this idea of being lost at sea and being drowned and having this underwater world.… I didn't realize, until I actually sat by myself in a place with my guitar, just how much everything had built."
She was reacting to a whirlwind 18 months of nonstop touring, a cameo at Prince William's wedding and a now-concluded romance with Sonny Moore, a.k.a. Skrillex, all of which served to thrust her into the spotlight. That transition wasn't entirely welcome for the quite private Goulding. "All of a sudden people are talking about songs that you've written in your bedroom when you were 17," she admits. "It's very bizarre."
Though she's reluctant to go into detail, Goulding notes that a breakup she was going through at the time (with BBC Radio 1's Greg James) informed Halcyon, but her preoccupation with love goes back a long while. "I was already in love with someone by the time I was 13, and I remember it very well," she recalls. "I read a lot of books as well—I was sort of a clever kid. Something had to give, so when I was eight, I started writing a diary, and when I was 11 I started writing another thing.… I realize now how young I was to be feeling these sorts of feelings."
Luckily, those lovelorn ideas worked in her favor. "I taught myself guitar when I was trying to impress a guy," she confesses, "and then forgot the guy and realized I was obsessed with playing the guitar."
For all of her obsession with doomed love, death and drowning, Goulding's a rather giddy and open person, prone to breaking out into song at any moment; as we chat, she launches into an effervescent rendition of "Last Christmas" by Wham! (This is a highlight of the interview.) When I point out that she's not exactly the morose nail-biter some would expect, she laughs. "A weird side comes out of me when I'm writing, like a dark side that I go to," she says. "I am pretty happy at the moment. Everything's good. But give me a pen and paper, and I'll probably write a really sad song." Add that to her growing list of dualities.
Ellie Goulding plays Terminal 5 Mon 21 and Tue 22.
Follow Marley Lynch on Twitter: @marleyasinbob