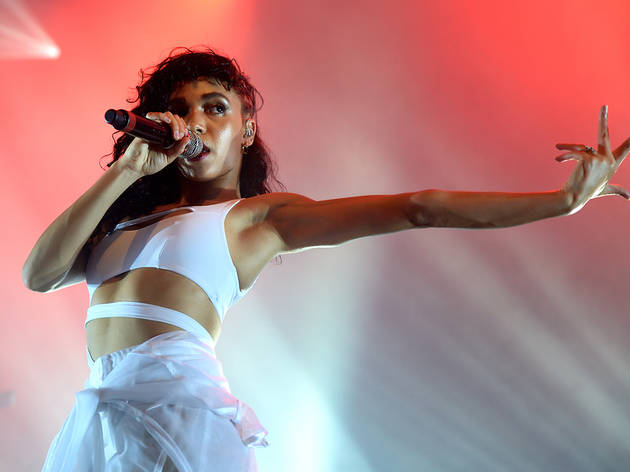 Five things you need to know about FKA twigs
Here's the scoop on this London alt-R&B enigma, who's bubbling just under superstardom
1. There's a story behind the weird name.
Born Tahliah Barnett and trained as a dancer, she was nicknamed twigs (always lowercase t) for cracking her joints while stretching. After the tastemaking Young Turks imprint picked her up, legal haranguing from twin-sister kiddie-pop duo the Twigs made her add the FKA (for "formerly known as") to prevent confusion.
2. Her music videos are crazy.
The Twigs may have had a point with their lawsuit: Imagine a computer-savvy fan stumbling upon twigs' "Papi Pacify," which finds her locked in the bare-chested embrace of a jacked, dreadlocked dude, who spends half the clip sticking his fingers in her mouth. Or what about her vid for "Hide," which focuses almost entirely on her mostly nude torso, a red anthurium flower (phallic stamen and all) covering her crotch.
3. She's a former backup dancer.
You can spot twigs' unmistakable pout in Jessie J's "Do it Like a Dude" and "Price Tag" videos.
4. She's got the sound of the moment.
Like labelmates and fellow eschewers of capitalization the xx, twigs makes super-soulful electropop. Her voice is languid and expressive without being maudlin, her lyrics almost painfully intimate. If new single "Two Weeks" is anything to go by, her debut full-length, LP 1, due August 12, should find her sounding more lush and dramatic than ever.
5. She's a true polymath.
In addition to her singing and dancing skills, she's also worked in cabaret (with the onstage persona of a retro, man-eating vamp) and video direction (in addition to codirecting most of her own creepy clips, she directed and starred in "Ouch Ouch," a just-released video for a track by Chicago MC Lucki Eck$). Onstage, she draws on all aspects of her multimedia savvy: Showing off her sultry, elf-queen dancing, she's a bit like Lana Del Rey after a B12 shot.

FKA twigs plays Webster Hall Wed Aug 6.