St. Vincent interview: 'I like the mischief aspect of stage-diving'
Don't let St Vincent's icy-cool veneer fool you: Beneath that stylish 'do is a total (and totally funny) badass.
Annie Clark, a.k.a. indie-pop juggernaut
St. Vincent
, is total girl-crush material: effortlessly cool, a tiny bit weird, supremely talented and so, so nice. In the midst of a bonkers tour schedule behind her 2014
self-titled album
, she took a rare breath to chat over prosecco at Chelsea's Le Grainne Café.
How long have you been living in New York?
Since 2006. But I spend so little time here I'm almost like a tourist…I feel like I appreciate it more now; I do things when I'm here.
Like what?
The last time I was here, I did a two-for-one at
Angelika.
I've tried to do the two-for-one trick at
Film Forum,
and they definitely catch you.
Where you sneak into another movie?
Yeah, they catch you and throw you out. They're no joke at Film Forum.
I'm surprised they didn't recognize you—you're a big deal.
[
Makes face
]
Come on, you're pretty famous. Are you still able to go about your life anonymously?
Yeah, my life hasn't changed at all. A few more people come up to me on the street every once in a while and say, "Hey, I love your record," and occasionally someone will send a cookie to my table, which is
always
welcome. It's stuff like that.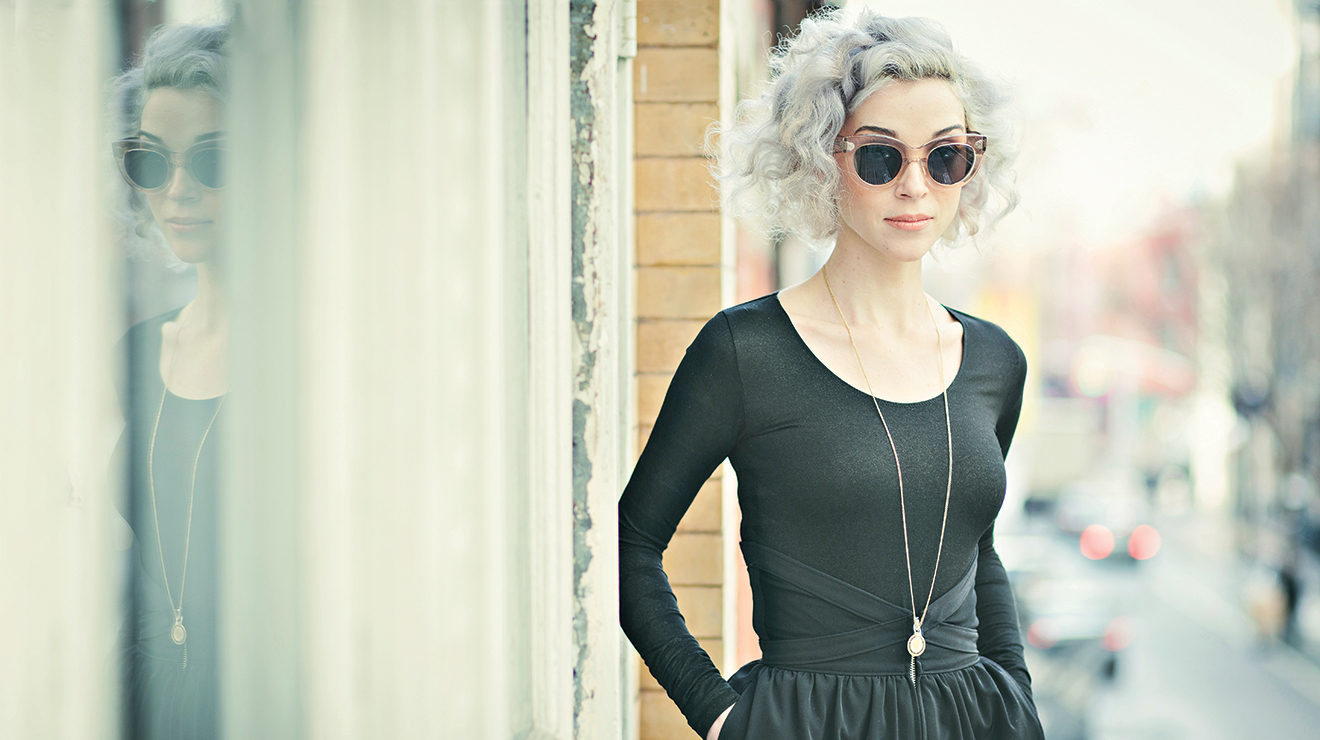 Photograph: Rachael Wright
Did you just get back into town?
I flew in from Dallas. I went to church with my mom-Unitarian church, church lite…
Nice church.
Nice church. And there was a woman who was just recently diagnosed with leukemia and was saying—this is sounding self-aggrandizing and I don't mean it that way—how much the music meant to her, how it's gotten her through some crazy hard times. So that's the really human side of all of it, the really gratifying stuff.
You've been open about having anxiety, and I feel like it comes through in your music. I'm an anxious person, too.
Always?
It comes and it goes.
Yeah.
We recently did a story about New York and whether it's attractive to anxious people (Anxiety: New Yorkers' best frenemy). It feels like it shouldn't make sense, but it does.
I can see that. It's like, does this place foster neuroses or does it just attract people who want to escape. I always kind of think of it as a refuge for weirdoes, in a great way…If you're in the state of perpetual motion, then in a good way, sometimes we have less time to check in with that constant ambient anxiety that just follows you around. I don't know, though…What I like about [NYC] is that there's always so much humanity…You see a guy, like, saluting the sidewalk, and I saw a guy on my street having sex with a Christmas tree—in February. You know what I mean?
That's the weird part.
It was long dried out. A long dried out little tree. Somebody masturbates at you on the
subway.
And the beautiful stuff, whatever—people happy, having fun.
You're about to head out on punishing tour. Do you enjoy it?
I love it; I'm a freak. I haven't been in one place for more than four nights in such a long time. And I'm okay with it. I was reading some quote about how it's a particularly American way to think that there's some ideal life to be living—and measuring yourself up against this ghost ideal. I had a little bit of that too. I always thought that I would get tired of it, but I haven't. It's more fun to me now than ever.
What did you feel like you were missing?
I think being away all the time and having friends who are home or have 9-to-5s or whatever, you sort of compare yourself against that. I always had the specter of some parallel life looming over me, but not in any way that I consciously wanted.
Photograph: Simone Cecchetti/Corbis
Can we talk about stage diving?
Stage diving, yeah, totally.
I get scared for you. But is that kind of connection with the audience important for you?
I like the mischief aspect of it. I think the first time I did it was at
Webster Hall,
and it was kind of like this placid little carry-about. But then it started getting crazier and crazier, because I think I needed the thrill of it. I got sort of addicted to that adrenaline. And a very real thing that happens where you're totally un-self-conscious—you lose all fear. You're just going with this thing that you have no control over, and it's really fun. I mean, I was wearing leather shorts, so I basically had chain mail on. I really never felt freaked out.
What was it like performing with the surviving members of Nirvana at St. Vitus this year?
My neck was
so
sore from moshing. It was amazing. I don't think those people had all been in the same place since 1994. It will never happen again. Joan Jett got up and she was great. Kim Gordon got up and slayed. John McCauley from Deer Tick killed it. J Mascis was so loud—I had to put my fingers in my ears. I don't honestly have the bandwidth to process it. I can't, I can't. It's kind of too big. It's too big. [Nirvana] were such feminists and came up in that Olympia scene and were super punk rock, super queer—all of that.
Do you go into another place completely when you're performing? I'm sorry to make this analogy, but I keep thinking of Beyoncé and Sasha Fierce.
I totally thought you said Sasha Grey for a second. And I was like, Hmm, I hadn't thought of that.
You do not remind me of a porn star.
I wanted to be thoughtful about the structure of the show. Having an architecture helps me be in the moment, because I'm not thinking, Where should I stand? Does it look stupid if my arm does this? It's been beta-tested, so I can just be emotionally in the moment and able to react to the alchemy of the room. Because you can plan anything you want, but there's something that happens when performer and crowd enter into whatever social contract it is that is the experience of a show. The Digital Witness tour is about using these tools of the modern ways that we connect. Like, I speak to the crowd in second person, because we're very accustomed to having people tell us who we are. Like, "If you liked this, you'll like that."…And you don't know if I'm talking about something that personally happened to me or if I'm telling you who you are like I'm psychic. But if I say something universal but also very specific and it lands the right way, then suddenly there's this extra layer of psychic-preacher mystic, but in the midst of a weird fever dream.
Okay, I want to talk about your hair. I read an interview where the writer kept asking you about it.
Was it Salon?
It was the Rick Moody…
Was it Rick Moody? [
Points three tables away
] Who's right over there.
Get out.
He's a lovely guy.
It was a lovely interview! I just wonder if there's a desire to make you mean certain things. There was a lot of back and forth about your being gray and what that meant, and you were finally like, "I really think you're making too much of the gray."
I mean, I did decide on a lark to go blond like a year and a half ago, based on watching
The Bachelor
. Did you see the latest season?
No.
It's totally fine.
I watched Rock of Love obsessively, so it's not a highfalutin thing.
Yeah, you're like, "Sorry, I was busy reading
The Atlantic
." I randomly got really obsessed with it, just this one season. There was a girl who was really sweet; her name was Sara and she had blond hair. So I called a friend over who did it in the kitchen sink in Austin, and then it was orange. So the real story is that it's just taken a lot of time—I went through a lot of unfortunate variations of light hair.
Photograph: Rachael Wright
And now people ask you questions about your feminism based on your hair. And it's because of The Bachelor!
Once Rick started talking about it, I was like, Yeah, well, maybe there is something. Maybe it's like saying you're the matriarch of blah blah blah. But then I was like, No, I think I just wanted to dye my hair. But it's a good theory, and who knows what's lurking in the subconscious.
Your appearances on Portlandia have been hilarious. Do you want to branch out and do more stuff like that?
Yeah, I would like to eventually. I don't know what form exactly it would take. I was a theater nerd in high school…I feel like it's easier for musicians to make the transition into acting than the other way around. Though,
Jared Leto
has had success.
Jordan Catalano.
Jordan Catalano, who would have thought. Wait, didn't he cover a Ramones song?
Hmm, I don't know.
No, but on the show…
Oh, on My So-Called Life? When he and his brother had that band?
He did. He covered "I Wanna Be Sedated." You remember that?
Vaguely! The new album asks us to look at the role of technology in our lives, but it must be important for you when you're on the road.
Totally. I was just trying to unpack the phenomenon as it applies to being a human today and how it's infiltrating my humanity for better or worse. Our whole existence is performative. We can't just, like, have a meal—we're going to take a picture of the meal, we're going to post it, we're going to hope that somebody says, "Good job, good job, that looked amazing." You know what I mean?
I imagine you see a lot of people watching your shows through their iPad.
And I've done the same thing. I totally understand. Three years ago, I went to go see a Taylor Swift show in New Jersey.
Wow.
I had just gotten an iPad, and I was like, This is amazing! I was taking pictures, took a little video, oh, there's a costume change, here's her nouveau Shania Twain moment…Got that, great. And then I went backstage and Taylor Swift, who's very nice and very charming—professionally charming—said, "Oh, yeah, you were the one with the iPad in the front row." She didn't say it in a mean way—and it's insane, because I do this for a living too, but I was like, "Oh, I didn't realize you could see me. It must have felt so invasive and weird." [
Pauses
]
I'm really glad I told that story.
I'm really glad you told it, too.
St. Vincent plays Celebrate Brooklyn! (at the Prospect Park Bandshell)
Sat Aug 9.