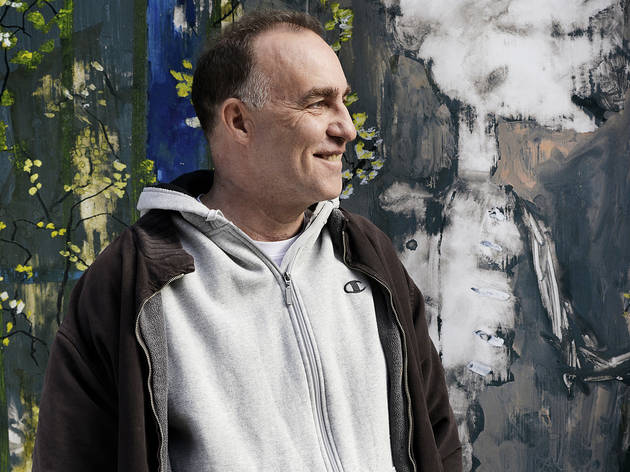 John Lurie interview: 'I actually had to hide the fact that I practiced or they would sneer at me'
The Lounge Lizard, Jim Jarmusch star and all-around NYC alt legend gets a tribute worthy of his multimedia brilliance
From the late '70s through the turn of the 21st century, John Lurie was a leading ambassador of NYC cool. As mastermind of the Lounge Lizards, the self-taught saxophonist helped cement what came to be known as downtown jazz. On camera, Lurie's dry witticisms proved the perfect foil for a then-unknown Jim Jarmusch—helping to make 1984's Stranger than Paradise a New York indie-film touchstone—while his deadpan IFC/Bravo show, Fishing with John, brilliantly spoofed traditional nature shows. But a long-term bout with Lyme disease forced a premature end to Lurie's composing, performing and acting. The upside? An ascending career as a painter. Lurie now churns out images that feel as droll, exotic and mysteriously inviting as his sonic output.

This fall, Lurie's arc culminates in the city with which he's synonymous. During Strange & Beautiful: The Music and Art of John Lurie, running September 9 through 27 at various venues and galleries, ex–Lounge Lizards join up with admirers such as Flea, John Zorn, Deerhoof's Greg Saunier and Antibalas to pay tribute to Lurie—who won't be playing—with fresh interpretations of work from his immense catalog. We reached the press-wary Lurie via e-mail for a chat about future plans and past milestones.

How and when did the idea for Strange & Beautiful: The Music and Art of John Lurie manifest?
I'm not exactly sure. I'm having a show of my paintings in September at Cavin-Morris Gallery, which is what I'm really concentrating on. The music thing started with [ex–Lounge Lizard] Michael Blake playing my music, and then there was talk about doing a larger thing. But I've tried to not be too involved.

How much did you and your brother Evan have to do with picking and choosing the acts and format for the fest, such as your compositions reimagined for strings and Antibalas performing Lounge Lizards songs?
Evan is pretty involved. [Lounge Lizards percussionist] Billy Martin and Michael Blake, and [Le Poisson Rouge music director] Brice Rosenbloom are setting it up, and I know other people like John Zorn are helping them out. I think what they decided to do makes sense and should be really good. Evan and I have had discussions about which pieces would be good for strings, but other than that, I've really tried to stay out of it except for the show of prints at Le Poisson Rouge.

Since you haven't performed for so long, does this career-spanning fest feel like an overdue moment in the spotlight?
To be honest, it's been rough so far. I guess we have to see how it pans out. It could end up being just this perfect, beautiful thing.

One of the events features music by the fictional bluesman you created for your 1999 record The Legendary Marvin Pontiac: Greatest Hits. Looking back, what inspired you to sing?
Inspired me? I wasn't inspired; I can't really sing. My singing is like my acting—I can pull it off, but it isn't something I can actually do and can go quite badly. When we were doing the vocals on the Pontiac CD, it was going so badly that when I got home from the studio one day, Juan, the assistant engineer, had written "vocal attempts" on the tape box.

Many of your Lounge Lizards bandmates have gone on to illustrious careers and become crucial figures on the avant-garde jazz landscape. How did you go about recruiting for that band?
That was such an intuitive process and was really more about who would fit together well, musically and personally. They had to be able to play, of course, and know all kinds of different music but [be] musicians who would never play in such a way that their chops were more important than the overall sound. And they had to be able to play like they just found this weird instrument on the street that no one had ever played before.

As evidenced by The Invention of Animals, an archival release from earlier this year, there's certainly a demand for unreleased John Lurie material. Is there other music of yours in the vault that you're hoping for people to eventually hear?
There are tons of things in storage. But like with The Invention of Animals, a lot of that was on DAT, and the shelf life isn't so good.

To this day, Lounge Lizards have been referred to as fake jazz. What did you think of that term when it was first bandied about and the fact that it has actually endured?
That term came into place about four minutes after our first gig with a crowd of people bursting into the dressing room and demanding, "What do you call this music?" I just threw it out: fake jazz. Pretty good off the top of my head like that. And I suppose that was an accurate description for the first couple of years, but it doesn't make any sense at all later on. It kind of bothers me, because it sounds pejorative compared to what the music became. If a journalist calls it that now, that's just laziness on their part.

Early on, Lounge Lizards were lumped in with the No Wave movement. Did that make sense to you?
Lumped in by who? I knew a lot of people from that scene, but we didn't sound anything like them.

Most of the No Wave bands were short-lived, but your band enjoyed a long career. What was the Lounge Lizards' secret?
A lot of those bands were great, I thought. But they were more about the thing they were doing than music. I actually had to hide the fact that I practiced or they would sneer at me. So I think the music didn't develop for a lot of those bands like it could have.

Which Lounge Lizards record stands out in your mind as one you're most proud of and why?
The one that really stands out in my head is the one we never got to make.

Was there a moment when you really felt like you'd made your presence felt on the NYC scene, like you'd arrived?
I try to only be aware of my presence as to the room I'm in at that moment.

Early-'80s NYC has been endlessly mythologized. What is the biggest misconception about that time and place?
I don't pay much attention to that stuff. A lot of people from that time have tried to reinvent history in a way that would make even Joseph Stalin a little envious.

In regards to your illness, many fans, like myself, were naturally concerned for your well-being when the performances and records stopped and rumors began to fly. I don't want to pry, but the last two decades of your life have been somewhat mysterious. Can you walk us through when you were diagnosed with Lyme disease and how that led into ending your music career and moving more into painting as a full-time endeavor?
Lyme disease is just the weirdest. I started having what they called chronic fatigue in the early '90s. In 2000, I closed down the office and stopped the band, because I wasn't feeling well at all and thought maybe I had just been working too hard for too long. But then, in 2002, I started to have these violent neurological attacks. After a long, horrible journey through the medical world, I discovered by my own research that my symptoms matched advanced Lyme. But then the Lyme doctors and the Lyme community in general feels like you're joining a cult, and most of the regular doctors at that time were adamant that there was no such thing as advanced Lyme. I wasn't positive it was Lyme until 2006.

Lastly, for a seemingly private person, you're prominent on social media. What is it about Facebook that you find hard to resist?
Facebook has been great for posting the paintings. They look pretty good on there. We sold several that way, which is rewarding, because it's usually a normal person—you know, like someone with a job—and so they made the effort because they really wanted to have the painting, because it would do something for their life. And that feels incredibly good somehow.

"Strange & Beautiful: The Music and Art of John Lurie" begins Sept 9 at Le Poisson Rouge and continues at various venues through Sept 27. Learn more about Lurie's work at johnlurieart.com.