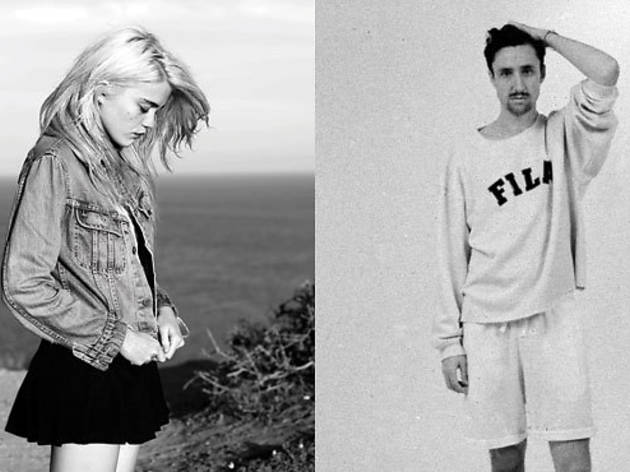 Get to know Sky Ferreira and How to Dress Well
Read our primer on the rising pop starlet and the avant-R&B auteur, so you don't look a fool to the too-cool-for-school crowds at their joint NYC shows.
---

Sky Ferreira
How to Dress Well

---

The hard facts
Although she has yet to release a full-length, the 20-year-old L.A. native surfaced in 2010 with an EMI contract and big-time pop ambitions. But her current guise bears indie-style sensibilities, as heard on last year's excellent EP, Ghost.
Tom Krell put philosophy studies on the back burner three years ago to record exquisitely desolate bedroom pop. On 2012's Total Loss, otherworldly synths set the stage for poignantly crooned reflections on mourning and depression.

---

Emotional range
She can navigate both saccharine synth-pop ("Lost in my Bedroom") and slow-burning balladry ("Sad Dream") with an ease that belies her years.
Whiskey-swigging slow cuts that both haunt and tranquilize are Krell's currency, and he draws on '80s icons (Prince, Janet Jackson) to further the raw melancholy.

---

Onstage delivery
Ferreira exhibits rock & roll bad-girl staples: a grungy blond mop of hair over her face, ripped tights and a lot of brash guitar worshipping (her live band features two guitarists and a DJ).
Bare-bones piano, violin swells and two musicians often hidden in total darkness accompany Krell's falsetto. At times, his voice soars with two microphones; elsewhere, with none.

---

Key track
"Everything Is Embarrassing," a shimmery collaboration with Dev Hynes (a.k.a. Blood Orange), was the cult hit of 2012.
The minimal beat and layered vocals of "& It Was U" exemplify the Brooklyn singer's nontraditional take on R&B.

---

Alternate identity
The stylish singer, who resides in NYC, also holds court as a model, actor and It girl. She makes the news for about-town gossip as much as for her tunes. Sample headline: TERRY RICHARDSON SHOOTS SKY FERREIRA AT THE CHATEAU MARMONT.
For all the somber themes in his music, Krell is a blithe tweeter. Sample: "man the crowd in manila last night was pure energy! it was totally inspiring!

---

In their words
"I can't wait to cry to How to Dress Well every night."—Sky Ferreira
"Sky is just dope…our two performances together make for a really lovely evening."—Tom Krell

---
Sky Ferreira and How to Dress Well play Bowery Ballroom on Wed 20 and Music Hall of Williamsburg on Mar 21.
Follow Marley Lynch on Twitter: @marleyasinbob