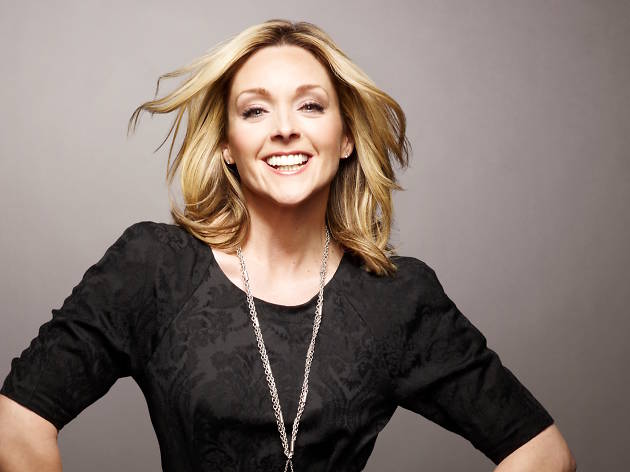 Jane Krakowski on Unbreakable Kimmy Schmidt and her new live show
The fearless actress, singer and comedian known for 30 Rock and Unbreakable Kimmy Schmidt performs live at Rainbow Room
Jane Krakowski is committed. She won a Tony award in 2003 for singing "Call the Vatican" while hanging upside down by bedsheets in the Broadway musical Nine. As 30 Rock's Jenna Maroney, she ascended to Molly Shannon levels of insanity as she sang, danced and jumped through windows to earn affection; she later bottled up that manic energy to play the cracking socialite Jacqueline Voorhees on Unbreakable Kimmy Schmidt (one of our favorite TV shows of 2016) and as Ilona in the 2016 revival of She Loves Me. Before Krakowski gives her fans a live dose of her dazzling intensity at Rainbow Room on Friday June 23, we talk to the star about her career moves.
Jenna and Jacqueline are so desperate for love that they're willing to go crazy for it. Where does that come from?
Jenna stands alone in her reality, and that is what was so awesome to play about her. In the farcical land that Tina Fey and Robert Carlock created for 30 Rock, Jenna and Tracy could go so far because they didn't know right from wrong, so the best characters in the world could ensue, because you could get away with anything. With Kimmy, I think all of these characters are quite interesting because a lot of their histories are quite dark, and the original premise is that they're all in their own bunkers, so to speak. Jacqueline's in a gilded cage that she fought so hard to be a part of. I'm so thrilled we got our fourth-season pickup, because we can delve into that further.
Have you always been such a physical performer?
I think I've probably always been that way. With She Loves Me last year, I was doing splits eight times a week. It's something that I thrive on. In the theater, everyone sees you head to toe with a full perspective of the stage, so you get a greater opportunity to make those choices. I certainly go that far on TV as well, but you never know if it will make it on air because of editing. Sometimes they'll shoot a scene, and then you're like: "Oh, my God, why did I just put my leg behind my ear if you're going to see it in close-up?" But there is not a moment in the theater when I do not make a choice that is from head to toe.
I can say that many gay men are attracted to female comedians who are really physical, like you and Molly Shannon. Maybe it's the willingness to be outrageous or not-
Not self-conscious?
Yes!
That is something I definitely learned from 30 Rock, and working with Alec [Baldwin] and Tina [Fey]. Learning from them was obviously one of those great experiences where I could learn and be side by side with the best of the best. I really just remember watching them and feeling the lack of self-consciousness in their comedy, and it's obviously something I admire and strive to have.
What is it like going from working on a weekly TV series to a Netflix show?
The major difference is that we film a whole season at once, so it almost feels like an opening night when the season gets released. We make a whole season and just hope that people love it. They have a lot more opportunity to take their time with the episodes, and not necessarily have them stand on their own where probably a half hour comedy like 30 Rock could. There can be more of an arc to a season. But the biggest difference is that once it's released we can't tweak it as it goes along. As a show goes on week by week, you're making it as it comes out; you can feel people watching it.
I guess that's why I missed 30 Rock during the 2016 election, because season seven (set during the 2012 Presidential election) was so exciting.
I know Tina Fey has spoken about this, that the filming of Kimmy season three did not time out with the election. We were already halfway through filming at that point. It would have been a wonderful opportunity, but they would also say that they would have guessed incorrectly. It is fun when you are doing a show that's 22 episodes a year, especially on a show like 30 Rock, when we could talk about things that were happening then and there, because the time it would have taken to come out would have been less than four weeks, so most things wouldn't have been dated. We did a storyline with a gibbon monkey, and in between the time that we filmed it and it came out, there actually was a real story with a woman and a chimpanzee that happened. We had no idea. Tina Fey just has this zeitgeist instinct in her body, it's so strange.
What should we expect from your Rainbow Room show?
I feel very honored to be asked to play the Rainbow Room. I do think there'll be a mix of songs from the cabaret world, from Broadway, and we may have a bit of a Tina Fey influence in there. After learning the price of my ticket, I may possibly be giving out lottery tickets when people come. It's the least I can do.
See Jane Krakowski live!
The supernova known for high-intensity performances on 30 Rock, Unbreakable Kimmy Schmidt and in Broadway shows like Nine and She Loves Me hits the Rainbow Room for a night of music and comedy.