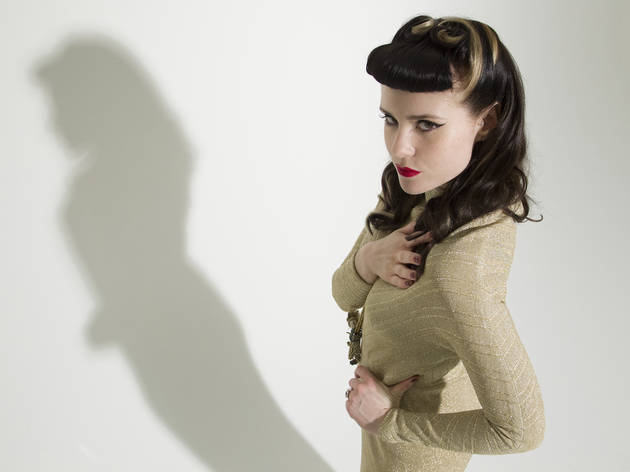 Q&A: Kate Nash
Preparing for a big New York concert, brash British pop star Kate Nash talks about obligations to fans and robot sex
Kate Nash used to have auburn hair—now it's black, with roller-derby blonde stripes. There have been a few other changes, too, since she won Best Female Artist at the 2008 BRIT awards. She's ditched the piano to emerge from her shy, vintage cocoon a fully formed rocker with something to say and a way of making you listen. There's some shouting on her latest record, Girl Talk, issued in March. There are also a few glimpses of her former self, and a whole lot of weird and wonderful in between. We caught up with her in Germany to chat about what's ahead.
The new you—what's the story?
I think it happens to someone like every two or three years. You just sort of get into different things. What were you doing at 17? Wouldn't it be weird if you were doing the exact same thing and wearing the exact same clothes as a 26-year-old?

What about the record? There's a rap about sexism, an acapella number with a full orchestral chaser and some screaming.
I like a lot of musical styles, and I like storytelling. I wanted the rap to be kind of like the band Smoosh, which is these two 12-year-olds rapping. My main goal is just to have fun.

You're not shy about your feminist views. But no matter where a person is on the equality continuum, I think we can all agree that men and women are treated differently. Is that a bad thing?
Different can be good. I'm not really offended by stereotypes, because we are not wanting the same things out of life. But I think if we do want the same things. we should be taken seriously.
A lot of your fans are young girls. Do you feel responsible for them?
I do. There's one girl that's a bit unstable, and she's always giving herself a new piercing that she's done herself with a pin. On Twitter, I'm like, "You better look after yourself now. No more piercings. Don't go out with any bad boys." She seems a little lost, and I want to look out for her.
You sound kind of like her big sister.
I was just going to say that!
You've worked a lot with tweens and teenagers on various projects about body image and confidence. What worries you the most?
It freaks me out that there's not a lot of positive sex out there for young people. It's still really taboo to talk to teenagers about sex, but then you have a pop star simulating oral sex in a video and it's celebrated. I watched a video when I was 14 at school, and it was two robots having sex. That's how I learned.
Did you have to put a condom on a banana?
[Laughs] No! We didn't have that in the U.K. The pop stars that are the biggest train wrecks and do the craziest sexual things are all the kids that were on the Disney Channel and had to pretend they didn't have any sexual experiences as a teenager. It's really scary, it's just competing, competing, competing. In the next couple of years, I reckon someone's going to have sex with an animal in a video. A goat, because goats are really big right now on YouTube.
I'd have thought the next outrageous thing would be something super-virginal.
That will happen after the goat sex.
Kate Nash plays Terminal 5 Sat Nov 9.
Follow Marcia Adair on Twitter: @missmussel
Download Girl Talk on iTunes
Download Girl Talk on Amazon