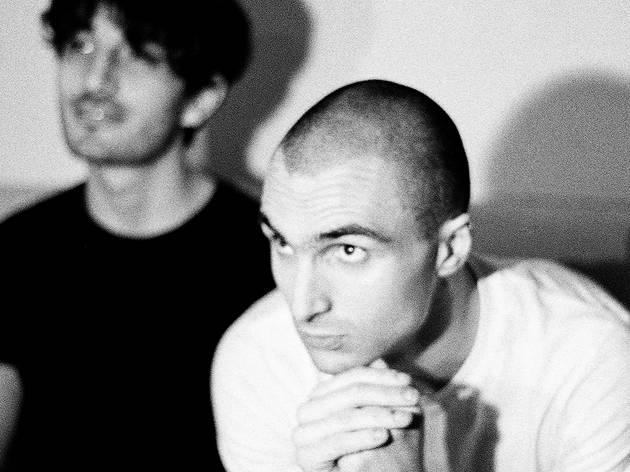 Synth pop duo Majical Cloudz talks lightening up while getting heavy
Singer Devon Welsh and producer Matthew Otto explore fresh sounds and wide-eyed innocence on their new album
For many who've seen Majical Cloudz live, it's a life-changing experience built from a few simple parts: a synth player, a spotlight and a plain-white-T-shirt-clad bald guy staring unblinkingly into your soul. There's a power in its stark aesthetics. The occasional a cappella tune, in particular, leaves crowds speechless in its wake. And it's not just devoted fans that have taken notice: Lorde asked the duo—singer-songwriter Devon Welsh and collaborator Matthew Otto—to open for her tour last year, exposing her massive fan base to Majical Cloudz's offbeat, spartan approach and unflinching lyrics.

Their new album, Are You Alone?, offers a fresh cohesion and sonic resolution to the identity struggles explored on 2013's excellent Impersonator. While that record plied glacial meditations on death and melancholy, the follow-up aims for childlike innocence, focusing its predecessor's spare tonal palette with muted organ, hyperminimal percussion and analog synth flourishes. We spoke with Welsh in advance of this week's album release concert in NYC to talk about opening for Lorde, his comedy inspirations and goofy sincerity.

While both Majical Cloudz albums deal heavily with melancholy, Are You Alone? seems to focus more on celebrating and living in spite of it.
The new album is definitely more positive. I think that came out of being more conscious of what I wanted to communicate with my music. When making Impersonator, I was just writing to express immediate feelings. But with this album, my musical project turned more toward creating a positive headspace rather than simply emotional release.

The recent music videos for "Downtown" and "Silver Car Crash" both have you guys frolicking across railroad tracks. They're pretty comical despite backing these very poignant songs.
Taking deep sincerity to such an extreme limit that it becomes its own goofy innocence—that's an idea I really enjoy and an emotional space I like my music to inhabit. The videos were intended just to give a face to the songs without contributing their own identity too heavily—just being kinda goofy and giving it a lightness, so the music doesn't feel overwhelmingly heavy or intense.

Are there any artists you draw from who share that style?
Some of Andy Kaufman's comedy. He'd do a piece, and the humor was just how sincere he was portraying himself to be. There's no punch line, there's no one-liners—he just offers a situation so earnestly and innocently that it ends up being funny. Like when he brings his family onto Letterman and tells them that he loves them for the first time. It's so honest that it passes into silliness. The band the Modern Lovers also has that aspect to it.

You've also named Billy Corgan as an influence, and I hear a "There's a Light that Never Goes Out" vibe on "Silver Car Crash."
Definitely. When we were making the album, I listened to the Smiths and Smashing Pumpkins all the time. In terms of influence, I didn't necessarily try to replicate those artists' sound. To me it's like, These bands did this emotionally expansive work—I'm thinking of the Smashing Pumpkins' "Tonight, Tonight," this huge theatrical emotion, and it makes me feel legitimate delving into those values in my own music.

At some shows, you've brought the audience onstage for push-up contests. Anything like that happen while opening for Lorde?
On that tour, we were pretty tightly confined, unfortunately. We couldn't even go a minute over our half-hour limit. I don't really plan those kinds of things out, though. I'm not caught up in performing in any specific way. I'd rather just read the audience and create situations to allow everyone to have a good time. Having a good time is really the only goal.

The new material is still minimal, but the production seems a bit more elaborate.
The songs on Impersonator came out of being built around a single loop made with a loop pedal, whereas this time, I was demoing the songs with overdubs, creating a whole track. And I think that informed my process of writing together with Matthew, in terms of adding movement or embellishment over the course of the song.

You used to have a shaved head, but now it seems you've grown it out. It's kind of a visual metaphor for the new sound.
Well, I actually cut my hair a couple of months ago, so I had a brief hair period but am back to not having hair. But maybe I have more hair now than the amount of hair I had in the past.

Majical Cloudz plays National Sawdust October 21, 2015.