Ten things we want to see Bruno Mars do during the Super Bowl halftime show
Ten entirely reasonable requests for Bruno Mars as the pint-size pop megastar preps his Super Bowl show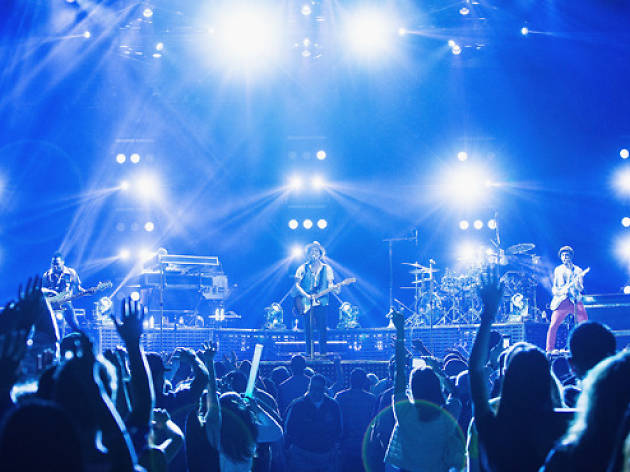 From die-hard fans to their football-hating partners, everyone enjoys the pageantry of a massive concert popping up in the middle of the field for the Super Bowl halftime show. While it's unlikely that this year's Super Bowl star will flash a nipple, our hopes are high that Bruno Mars will deliver a poptacular spectacle. And, kind souls that we are, we've got some suggestions for the singer. Bruno, over to you!
1. Go really, really visual on the lyrics of "Locked Out of Heaven"
We just can't think what Bruno means by "swimming in your waters"—and what could those celestial gates he pines for look like?
2. Crash the Red Hot Chili Peppers segment
...and pop a sock on his shlong.
3. Revive the Elvis impression he used to do as a chubby kid in Hawaii
...because it's awesome.
4. Actually, just do an Elvis impression, period
5. Helm a mass marriage proposal onstage
We're imagining a coming together of the zillions of YouTube proposals that use Mars's "Marry You," only here, the audience members at the stadium surprise their other halves and drag them onstage to stand in a big circle—wherein Mars sings a line to each of the proposees, while their beaus await their responses on bended knee. Then when everyone says yes, a flock of 1,000 turtle doves is released from the middle of a massive cake. Yes, we've given this a bit of thought.
6. Dance with a hologram of Michael Jackson
Whose greatest disco moments Mars unashamedly borrows from on songs like "Treasure"—with lashings of panache, we might add.
7. Honor the sentiment of his hit "Just the Way You Are"
...by serenading some unconventional-looking ladies. Maybe including some grandmas, kids, etc. Nothing inappropriate, mind you.
8. Go full James Brown
Soul-screaming, ants-in-pants dancing, and a cape. There aren't enough capes in the halftime show.
9. Duet with Sting, please
"Locked Out of Heaven" is straight-up Police, in the best possible way.
10. Make the most of his 'fro
...By recreating the "Soul Glo" ad from Coming to America.