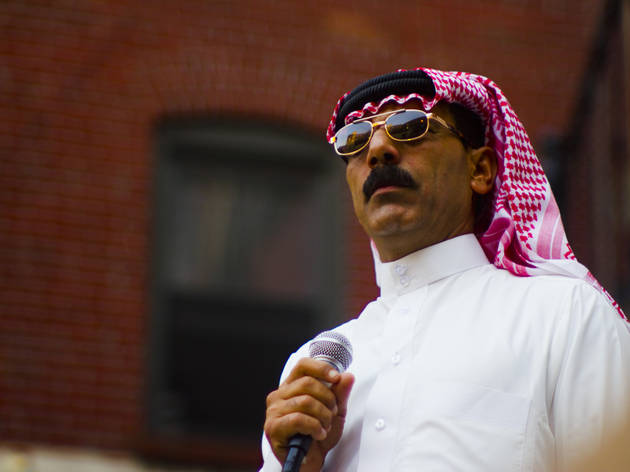 Ten Years Alive on the Infinite Plain
Issue Project Room celebrates its first decade with concerts by a wide range of avant-garde stars
A bit of NYC experimental-music history: Issue Project Room was founded ten years ago by photographer Suzanne Fiol as a performance series in the East Village garage-workspace of Issue magazine. Over the past decade, the venerable venue has persevered through legal battles over use of the name, the loss of three spaces (before winning a 20-year lease on its current marble showroom in Downtown Brooklyn) and, most significantly, Fiol's untimely passing in 2009.
On August 31, Issue kicks off an extended, multiple-venue anniversary celebration with a return engagement by trance-inducing Syrian pop singer Omar Souleyman. The matinee show also includes the homemade horns and electric guitar of 75 Dollar Bill; Bobb Trimble's psychedelic-rock outfit Flying Spiders; and Steve Gunn's hard-driving country blues.
They'll carry on with a full slate of old friends over the next two months, including new-music pioneers Charlemagne Palestine (September 3), Tony Conrad, Pauline Oliveros and Yasunao Tone; avant-folk/bluesmen Richard Youngs and Bill Orcutt; soundscape architects Oren Ambarchi, William Basinski, Olivia Block and Aki Onda; new takes on jazz by Cooper-Moore, Dawn of Midi, Joe McPhee, Ken Vandermark and Matana Roberts; Swiss sound poets Jacques Demierre and Vincent Barras; and downtown mainstays Anthony Coleman and Marc Ribot. That's downtown Manhattan, by the way, although these days Downtown Brooklyn is setting a new standard.—Kurt Gottschalk
Omar Souleyman, 75 Dollar Bill, Bobb Trimble's Flying Spiders and Steve Gunn play Pioneer Works Aug 31. Charlemagne Palestine, Joe McPhee and Steve Dalachinsky perform at Issue Project Room Sept 3.