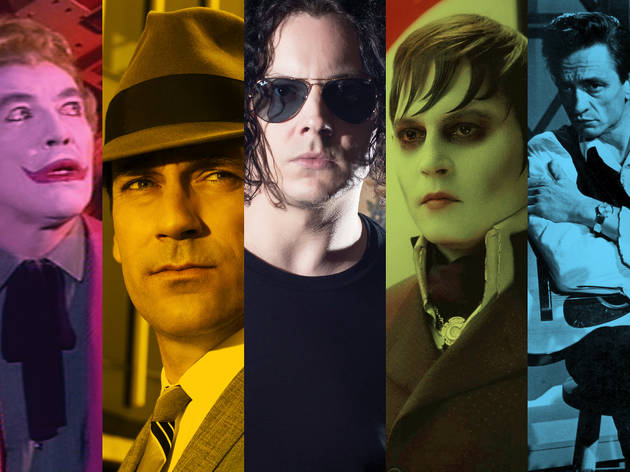 Unmasking Jack White III
We reveal the real Jack White—or give it a shot, at any rate.
Post–White Stripes, post-Raconteurs, post–Dead Weather—Jack White has finally released his debut solo album, Blunderbuss, on his Third Man Records label. There are no starry collaborations on the disc, no best friends or ex-wives on board—it's just White. Is it a simple record then? Hell, no! There are playful, vaudevillian stylings, smokin'-hot duets, elegant waltzes and speaker-rattling rock numbers. Meaning that, as ever, it's darn near impossible (and totally futile) to get a sense of the "real" Jack White. Will that stop us from giving it a shot? Of course not. Here are some of White's possible alter egos.
1960s Batman villain
Since its inception in 2001, White's label, Third Man, just becomes more and more outlandish, from the matching henchman-style uniforms worn by its Nashville staff to its wild and weirdly old-fashioned initiatives: White promoted new single "Freedom at 21" by releasing 1,000 huge blue helium balloons, flexi discs attached, over Nashville. One can only hope he cackled gleefully.
Don Draper
Men want to be him, women want to be (cough) with him—and he's a total bloody mystery. In the White Stripes, White played opposite Meg White, his supposed little sister. The tension was so electric that it short-circuited fans' brains, so most were relieved to discover that his musical-sexual foil was actually just his ex-wife. Then White dated a movie star and married a redheaded supermodel in a shamanic ceremony in Brazil.
Johnny Depp
White outgoths Johnny Depp, in fact. The musician's alabaster pallor and the vulture on his shoulder on the Blunderbuss sleeve are just the half of it. See also White's taxidermy collection (documented on the TV show American Pickers); a decade of dressing in red, white and black; and a back catalog of albums that heave and creak with American Gothic imagery and murder-ballad stylings.
Johnny Cash
A modern-day man in black, White has positively golden country credentials. He's produced albums for Loretta Lynn and rockabilly queen Wanda Jackson. He portrayed Georgia, a mandolin-toting deserter, in the Civil War movie Cold Mountain, and Elvis in Walk Hard: The Dewey Cox Story. Having moved to the South from Detroit, White was honored last year as Nashville's Music City Ambassador by the mayor. Jack White, whoever you are: We salute you!
Jack White plays Roseland Ballroom May 21 and 22
Follow Sophie Harris on Twitter: @SophieMeve