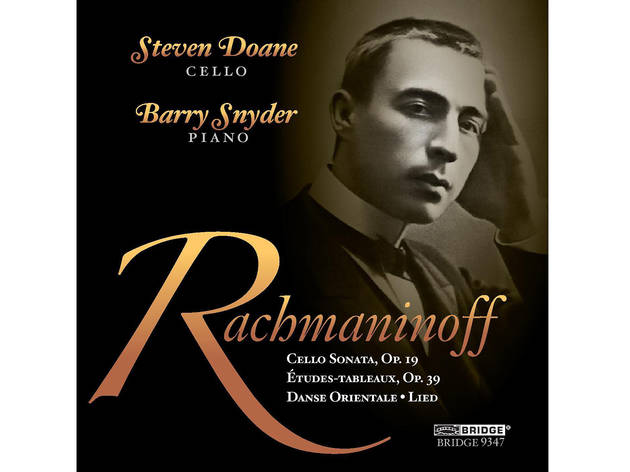 Steven Doane and Barry Snyder play Rachmaninoff
Two chamber-music stalwarts do justice to Rachmaninoff's rich, underserved music
The chamber music of Sergei Rachmaninoff is rarely programmed, but this master of Slavic melancholy and surging scales wrote as fluently for the cello of one of his close friends (Anatoly Brandukov) as he did for his own keyboard. A fine new CD from the Bridge label features several duo pieces in highly detailed and passionate performances by cellist Steven Doane and pianist Barry Snyder, two underhyped yet excellent stalwarts of the national chamber-music scene.
Two pieces dating from Rachmaninoff's teenage years, the Romany-flavored Danse orientale (1892) and the short, elegaic Lied (1890), bookend an album built around the 1901 Cello Sonata in G minor. This alternately churning and lyrical score directly followed Rachmaninoff's Piano Concerto No. 2, among the composer's most popular efforts, and shares or reflects some of that work's character and melodic material.
Rachmaninoff seems to have invented a solo-piano genre with his Études-Tableaux, though they bear some formal relation to illustrative keyboard compositions by Liszt and Mussorgsky. Better known than the cello works, these pieces don't always get played or recorded in complete sets; here Snyder tackles the nine numbers of Op. 39 with interpretive aplomb and technical flair. These demanding pieces, among the last that Rachmaninoff wrote before decamping for the West in 1917, reflect personal losses and the dark sociopolitical tenor of those years. It's salutary to hear them, done full justice, as a totality.
Buy Rachmaninoff Music for Cello and Piano on iTunes