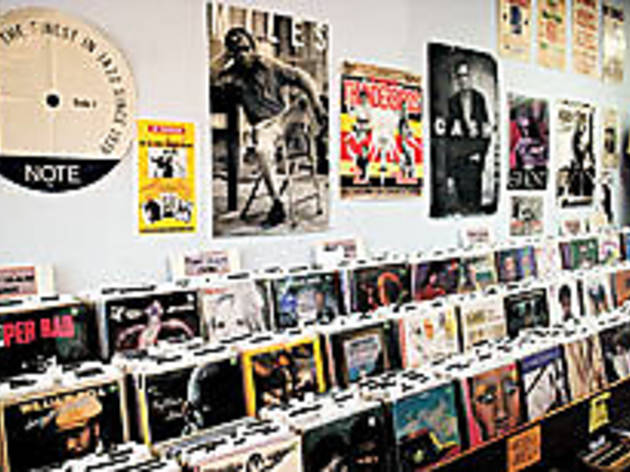 SXSW, Austin
Barbecue and bands at two competing festivals.
Austin is where the South ends and the West begins. It is Texas, but not Texas: a green city, shaped and defined by rivers and lakes. A high-tech place of dive bars and honky-tonks, old diners and vintage neon. A music city. Live bands abound, from boot-heel blues and cowboy country to Latino, metal and punk. And for 20 years, it has played host to South by Southwest (SXSW), when a crowd of 15,000 descends on the city to see 1,500 bands over the course of four days (this year, March 15--18). It is wild and it is wonderful: When you're racing down 6th Street, jostling in the throng, live music blasting from bar after bar, rooftop after flatbed truck—well, it really doesn't feel like anywhere else.

RECOMMENDED: All SXSW coverage

In anticipation of the excitement, hotel rooms get booked months in advance. That and the fact that wristbands for fans are only sold in person, in Austin, makes a trip to the festival a bit difficult to negotiate at this late stage. But nothing is impossible. Many rooms get block-booked so far in advance that they free up at the last minute, and local residents often offer up extra bedrooms through channels like Craigslist. Meanwhile, the final load of wristbands aren't made available at the Austin Convention Center (500 East Cesar Chavez St between 1st and 4th Sts, 512-404-4000) until March 14, the day before the fest starts.

SXSW is both the best and the worst time to visit Austin. If the hub of activity during the festival is downtown (around 6th St and the Red River district), the focus the rest of the year shifts to South Congress Ave, which is the beating heart of Austin: hip, hep and happening. The best places to stay are the landmark '50s Austin Motel (1220 South Congress Ave between Academy Dr and James St, 512-441-1157; rates start at $65), complete with a great pool, or the slick, neighboring Hotel San Jose (1316 South Congress Ave between Oltorf St and Riverside Dr, 512-444-7322; rates start at $90). The Continental Club (1315 South Congress Ave between Oltorf St and Riverside Dr, 512-441-2444), one of the best music clubs in the country, and Factory People (1325 South Congress Ave between Oltorf St and Riverside Dr, 512-440-8625), which features edgy, high-end clothing, are just across the street. A short wander south takes you past everyone's favorite margarita joint, Guero's Taco Bar (1412 South Congress Ave at Elizabeth St, 512-447-7688), and a huge range of vintage clothing stores, bars and galleries. Magnolia Cafe (1920 South Congress Ave at Johanna St, 512-445-0000) is open 24 hours: During SXSW it's not uncommon to find a line outside the door at 4am.
Chicken-shit bingo
Photograph: Traci Goudie
This part of town also puts on its own NotSXSW (or xSXSW) festivities, with free music at daytime parties in the streets and yards. There are also big, free lakeside shows at Auditorium Shores (a stretch of shore on the South side of Town Lake, off 1st St) and at Threadgill's (301 W Riverside Dr at Barton Springs Rd, 512-472-9304), and this year Factory People is hosting a full slate of fashion shows and parties. Many actually prefer xSXSW to the madness up the street. Certainly it is less crazy and more authentically Austin. Pick up the free paper 3rd Coast Music at Antone's Record Shop (2928 Guadalupe St between 29th and 30th Sts, 512-322-0660) for a complete list of xSXSW events.

You'll inevitably see the famous Mexican free-tail bats, a million and a half of which live under the Congress Avenue Bridge. They emerge at dusk in spectacular long black clouds to feed.

Some of the best barbecue in the world is to be found in and around Austin. Check out The Salt Lick (18001 FM 1826, 512-858-4959) in the tiny Hill Country outpost Driftwood, 20 miles southwest of town. Sunday afternoon, take in the chicken-shit bingo at Ginny's Little Longhorn Saloon (5434 Burnet Rd, 512-458-1813). A caged chicken is placed on top of a board divided into a hundred numbered squares. Buy a ticket for a dollar and if the hen poops on your square, you win. There's live music, cheap beer and free chili dogs, too.

Austin is a city with a high quality of life. Increasingly aware of its own coolness, it is seemingly (and understandably) torn between boasting out loud in celebration and just keeping quiet—lest this music-driven, fun and friendly haven be invaded and spoiled by transplants and tourists. But Southern hospitality is a prevailing theme, which means you'll always be made to feel at home.

Been somewhere great recently? Tell us where to go at travel@timeoutny.com
---
The tab
Airfare: $400
Hotel: 400
Wristband: 175
Car rental: 200 (including gas)
+ Meals: 150
Total cost $1,325
(four nights, one person)
By plane: Delta, Continental and Jet Blue all offer direct flights from New York to Austin.

Details: Go to sxsw.com.
Travel time 4hrs 30mins