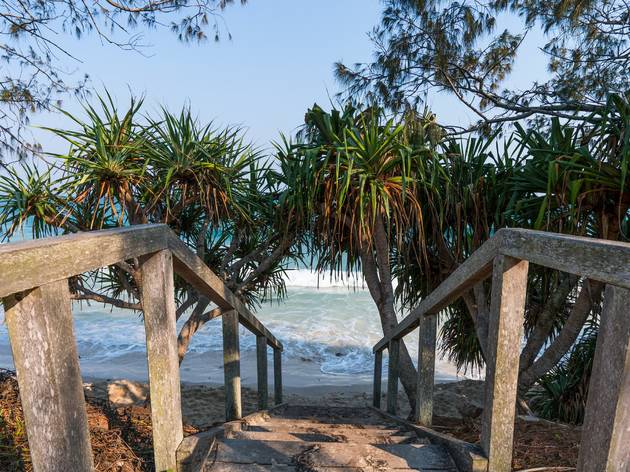 1/7
Photograph: Destination NSW
Path to Wategos Beach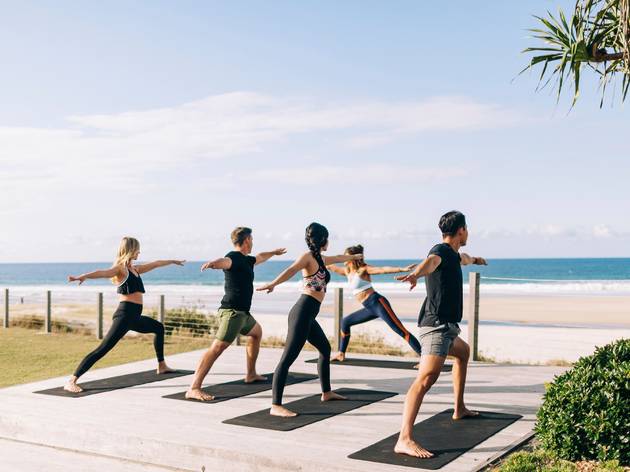 2/7
Photograph: Destination NSW
Yoga at Elements Byron
3/7
Photograph: Destination NSW
Golden Breed
4/7
Photograph: Destination NSW
Exterior of Targa, Byron Bay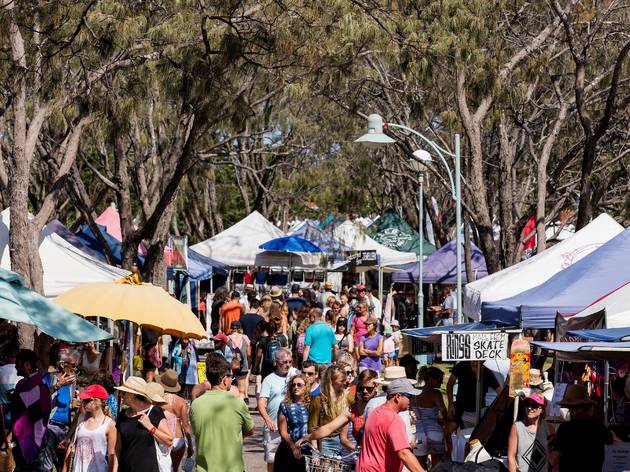 5/7
Photograph: Destination NSW
Crowd of people at Byron Bay Markets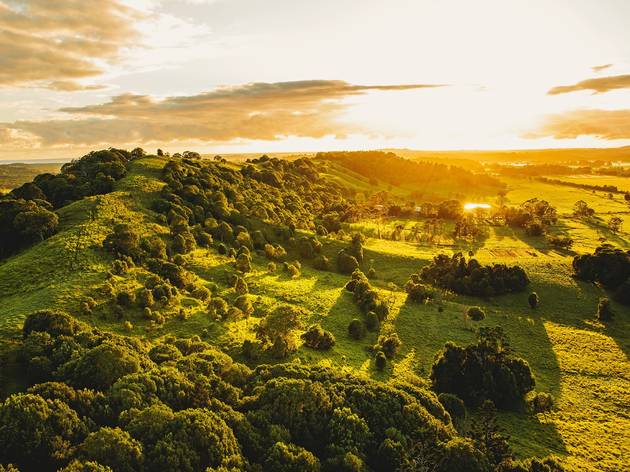 6/7
Photograph: Destination NSW
Hinterland of the Northern Rivers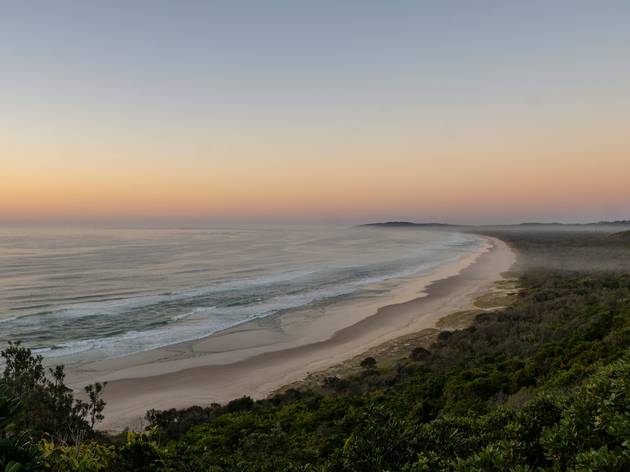 7/7
Photograph: Destination NSW
Pink sky over beach
Your ultimate guide to Byron Bay
Now that it's been elevated to one-name status, here's where you'll find Byron's hidden charms as well as its must-visit hot spots
Everyone and their grandma has officially been to Byron Bay. For better or worse, the Northern NSW town has well and truly shaken off its patchouli-scented hippie persona to grow into the chic, linen-draped, wildly popular holiday destination we now know and love. Each year, the town adds to its cadre of lo-fi wine bars, inventive cafés, and independent stores – and while the region's infrastructure has gone through some changes, its natural beauty remains pristine.

Whatever you're looking for, you're bound to find something to love in Byron. In ordinary years (read: not this one) the presence of three major music festivals – Bluesfest in April, Splendour in the Grass in July, and Falls Festival over the New Year's – marks it on the holiday calendar for many out-of-towners. It's a haven for spiritual seekers while doubling as the luxe, sandy playground of the Eastern Suburbs' moneyed set. The town's casual dining scene, spearheaded mostly by established players in Sydney's hospitality circles, has hit the stratosphere. The surrounding area's lush, waterfall-dotted hinterland holds a powerful pull for nature-lovers.

If you've been to Byron before, you'll have cottoned on to the fact that many of the area's gems are out of town – so rent a full-frontal surf beach bungalow in Lennox Head or stay in a shed in the back of a crystal-dotted fairy garden in Mullumbimby, and really get to know your little pocket of the area. Here's where to find the best of Byron and its surrounds, from must-visits to under-the-radar gems.
Recommended: Your complete guide to Orange.
Your ultimate guide to Byron Bay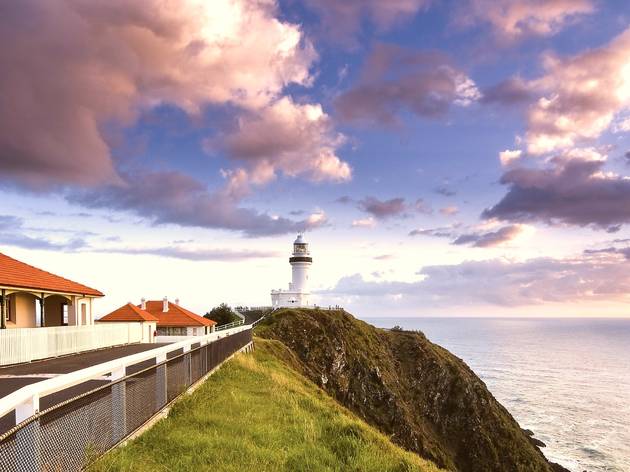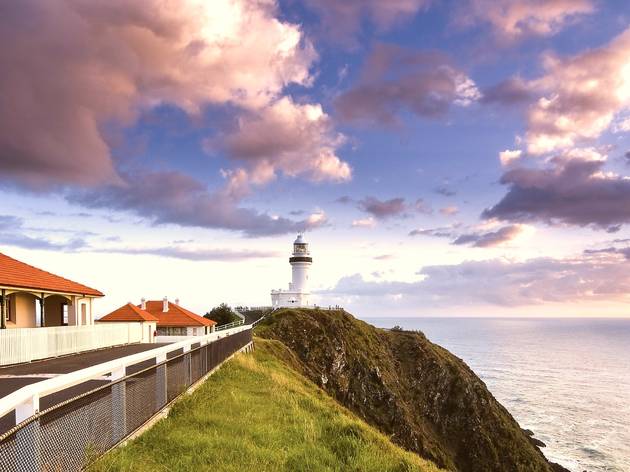 Photograph: David Young
If you want to load the boot, the drive to Byron Bay takes around 8 hours from Sydney (or longer with stops). But unless you're a fan of the roadtrip – or you've got the time to make your dawdling way up the NSW East Coast with a couple of stops in beach towns along the way – flying is the quickest and easiest way to get from the major east coast cities to Byron.

Take a flight to Ballina-Byron airport (confusingly named, as it's squarely and unmistakeably in Ballina, about 25 minutes from the centre of Byron) via Jetstar or Virgin, both of whom make trips to the region multiple times a day. Otherwise, Qantas, Virgin, Jetstar and Tigerair all fly to the Gold Coast. From there, Byron Bay is a 50 minute drive southwards.
Once you've touched down, hire a car so you can explore nearby towns like Bangalow, Newrybar and Brunswick Heads, as well as the region's waterfalls and far-flung beaches. Hire a bike if you're sticking around town, so you can feel the wind in your hair, like a real local. Bonus points if you score one with a wicker front basket.
If you're planning on having a very bum-on-the-beach, Margarita-in-hand kind of holiday, keep your square radius small and just walk everywhere in town (barefoot, if you're doing it properly).
Photograph: Destination NSW
After your days spent chasing hinterland waterfalls or just lolling about under the pandanuses of Byron's shores, a solid lunch is vital.
If you're staying in the centre of Byron, head to Light Years for modern pan-Asian fare, or poke your head into the mod-Italian Targa to check out the fresh, daily pasta specials which so often hit the mark. Looking for a breakfast to start your day right? Swing by Bay Leaf if it's breakfast fare and turmeric lattes you're after, or try the Top Shop where you can sprawl on the grass with the sun-seeking locals and order acai bowls, spinach and cheese breakfast buns and mouth-wateringly good (really) plant-based burgs.
If you feel like venturing out of town, and you've got the wheels to do so (watch out for the area's potholes – they're diabolical, particularly if your charge is a rental) head out to Mullumbimby, where you'll find the unassuming Yaman, a Yemeni cafe with the best falafel around. Head a little further down the street and you'll happen upon Adama Homecooked, a little hole-in-the-wall institution where Bill Granger reputedly takes his family when they're in town. I guess it's good enough for us, then.
It was once a rule of thumb when travelling in the regions to stymie your craving for any cuisine that's more culturally exploratory than say, modern Italian, until you get back to the city – unless you're in the mood for that specific brand of 'country Chinese restaurant inside a mall' vibe – but things have moved on since then. At least, they have in the case of Federal Doma, an indoor-outdoor cafe which does Japanese hand rolls, sushi and dishes like eggplant miso and roast cauliflower with finesse: it was started up by Takayuki Kuramoto and Takashi Yaguchi in 2012, and reflects its hinterland roots.
The lid has well and truly been lifted on Harvest, an eatery which rolled into Newrybar and transformed the one-strip town into a humming hub of activity on Saturday mornings when its weekend bakery is on – not to mention spawning a bevy of new stores, including two vintage shops, a homewares boutique and a jewellery store within its 100 metre radius.

The baby of Darren Robertson and Mark Labrooy, the Farm Byron Bay is another popular pitstop – it's the 34-hectare outpost of Bronte's Three Blue Ducks, and has a restaurant, a providore with an impressive cheese room and salumeria, a bakery (the Bread Social), a classroom (Milkwood), as well as a florist to pick up farm-grown sunflowers.
Photograph: Supplied/Kitti Gould
Once only a drinking hub for schoolies revellers who thought they were too cool for the Gold Coast, Byron has blossomed into a drinking destination in its own right.
Oma, also by the Three Blue Ducks team, is a chic, natural wine bar, somewhat unsexily located above an optometrist and a dentist, though its interior more than makes up for that. A pink-and-orange-hued mural of demure, sensual cats (sure) by local artist Mlak, also known as Karlee Mackie, takes pride of place in the airy courtyard and an extensive natural vino list stretches out to suit every palate, even those unconvinced by the idea of floaties in their wine glass.
If you're in the market for craft beer, Byron's got you covered. The local legends at Stone and Wood have set up a brewery in the Arts and Industry Estate, with food from 100 Mile Table and brews pouring freely. If you're looking for a beer garden with live music, nab an outdoor table at the Beach Hotel overlooking Main Beach for unrivalled views of the coast, or venture inside and watch whatever is trending in the sports world on giant screens.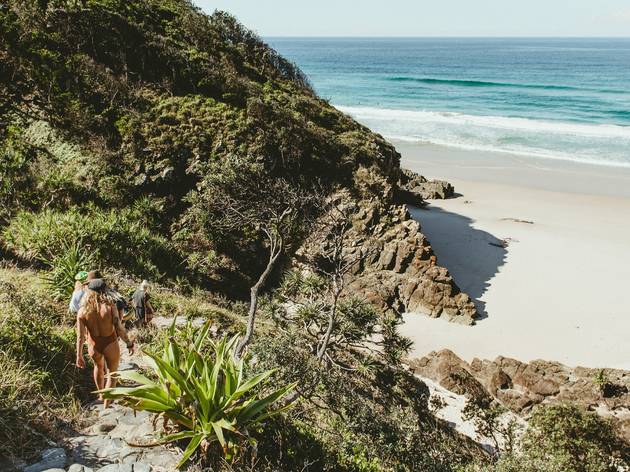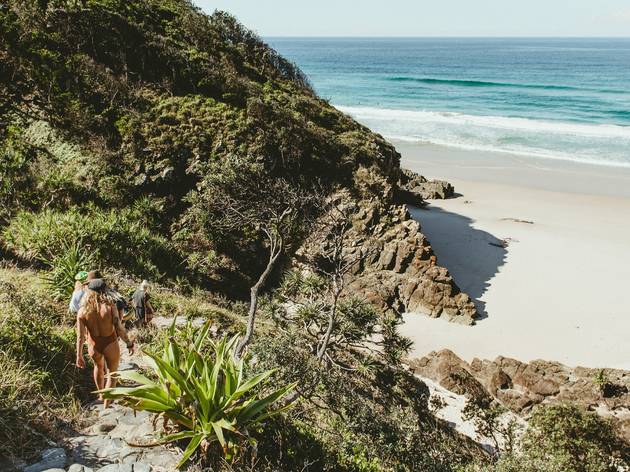 Photograph: Destination NSW
It would be remiss to not begin with Byron's beaches. That's why you're here, after all: hit up the classics like Main Beach and have a go at the Pass if you're in Byron for the surf. Sandy shores line this seaside town and its surrounding villages and many, unlike Sydney's, are long and vast stretches of sand and sun. Close to town, Wategos Beach is popular and dotted with pockets of shade for you to loll about with picnic basket in tow. White's Beach is a tucked-away beauty, and the journey there is half the fun. A rugged, winding road leads through bright green forest to drop you at the mouth of a glittering cove – in season, it's a great vantage point to watch whales from. Best to get there early, as there are about eight parking spots in all.

Not a fan of the beach, but want to cool off? Lennox Head's Lake Ainsworth is a freshwater body stained all kinds of beautiful colours by tea-tree oil. You can still hear the nearby ocean waves crashing as you swim, stand up paddleboard, or canoe around in the placid lake.

Outdoors really is where you want to be when you're in a place as naturally blessed as northern New South Wales, but you're in tropical country now. It rains. If it's more than a sun shower, head to the Crystal Castle in Mullumbimby to take cover and to experience Byron as it was when it drew the seekers to its spirtually fertile soil: you'll find tarot, palmistry, giant crystals and even an 'amethyst cave'.

If a little rain does put a dampener on your holiday, rest assured that at least the hinterland waterfalls will be flowing more abundantly than ever. Strap on your hiking boots and take the three-hour loop walk to Minyon Falls, a gushing marvel situated in Nightcap National Park. There's also the option to just take in the serenity from a lookout point, if the whole hike isn't your jam. Otherwise, Killen Falls near Tintenbar has become a popular swimming spot for locals – and it's a stunner once the rain clouds clear.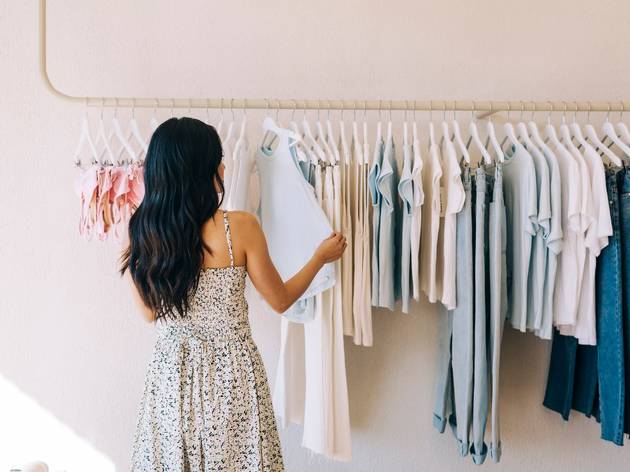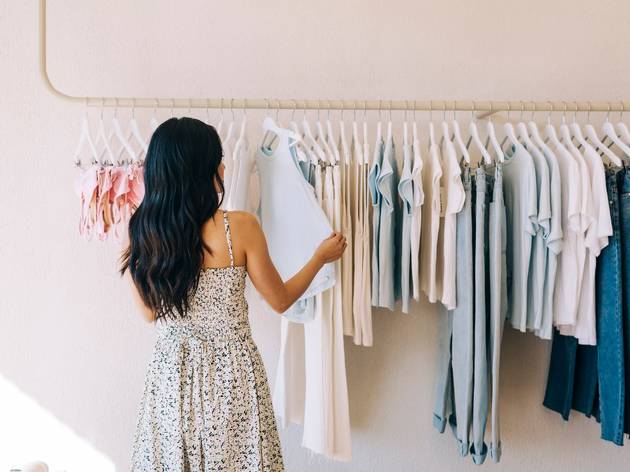 Photograph: Destination NSW
Once only known for servicing the bohemian, crochet-draped festival-nymph types, Byron's fashion scene has stepped it up a notch in recent years. The Habitat estate in the town's outskirts has a lot to do with that: it's got a huge, airy Zulu and Zephyr boutique stocking swimwear and sunny weather separates, a One Teaspoon store for grungy and affordable denim, and Annuka for well-cut basics like white tees and shorts that cover your bum more than the average decorative denim loincloth. Oh, and those woven leather slides you've seen all over Instagram? They're probably St Agni, a local brand that handmakes its slides and leather sandals.
Nice Martin makes funky knits and structural shifts that are more French cool-girl than forest sprite – but if you're looking to blend into the Main Beach crowd and don the archetypal hippie-lite look for your getaway (what would go better with your Airbnb's exposed brick wall and a basket of farmers' market produce?) head over to Arnhem, Spell or Kivari Designs– three stalwarts in the boho-chic, flowing floral dress game.
Nailing the nonchalantly graceful Byron look is one thing when it comes to fashion, but why not go the whole hog and and inject your home with a little surf-rumpled glamour, too? Try Tigmi Trading for statement decor, Mar-kett on Fletcher Street for bundles of neatly rolled rugs in grown-up, earthy pastels and Little Wing Antiques in Murwillumbah for something a little more off-beat.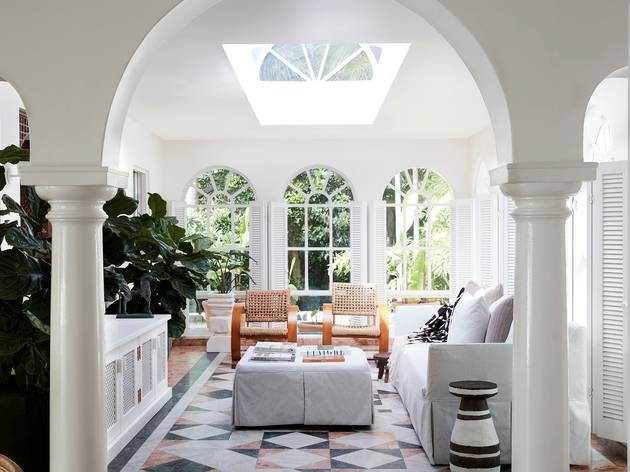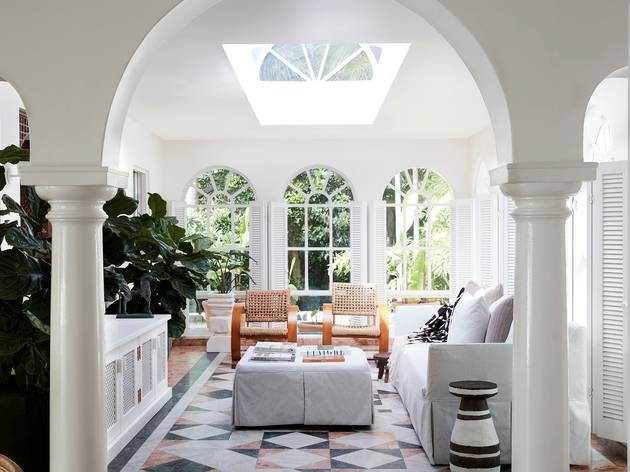 Photograph: Supplied/Raes
Considering the rate of acceleration in Byron's tourist influx in recent years, and the fairly limited number of hotels and boutique accommodation in the area, it's no wonder that many travellers to the area pick Airbnbs for their stay. Here's our pick of the best of the bunch – from upcycled barns to group getaway villas, to cosy garden pads.
For the sleek, resort-style experience, check out Elements of Byron – it's a hop and a skip to Belongil Beach and it's got all the amenities you could wish for (and some you didn't even know you wanted). Sun loungers are dotted around the main pool, a cocktail bar is ready to accede to your every spirit-based whim, and a jumbo-sized firepit. It's basically Survivor, if everyone on Survivor wore kaftans. For more barefoot luxury, try the Byron at Byron.
Head to Soma Byron if you're more serious about your relaxation: it's a retreat set on 22 acres of land, with a yoga dome, meditation and Vedic practice teachers. Otherwise, a fixture of the sparkling, celeb-dotted Wategos Beach is the white washed stone façade of hotel Raes on Wategos: you can't beat that location, or the freshly-caught seafood in the restaurant downstairs – plus, Raes' two penthouses are as good as luxury gets this far north of the state, with sunken baths, plump daybeds, and multiple expansive balconies. To indulge your fantasy of being a lighthouse keeper on the most easterly point of the country, doing honest toil and living a simple salt-of-the-earth life by the sea (just me?), stay for the weekend at one of the lighthouse keeper's cottages just steps away from the most sought-after sunset-watching spot in town.
Want more local getaways?
Escape from Sydney to one of NSW's relaxing rural retreats.
Check out our edit of the city's best camping sites.